It isn't every day that a self-declared conservative looks you in the eye and says, "I'm an environmentalist."
Odd, to say the least.
Yet many residents and officials in East Tennessee -- a traditionally Republican stronghold in a wide swath of the eastern edge of the state -- are embracing conservation and environmental stewardship like their green-minded Democratic counterparts.
They may not be so married to the greening movement that it tips their vote come November, but conservative here implies much more than tight tax laws and low government interference. To be conservative is, well, to conserve.
"It's been interesting living in East Tennessee because I think it is very much a pro-environment mind set," said Randy Gentry, director of the Institute for a Secure and Sustainable Environment at the University of Tennessee at Knoxville. "Although it is a very conservative base traditionally."
Turns out East Tennessee is full of contradictions. As you drive into the state from Kentucky, an enormous white cross greets you on the side of the road, immediately followed by a store called "Adult World." The residents are in favor of business and private enterprises, yet they defend the federal ownership of their power provider, the Tennessee Valley Authority, and stress the need for government regulation over power supply.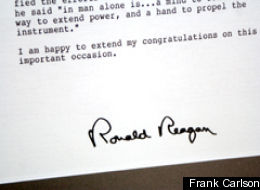 A letter from President Ronald Reagan praising
the Tennessee Valley Authority for its environmental
stewardship on their 50th anniversary in 1983.
In Spring City, Tenn., a town of just more than 2,000 residents near Watts Bar nuclear reactor located about an hour southwest of Knoxville, local businessman George Thacker openly acknowledges he is a walking contradiction.
When asked whether he thinks it's true that most people don't think of Republicans as environmentalists, he said, "You got that right. That's very true."
"I'm environmentally minded," Thacker said. "I think everyone should change. I don't know if so much it's Al Gore's global warming idea or if it's the Bible. But if you read the Bible it pretty much lays out all these things."
He's fiercely Republican, pro-business, owns several oil change shops and is making quite a profit out of developing the area surrounding Watts Bar nuclear reactor.
Yet he designed the Howard Johnson hotel he owns to be as energy efficient and green as possible. He uses compact fluorescent light bulbs and has the ability to shut off all power to the second floor if the hotel is not full to capacity. Not only does this help conserve during today's swelling energy crisis, it helps keep his energy bills down to under $2,000 a month, which he said is rather low for a hotel.
The most controversial part of his green hotel? There is no elevator, just stairs.
"People complain about not having an elevator, but then, most people need to walk up and down the stairs," Thacker said.
Perhaps the starkest departure from Thacker's Republican roots is the great effort he made to buy a foreign-made, fuel efficient vehicle. Though he calls it a car, his imported BMW C1 looks more like a cross between a golf cart and a moped than a traditional four door sedan. It weighs in at about 400 pounds, and is the length of a typical bike.
"You'll never see another one in America, I doubt," he said.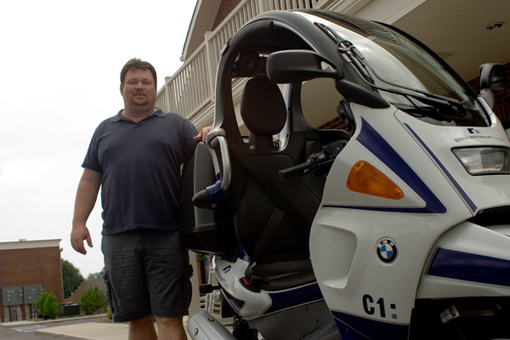 Republican business developer George Thacker and his BMW C1.
It gets 98 miles per gallon and catches a lot of eyes parked outside his strip mall complex. Thacker said he favors environmentally efficient vehicles because his friends at British Petroleum tell him oil is over. Whether we change now or later, the change is going to come, he said. Though this kind of environmental concern may be contrary to some of the stereotypes that exist about Republicans, many residents in the Tennessee Valley don't see the contradiction.
"If you're asking me if I see is there a conflict between the two -- being a conservative and being an environmentalist -- the two can mesh well together," said Spring City Mayor Mary Sue Garrison, who describes herself as an independent. "Because if you are a conservative, you are usually embracing long-held values of life and environment. From my personal standpoint, I do not see those two as being troubled issues or opposing issues."
Garrison is starting a program to educate its residents on ways to conserve, including reducing shower times and other water-saving activities.
"We as Americans are going to have to look at what natural resources we have and attempt to find ways to be much more conservative of them," Garrison said. "America is the most wasteful country in the world -- bottom line -- and we take so many things for granted."
SUBSCRIBE TO & FOLLOW THE MORNING EMAIL
Start your workday the right way with the news that matters most. Learn more