2013 Wedding Gown Trend: Totally Twisted Gowns (PHOTOS)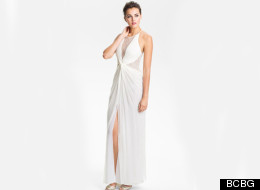 We're always on the hunt for what's next when it comes to weddings and fashion. One new trend from New York Fashion Week that we are sure will cross over to wedding dresses (in part, because it already has) is twists.
A slight twist is a classic way to add interest and style to your wedding dress without being overly-trendy. We love the way a knot at your waist causes the fabric of your dress to gather in such a flattering way, while a twist on the shoulder of a tea-length gown adds to the retro vibe. Check out the slideshow to find our top 10 twisted gowns from Loverly for any and every bride. Be sure to leave us a note in the comments with your favorite after you browse!
2013 Wedding Gown Trend: Twists
The high neckline of this dress made it an immediate frontrunner, but the beading and perfectly placed twist put it over the top. Are you searching for a gown with a high neckline? Lace Inset Knot Front Silk Chiffon Gown From Nordstrom via Lover.ly

We can't deny we love bows (another popular trend!), so we had to include this Junko Yoshioka dress! We really do love bows! Photo by Junko Yoshioka via Lover.ly

This Modern Trousseau ball gown is kept classic with its clean lines and beaded sash, but we love the addition of the twisted sweetheart neckline. Bundle gowns together for your ballroom celebration. Josephine From Modern Trousseau via Lover.ly

Perfect for you or even your bridesmaids, we love the capped sleeves and twisted neckline of this organza gown for a formal affair. Ever since Duchess Catherine walked down the aisle, we love sleeves. Florence Gown From Rent The Runway via Lover.ly

This knotted halter chiffon gown has us thinking about nautical style, which is why we can already picture it at an ocean side fete. Nautical will always be in style. Poppy From Love Yu via Lover.ly

We love how both the beading and fabric gather at the waist on this classic Rivini gown. Searching for strapless gowns? Vyolette From Rivini via Lover.ly

We love that this Monique Lhuillier gown combines three of our favorite trends together: high neckline, off the shoulder, and twists. Find Monique Lhuillier gowns in the shop! Emotion From Monique Lhuillier via Lover.ly

Romona Keveza was right on trend when she designed this classically retro tea length gown with a one-shoulder twist. Style your retro wedding. Photo by Romona Keveza via Lover.ly

Opting for a gown with ruching is a great way to define and show off your curves, and we love that this Anne Barge dress gathers on the side with a twist. Anne Barge's collection is a favorite. Photo by: Anne Barge via Lover.ly

A sweet and classic style, we love that fabric twists in the bodice to form the neckline on this Junko Yoshioka gown. See more gowns by Junko Yoshioka. Photo by Junko Yoshioka via Lover.ly
More from Lover.ly:
Style your bridesmaids with twisted gowns!
Bows are another top trend
Bundle your bouquet inspiration together
Follow Kellee Khalil on Twitter: www.twitter.com/loverly