Patterned Wedding Invitations That Pop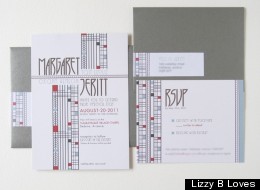 Though you can most often find us in the digital world, creating bundles on Lover.ly and interacting with friends on social media, we have to admit we have an undeniable penchant for stationery. There is beauty in the simplicity of receiving a hand-lettered invitation in the mail to what is sure to be a gorgeously orchestrated wedding. Beyond classic calligraphy, there is one other stationery element that always makes our eyes pop and conversation flow even more: patterns.
We love receiving invitations complete with patterns, whether it's a floral motif for a garden party bash or a tiled beauty that makes us think of modern art deco style. Patterns are a way to make your invitation that much more memorable, and it's also an inventive way to set the tone for the theme of your wedding.
The gallery is full of patterns -- stripes, chevron, tiles, and more -- for you to browse through. Take a look, and tell us which pattern will set the tone for your own wedding in the comments!
Patterned Invitations That Pop
The bright swirls of this watercolor suite have us dreaming about summer weddings by the ocean. Bundle your favorite watercolor inspiration together! Photo by: Nancy Neil on Kelly Oshiro via Lover.ly

The calligraphy on the front of this invite makes it classic, but the elegant floral backing offers the perfect pop of pattern. Yellow is one of our favorite colors. Photo by: Milkmaid Press on Snippet & Ink via Lover.ly

Few patterns are more classic than stripes, and we can't deny out love for this option complete with gold lettering! Stripes are perfect for any style celebration. Photo by: Erin Rene Photography on Southern Weddings via Lover.ly

The pretty pastels of this floral suite have us thinking about a vintage themed fete. Do you have vintage style? Photo by: Elizabeth Messina on Wedding Chicks via Lover.ly

Ikat is one of our favorite up and coming patterns, and we love the coral and teal colors used to create this inviting look. Find more ikat inspiration… Photo by: Swank Photo Studio on The Green Kangaroo via Lover.ly

Perfect for a wedding held in a backyard, bunting immediately says fun. What whimsical details will you include? Barn Party! Wedding Invitations by Meg + Emmy From Minted via Lover.ly

What is more perfect for a garden party celebration than a floral invite? Spring is the perfect time for a garden party. Midnight Fete Wedding Invitations by Jennifer Wick From Minted via Lover.ly

Hosting a modern soiree? Opt for these invites with a touch of mosaics! Planning a modern wedding? We can help! Photo by: Lizzy B Loves on Lizzy B Loves via Lover.ly

Set the tone for your chevron filled celebration with this suite. Bouquet wraps, table liners, and table numbers are just a few of the details you can use to weave your chosen chevron pattern throughout your wedding. Dozens of chevron patterns! Photo by: Paper Bloom Studio on Style Unveiled via Lover.ly

A great option for an art deco wedding, this suite has modern written all over it. Do you have art deco plans? Photo by: Lizzy B Loves on Lizzy B Loves via Lover.ly
More from Lover.ly:
Shop for more stationery products!
Opt for pops of patterns.
Decide on your shoes? It's like a virtual try on session.
Follow Kellee Khalil on Twitter: www.twitter.com/loverly