How To Plan A Casual Farm Wedding (PHOTOS)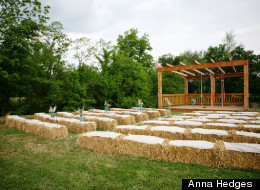 It's the perfect time of year to plan a daytime wedding at a local barn or farm. The weather in most parts of the country is warming up, flowers are starting to bloom, green is returning to the ground...and while you might not associate the word "farm" with the word "chic," we've got ideas that will make you want to say "yee-haw!" right along-side your fancy toasts.
We're thinking casual and classy...but still loaded with detailed, personal touches. Forget the barbecue grill, checkered tablecloths and paper plates; think wildflowers in collected glass bottles, local fruit or produce as part of your centerpieces, personal picnics so your guests can cozy up at the end of the night and a local, in-season dinner menu. Check out the slideshow to see some of our favorite ways to take your farm wedding up a notch!
Great Ideas For Your Own Farm Fresh Wedding
Barns or farmhouses can be great places for your reception. Photo by: Cat Thrasher Photography on The Brides Cafe via Lover.ly

Ceremony seating is fun and fresh with blanket-covered hay. See more ways to liven up your seating arrangements Photo by: Anna Hedges on Southern Weddings via Lover.ly

We love the pockets on this sweet, simple gown. Browse more wedding gowns and see them in full swing on real brides! Nigella From Love Yu via Lover.ly

Quilts and baskets are the perfect way to let guests cozy up and feel at home. See more picnics and casual settings Photo by: Simply Bloom on Southern Weddings via Lover.ly

Chill your favorite summer drink (we suggest lemonade!) in stylish mason jars, add a sprig of mint and a striped straw and you're done! It's cocktail hour! What will your signature drink be? Photo by: Adam Barnes on Heart Love Weddings via Lover.ly

An inexpensive way to display flowers is with bottles collected throughout the year. Browse tons of unique centerpieces Photo by: The Reason on Southern Weddings via Lover.ly

Cocktail hour appetizers -- yum! Seconds, please! See a ton of main course choices. Photo by: Jackie Wonders on Inspired By This via Lover.ly

Instead of traditional flowers or candles, decorate your tables with fresh produce or herbs. See more tablescapes from real weddings Photo by: Marisa Holmes on Inspired By This via Lover.ly

Fun illustrations like farm animals and fresh produce definitely set the tone for this farm wedding! Looking for the perfect invitations? Browse tons of unique paper here! Photo by: Stacey Hedman on Every Last Detail via Lover.ly

Give your guests a taste of your hometown with local or homemade favors. Search more foodie favors Photo by: Spindle Photography on Southern Weddings via Lover.ly
More From Lover.ly
Summer wedding planning begins now!
Find the perfect veil or headpiece
Gallery full of BLING!
Follow Kellee Khalil on Twitter: www.twitter.com/loverly