Just like Mary Lennox discovered in "The Secret Garden," weddings with a garden theme have an undeniable dreamy quality attached to them. The palettes are often filled with soft colors, and the airiness only enhances the feelings of romance. Especially appropriate in the spring, you can already tell garden themed soirees rank high on our list of favorite weddings to attend.
No wedding is complete without flowers, in our opinion, but this statement is especially true for this type of themed bash. Bouquets with that slightly wild, yet completely tamed just-picked-from-the-garden feel are all too appropriate. We've filled the gallery with nine of our favorite garden-themed bouquets from those with soft colored blooms to others with brighter pops of color, and you'll be hard pressed to not fall in love with all of them.
Will you be incorporating your favorite flowers from your family's garden into your bouquet?
1. Calla Lilies
This bouquet is full of vintage garden beauty, especially with its falling calla lilies and pearls woven throughout.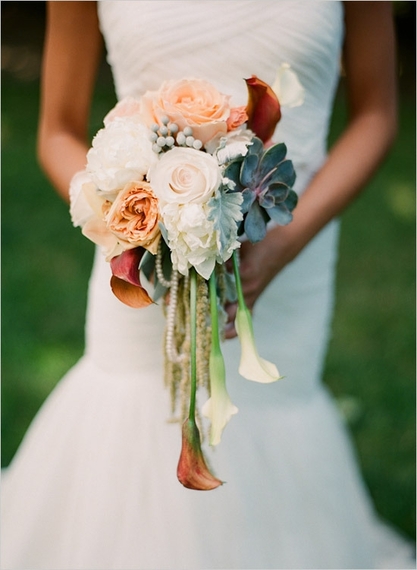 Photo by AMB Photography on Wedding Chicks via Loverly.
2. Sweet Peas
The pops of purple offered by the sweet peas offer just enough color against the whites and pinks of the peonies and roses in this bouquet.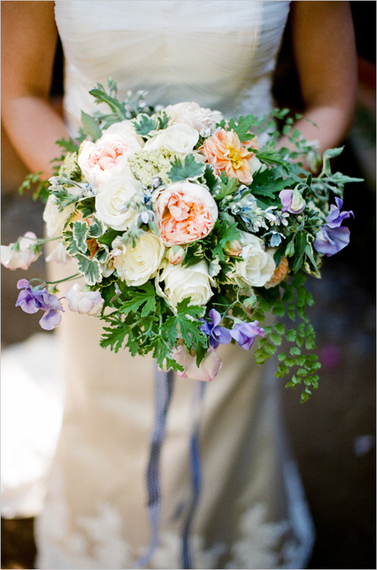 Photo by Heather Elizabeth Photography on Wedding Chicks via Loverly.
3. White Wildflowers
This simple white bouquet of wildflowers is a perfect example of the wild yet tamed look of a garden bouquet.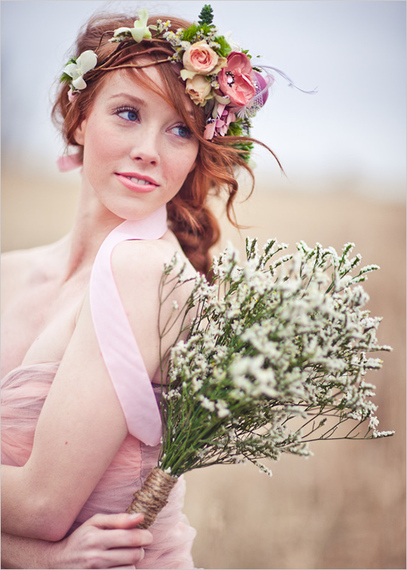 Photo by Just For You Photography on Wedding Chicks via Loverly.
4. Baby's Breath & Peonies
The bride holding this bouquet mentions that the flowers are from her mother's garden. We love that!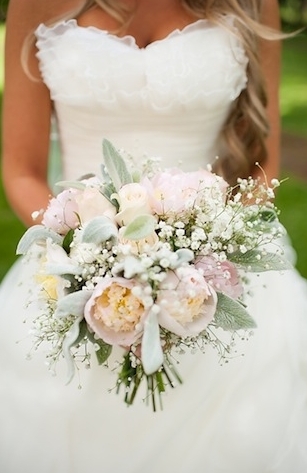 Photo by Acres of Hope on Bridal Musings via Loverly.
5. Hypercom Berries
The Hypercom berries in this bouquet are such a surprising inclusion, which may be why they are our favorite element.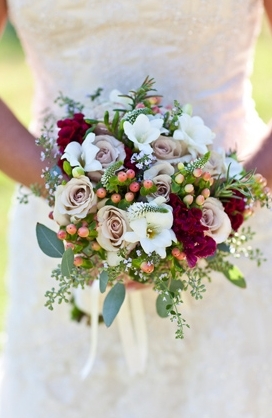 Photo by tPoz Photography on Bayside Bride via Loverly.
6. Hydrangeas
Hydrangeas grow in almost any garden, so they are an obvious choice for a classic just-picked-bouquet. Plus, the greenery reminds us of the vines in Mary Lennox's garden.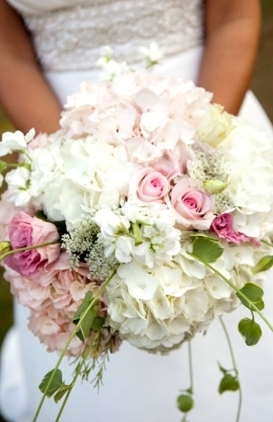 Photo by Dana Duncan Photography on Heart Love Always via Loverly.
7. Garden Roses
We adore the deep hues of this bouquet filled with garden blooms.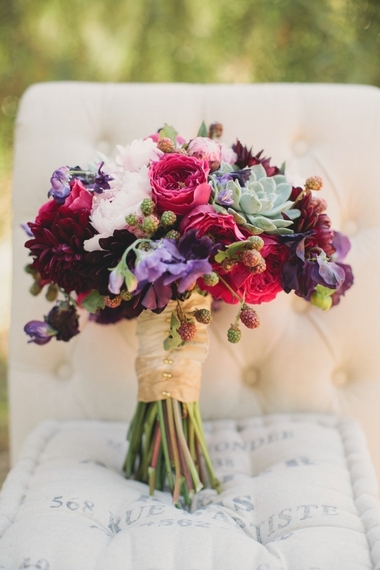 Photo by Jake & Necia on Panacea Event Floral Design via Loverly.
Want more awesome wedding advice? Download the Loverly perfect planner app to chat with a Loverly Wedding Concierge.
Get more flower power on Loverly!
Which Flowers Should You Top Your Cake With?
3 Ways to Bring Spring Flowers to Your Wedding Menu