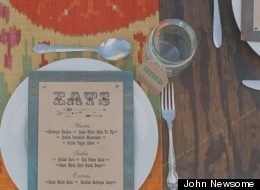 Whether it's defined as slightly tribal, a cousin of chevron, or totally tie-dye, we can say one thing: we love ikat. Patterns are already one the hottest wedding trends, and ikat is right there among the most popular this year. With a dash of black and white, this woven pattern can transform for a formal affair just as easily as it can fit into a rustic fete filled with warm, summery hues. We've said it once, and we'll say it again - define your style with a pattern. Maybe ikat is the one for you.
Dresses, invitations, linens, and more are filling the ikat gallery from Lover.ly, so make sure to take a peek. What's your favorite wedding pattern? Let us know in the comments!
Ikat is a Wedding Pattern to Watch
One of our first pieces of ikat inspiration, we love the weaving and blocking of this ikat pattern invite. Coral and teal are one of our favorite color pairs. Photo by: Swank Photo Studio on The Green Kangaroo via Lover.ly

Patterned shoes are always a plus, and you can't go wrong with ikat. Are you planning to wear flats? We're sure you'll look fabulous. Photo on Society Bride via Lover.ly

A classic take on the ikat pattern trend, this flattering dress is a favorite to wear as a guest to a wedding of any style. What to wear as a guest… Adrianna Papell Ikat Print Sheath Dress From Nordstrom via Lover.ly

One of the most striking ways to draw attention to your chosen pattern is by adding a backdrop. Bundle your favorite creative backdrops together! Photo by: Samuel Lippke on Cherish Paperie via Lover.ly

Between the liner and the menu, this combination lends perfectly to a more tribal infused ikat celebration. What's your wedding style? Photo by: John Newsome on Society Bride via Lover.ly

This ikat pattern is bright, vibrant, and perfect for a rustic outdoor wedding in the summer. Dozens of stunning tables… Photo by: Nancy Neil on Santa Barbara Chic via Lover.ly

Thinking about patterned dresses for your flower girl? This sweet Ikat number will give your flower girl some serious flair. We can't forget about your ring bearer! Photo by: Saks Fifth Avenue on Society Bride via Lover.ly

Including a lounge at your wedding? Add pops of pattern, color, and comfort with pillows! Shop more Trina Turk looks... Ojai Pillow From Trina Turk via Lover.ly

This cake defines elegant ikat style. What's your favorite sweet treat? Photo by: Weeks Photography on Inspired By This via Lover.ly

One of our favorite places to add a patterned pop is your envelope liner! Have you decided on your invites? Photo by: Avie on Troolie via Lover.ly
More from Lover.ly:
Strips and chevron - two of our favorite patterns...
You're engaged! Now what? Determine your style.
What are your favorite flowers?
Follow Kellee Khalil on Twitter: www.twitter.com/loverly