MINNEAPOLIS - ST PAUL -- I'd expected everybody at the Future Frontrunners summit--an afternoon of speakers for high school and college-age women who'd won an essay-and-video contest addressing what they would do if they were president--would be talking about Gov. Sarah Palin. Instead, the young women demanded of three Republican congresswomen and a Democratic city council woman what was being done about global warming, whether they thought drilling in Alaska was a good idea, how an elected official weighed what was good for her district versus good for her country, and if there were fewer female Republican officeholders than Democrats because Republicans traditionally tended toward security issues and women were perceived as less tough.
Rep. Cathy McMorris-Rodgers' (WA) answer to the last one, by the way, was that she didn't know, but the situation was ironic because, since giving birth her first term in office, she is even more focused on security. "Protecting family and making women feel safe" are classic
women's issues, she said.
But for the Future Frontrunners, everything would seem to be a woman's issue--I didn't hear a single topic that would be out of place in a room full of young men, or in a mixed gender setting. The sixteen or so young women, almost all in high heels and half wearing make-up and dark nail polish, fluently discussed particular bills working their way through the legislature ("The Paycheck Fairness Act?" said McMorris-Rodgers. "Um, that's the equal work for equal pay [sic] bill, right?"), campaign strategies, the degree to which one must maintain the "party line," and how gubernatorial races ultimately affected citizens far more than presidential races yet turnout for local elections was not nearly as high.
When the speakers asked for questions, at least three hands shot up. When an activist asked for the audience's ideas for improving voter turnout, half a dozen young women delivered eloquent critiques of both voter enfranchisement and registration efforts. "The dominant
immigrant demographics in my district are overlooked because their parents didn't vote. Only middle class white people are getting to the polls," said one young woman.
In only a few hours, the political wattage in that room could've lit the entire convention center two blocks away.
I realize I risk being condescending even in my praise, but the comfort, fluency, and sophistication with which these young women spoke about politics was striking to me both for its content and its lack of traditionally gendered behaviors. Not one young woman began
her remarks with "sorry"--a habit of young women noted by a professor for whom I TA'd in an all-woman's college. They didn't end their sentences on an uptick, as a Rhodes Scholarship representative once remarked that female candidates will often do, as if asking a question
instead of making a statement. When the young woman didn't agree with a speaker's remark, they politely challenged her.
The performance of these young women would seem to imply two things. First, that Generation Y and Millennials may be moving toward post-feminism, in which, as 17-year-old Caitlin Moriarty suggested, "Really anyone in office is a role model, regardless of race or
gender."
If so, Ferraro, Clinton, Pelosi, and Palin may not just have cracked the glass ceiling, but opened the floodgates. Both Republicans and Democrats should be encouraged that a new generation of young people, both men and women, are so confident, willing, and able to assume leadership positions. Twenty years from now, the thrill and anxiety of Hillary Clinton's and Sarah Palin's runs for office will seem as charmingly anachronistic as the controversy over Jackie Robinson's playing for the Dodgers.
Second, that the next generation also recognizes that both partisanship and gender is less black-and-white than the current climate would have us believe. Among the speakers, only Congresswoman Marsha Blackburn (TN) hewed to traditional Republican messaging. Blackburn began her remarks by noting that "leadership is transferable"--a phrase I've heard over and over these last few days to provide a through line connecting Gov. Palin's service in the PTA to
her bid for Vice Presidency.
In contrast, McMorris-Rodgers mispronounced Palin's name, and she spoke less about a woman's value-add and more about turning the perceived weaknesses of being a woman into strengths.
City Council President Kathy Lantry went a step further and talked about the need for women to organize a support network before they ran for office--her own husband ("I do have a doll of a husband") not only assumed equal responsibility for their sons but took the boys canvassing for her on the weekends, and her friends made sure there was dinner on the table every night so the family had some degree of normalcy.
Without friends and family, Lantry said, "you spend a lot of time tearing up because it's really, really stressful."
In an election in which Hillary Clinton has experimented with identities to counter the public's uncertainty about a female commander-in-chief, the official's candor was a relief.
"She talked like a person and not a machine," Erika Banchy, 17, observed.
Little in this room seemed to be lost on Banchy and her peers. I had the sense that even as the current guard was performing their rituals, the new guard was assessing the terrain. When I asked Banchy, who proposed that as president she would solve the energy crisis by converting coal power plants to solar concentration units, where she acquired her information, she said, "I don't learn from school necessarily what the teacher teaches. I just listen to what they say
when they're talking."
You have been warned.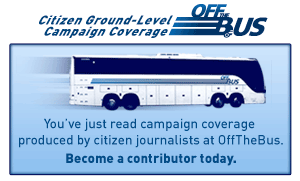 SUBSCRIBE TO & FOLLOW THE MORNING EMAIL
Start your workday the right way with the news that matters most. Learn more