The Beatles' 1968 song "Revolution" has become firmly stuck in my head of late. It's the bit that goes: "You say you got a real solution, well you know, we'd all love to see the plan..." that did it. In the space of two weeks' time, three such plans pertaining to an energy revolution have been (or will be) unveiled:
1) Japan: On 12 September, the Japan Renewable Energy Foundation was launched in Tokyo. The foundation was initiated and funded (to the tune of ¥1 billion) by one of Japan's leading businessmen -- Masayoshi Son, Chairman & CEO of Softbank Corp -- who is calling for nothing short of a paradigm shift in Japan's energy sector. He has backed up his call with a plan for doing it, based on the wide deployment of renewable energy (PDF). Given the massive reconstruction required post-Fukushima, this is a potential game changer for one of the world's largest economies.
2) New York: As I write, world leaders are descending here for the opening of the General Assembly (creating motorcade misery in a five square block radius around the UN I might add). Climate leaders are gathering here as well, primarily under the auspices of the Climate Group's Climate Week NYC and the Clinton Global Initiative which is looking at global sustainable development.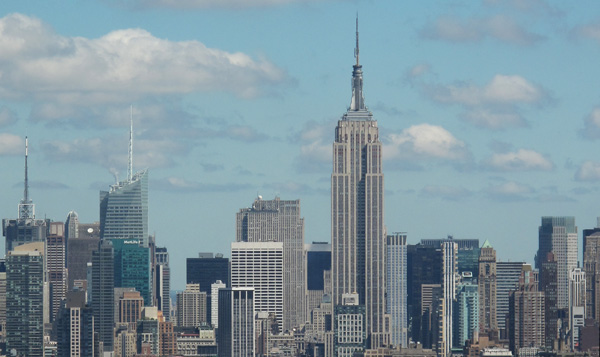 Photo: View from New York Academy of Sciences, Climate Week, 2011 by Kelly Rigg
At the opening of Climate Week on 19 September, the Clean Revolution Campaign was launched by the Climate Group, UNEP, the World Bank and the City of New York. Its aim is to achieve "...a massive scaling-up of clean energy, clean technologies and energy efficiency [which] will create jobs, boost economic growth, protect the environment and secure clean energy access for all."
3) The Maldives: President Nasheed of the Maldives made an international media splash in 2010 by announcing that his country would attempt to become the first in the world to go carbon neutral.
Since that time his government has been engaged in the painstaking planning required to make that pledge a reality. On Thursday, 22 September at a New York event co-hosted by the TckTckTck Campaign, the Vice President of the Maldives will for the first time preview the energy sector portion of their Carbon Neutral Plan.
This is a terrific example of a country pressing ahead, and making smart, sustainable development decisions, not only because they are environmentally friendly, but because they make good economic sense. The Maldives have an expensive addiction to imported oil, and as they can store relatively little of it at any one time, they are extremely vulnerable to changes in the price per barrel.
While we will have to wait until Thursday to see the details (it will be webcast live on the TckTckTck Ustream page if the technology gods cooperate) they will reportedly unveil an ambitious solar energy target, among other important developments.
Remember, when you talk about providing energy access in the Maldives outside of the capital Male, you are talking about supplying energy to far flung island populations. These communities are off the grid, as are many communities in developing countries around the world. So it's conceivable that the Maldives plan for providing sustainable energy to their off-grid communities could well serve as a blueprint for other governments to consider.
In the meantime, I will keep humming along "you say you want a revolution, well you know, we all want to change the world..."

SUBSCRIBE AND FOLLOW
Get top stories and blog posts emailed to me each day. Newsletters may offer personalized content or advertisements.
Learn more