Just in time for the holidays, Creative Home has released the all-new Hallmark Card Studio For Mac (HCS). Now Mac users can print out genuine Hallmark cards and projects just as PC users have been able to do for several years; the latest version for PC is called Hallmark Card Studio 2011.
There have always been a few easy to use "print project" programs available to Mac users -- Software MacKiev's PrintShop Deluxe come to mind -- but what sets this one apart is the Hallmark brand: it's the first software for the Macintosh that features genuine Hallmark artwork, fonts and sentiments. And it also carries an excellent "under-the-hood" pedigree, as the software was written by the Mac stalwarts at Nova Development. Long-time Mac enthusiasts, the folks at Nova know how to create well-crafted software that is truly easy to use. Hallmark Card Studio is no exception.
Written from the ground up just for the Mac, HCS supports all the latest and greatest Mac technologies: iPhoto, Apple Mail, the Mac's built-in iSight camera, and even multi-touch gestures that are featured on Mac laptops, and now on desktops thanks to the brand-new Apple Magic Mouse and Magic Trackpad. If you've been dying to show off your multi-touch prowess (and impress your friends) by moving, rotating, squeezing or resizing images using just two fingers, or deftly scrolling through scads of images using three fingers, HCS is exactly what both the doctor -- or in my case, the Tech Daddy -- ordered.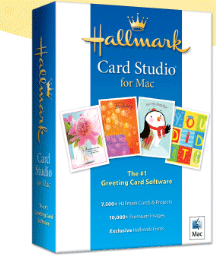 HCS comes with over 7,500 different Hallmark cards and projects, more than 10,000 images and graphics, and dozens of exclusive Hallmark fonts. The projects include greeting cards (both normal and photo cards), photo frames, scrapbook pages, stationery, announcements, envelopes, labels, calendars, invitations, note cards and postcards. A nice touch are the "Matching Sets" that allow the user to quickly create an invitation, envelope and address label with a unified theme. Finished projects can either be printed, saved as a PDF or other common graphics formats such as JPEG and PNG, or sent via email.
Using HCS couldn't be easier. There are only 3 buttons to choose from on the opening screen: "Choose A Design" or "Design From Scratch." The 3rd button is the "View Tutorial" button where HCS will walk you through 3 basic projects.
The bread-and-butter of HCS is, as you might expect, greeting cards, and there are thousands of them broken down by categories -- the same categories you'd see at a Hallmark store. You can browse by category or search for keywords such as "gratitude" or "boy's birthday." Once you find the card design you like, it's insanely easy to customize it. Graphics and text fields will often auto-adjust themselves, and sizing, moving, editing and rotating text and graphic objects is so intuitive most people -- even novice computer users -- won't have to read the manual or consult the Help menu at all.
Even though HCS is easy for anyone to use, don't mistake that ease for a lack of sophistication. Elegant features abound: for example, click once on some text to select it, and its matching toolbar magically appears right above the text. The most common text attributes, such as font, size, alignment, color and size "float" above the text until you're done editing, then disappear leaving you free to create without the clutter. The same applies to graphics or photos.
As is often the case, making something elegant, uncluttered and simple means there is a lot going on underneath. Yet HCS still can run well on a Mac with only 1GB of RAM. (It does require at least OS 10.5 and an Intel-based Mac.)
Since HCS is so new, there is bound to be room for improvement. Here are a few things that irked me:
The "Choose A Design" browser only shows the front of the card, not the message area. You can only see that by selecting the design itself; if you don't like it, there is no "back" or "return" button to go back to the browser. However, on the upside you can have several card projects open at once in case you can't decide which one to use.
"Send via email" does not re-format the card or project specifically for email use. For example, if you want the panels of a card to be side-by-side instead of vertically oriented in the email message area, you'll have to use a 3rd party program to edit the graphic first. The best solution would be to have a dedicated project called "Email Greeting."
Your iPhoto library must be in its default location, or HCS won't show anything when you open the iPhoto browser. In truth it won't bother most people who have only one iPhoto library. In my case, I have several, and use a wonderful shareware program called iPhoto Library Manager to manage them. I've been assured this issue will be addressed soon, as the company is aware of it.
There are limited text and graphic effects. For example, there is no automatic drop shadow that is commonly seen in other print project software.
Finally, the font menu doesn't show the style of the font itself, making it difficult to choose among the dozens of Hallmark-supplied fonts that are unfamiliar to everyone but the designers of HCS. A font menu that shows fonts in their actual styles is a must.
None of these objections are deal-breakers, especially when you consider the retail price for HCS is $39.95. And, knowing Nova and Hallmark as I do, I'm sure many of these issues will be resolved in short order. The thing to remember is that HCS, as it is now, is solid, elegant, easy to use, versatile, and worth its asking price.
Now that the holidays are here, there is no need to fight the crowds just to get to a Hallmark store and pick through what's left. Print what you want, when you want, in the comfort of your own home with Hallmark Card Studio!
NOTE: If you're in the LA area, come and see a demo of Hallmark Card Studio for Mac at the December 1st meeting of the MacValley Users Group, 8956 Vanalden St., Northridge. The meeting starts at 7:30 and there will be a copy of HCS in the prize drawing.
SUBSCRIBE TO & FOLLOW THE MORNING EMAIL
Start your workday the right way with the news that matters most. Learn more