DAY 3: SURE, EDUCATION IS NICE. BUT DOES IT MAKE YOU HAPPY?
The Failed Hope of Educating 21 Girls
In 2008, scholarship money for girls in secondary school had become available. Paradiso House, a community-based organization in Lilongwe, was selected to be the recipient. Parents and guardians rushed to nominate girls from their own households. In a very short time, the number of scholarship recipients reached 21.
Face-to-Face wasn't involved in setting up this scholarship fund, but in 2009 we assumed responsibility of it. So without having seen a progress report for the scholarship fund, we found ourselves in a meeting with the Paradiso staff. We went down the list of 21 girls.
First girl: Pregnant, and dropped out
Second girl: Ran away with new boyfriend
Third girl: Pregnant, dropped out, and disappeared
Fourth girl: Doing ok, but failed examinations
Our list of 21 girls was not starting out well. When we finished, we discovered that nearly half of the girls had dropped out. Only a few of them were doing well. Paradiso's scholarship fund for 21 girls was a failure.
Operating a Scholarship Fund for Orphans
Fixing this scholarship fund will be challenging. The most onerous task is reporting to the donor, and no surprise, there's a good chance that we'll lose their funding.
We'll also have to revamp the fund. Following the model of our other scholarship funds, we'll selectively decrease the number of students and adjust the fund so that it covers at least 2 years of schooling.
Most importantly, we'll begin mentoring the students on a one-to-one basis. All the students, being orphans or vulnerable children, have experienced tragedy, and it'd be naïve to think that one's job is done once the children have been placed into school. Every orphan or vulnerable child needs guidance and support from someone older and more experienced.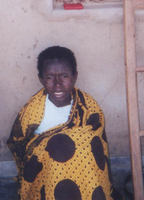 Our mentor is Mike Chikakuda, a former car mechanic who received a Face-to-Face university scholarship. Mike now works at our Lilongwe office (Pendulum Project Malawi) and is in charge of the scholarship program. He's carried deathly ill orphans, like Gladys Mahala (pictured right, and with Mike in 2009) in his arms to hospitals and has spent countless hours talking with them, getting them to trust him, advising them how to study, and counseling them against giving up or falling into bad habits. Mike loves the orphans, and it shows. They listen to him, they laugh with him, and they start believing that someone really cares about them.
Orphans as Lotus in a Muddy Pond
At a party last year for our orphan scholarship recipients, I suggested that they turn their painful past experiences into something special whereby they feel compassion for their fellow Malawians. Using a Buddhist concept that our Cambodian friends taught us, I suggested that the orphans think of themselves as lotus in a muddy pond -- flowers that are all the more beautiful because they grow out of dark and dirty water.
If the orphans understood my point, it's because Mike put it into a language they can understand. Mike told them that they can lead their community better than anyone else. That they should return and help their community. That education isn't to get ahead in life or to make them superior to others.
Mike constantly tells the orphans that their education can make them happy, just like it's done for him.
But Is It Realistic to Think All Children Can Get an Education?
Sure, I think education is a right for all children. But is getting an education to all children something that's realistic? The costs of building schools are staggering. The social, cultural, and economic limitations are numerous. In rural Malawi, poor families need their children to help in the fields, and to care for young siblings and older family members. If the choice is education or food, children will continue to drop out of school before they reach 6th grade.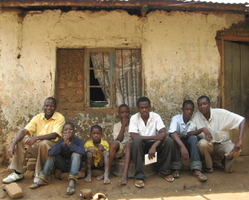 In rural Malawi where 75% of adults can't read, knowing how to read and write and do basic math would be a huge help to every community. Perhaps that means attending until 3rd grade. Or maybe even until 6th grade. But beyond that, I doubt it's feasible for every child to strive for higher levels of education -- at least not the way we define it.
It's easy to assume that education is how we in the West define it. We think our education is what everybody else should have. In the West, we use education to get ahead -- to be better than the rest. To achieve our dreams, and to make more money. We liken education to our notion that more is better, so a college degree is better than a high school degree, and a master's is better than a bachelor's.
A New Definition of Education
I'd like to adjust our definition of education, particularly as it pertains to rural Malawi. Education beyond the primary level could mean acquiring skills in agriculture. Education could mean strengthening one's identity through the study of history, culture, and society, and education could mean focusing on ways to make the community stronger and safer. Because this type of education doesn't require a school building or set class hours, the curriculum could be woven into the daily and seasonal rhythms. When the fields demand long hours of work, there need not be classes. At less busy times, education can be conducted under the shade of a village tree.
And what about our scholarship students, such as those left from the 21 girls fund? These students could advance through secondary school and perhaps university -- all the while being mentored by someone like Mike who'll encourage them to use their schooling to help their communities. These scholarship students will be nurtured to feel special, but not to feel superior.
Still, I see the majority of children -- those who don't go past basic conventional schooling -- developing into proud members of their villages through the implementation of this new concept of education. An education in which children learn how to be responsible adults. One in which children learn how to help their community build up defenses against famine, poverty, and disease.
And one in which children learn that the goal of education is about developing a love of learning, and then using that mindset to strengthen the foundations of their communities so that everyone has a better chance at happiness.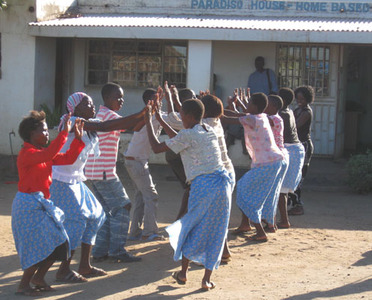 *****************
Ken Wong is the director of the Face-to-Face AIDS Project, a documentary and charity-focused 501(c)3 nonprofit based in Brooklyn, New York. Please consider supporting orphans and vulnerable children like Gladys Mahala go to school. Your donation of $30 a month will enable someone like Gladys go to school; your donation of $100 a month enable us to keep Mike Chikakuda doing his magic with all the orphans and vulnerable children on our scholarship program. To donate to our orphan scholarship fund, visit the Contact & Donate page at www.facetofaceaids.org, and include a message indicating that you want your donation to go for orphan scholarships.