I spent 9 days in Malawi trying to turn deformed maize, witchcraft, and HIV into catalysts of change. Join me and my Face-to-Face AIDS Project and see how our ideas of charity evolve with on-the-ground experiences.
DAY 6: MEMORY CRIES AND GIVES ME A LETTER

Fifteen-year-old Memory Chisite, standing behind fellow orphan Eliza John, is watching a short video that a film production company in Soho, Post Factory NY, generously made for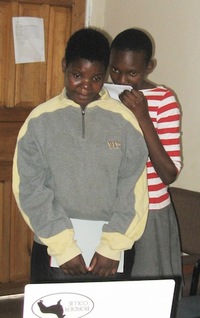 us. In the video, Memory talks about how she hopes her Face-to-Face scholarship will help her assist her six-year-old sister Maureen get an education as well.
At first Memory is bashful to see herself on camera. But then tears fill her eyes, because her little sister Maureen appears in the video. Maureen is in a white angel dress, complete with wings that flutter behind her as together they walk down a country dirt road. Memory cries, but is smiling as well.
We met Memory two years ago, just a few days after her mother suffered an agonizing death. After the mother died and because her father had died two years prior, Memory was sent to live with an aunt while Maureen was sent to be with an uncle. Feeling responsible for her younger sister, Memory found it painful to be separated from Maureen.
Memory Goes to Boarding School

We knew right away that there was something very special about Memory. She took time to think before answering questions. She had poise when she told us she dreamed of becoming an ambassador so that she could fix laws that were bad for her fellow Malawians. Memory touched our hearts, and we agreed when our local colleagues suggested sending Memory to boarding school rather than to regular public day school.
While boarding schools tend to offer a better education than regular schools, we'd prefer our students to attend the less costly day school for the simple reason that we can accommodate more students that way. But many orphans can't go to day school because of lack of food, clothes, or spare time to study. Malawians, even those deep in poverty, take in children of relatives who die. Often there's little food or clothing for the orphans since the guardians will care for their own children first. In many cases, the orphans are given the brunt of the chores, leaving them with little time or energy to study.
At her aunt's house, Memory was always tired from having to do a heavy load of housework. That plus the fact that the family didn't have enough food to go around meant that Memory struggled to concentrate at school, and had little time or energy to do homework.
Now in her second year at a girls boarding school, Memory seems to be discovering the joys of learning. She has proven herself to be hardworking, respectful, and capable of making friends. We're proud of her, and I'm grateful to her mentors for helping her transition from her world of tragedy to this special world of boarding school.
The Role of the Mentor

If Memory can find joy because of education, that's because Mike and Mara have been there for her. They've provided the generous, caring, strict, and wise relationship that the orphans are so attracted to. Most importantly, the orphans come to trust that Mike and Mara won't abandon them if they try hard at school. That steadiness is especially important to them.
Mara's home is always open for Memory and other orphans to spend the day or night, and Mike is constantly in contact with them to make sure that all is well. Mike tries to befriend the orphans first in order to gain their trust. He feels that the orphans often develop a hard protective exterior that inhibits emotional growth. By just talking with them over time --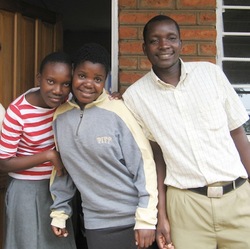 something that many have never experienced -- the orphans can first learn to rejoin the humanity of man, after which guidance and counseling can follow.
I'm not sure how much impact other than financial that foreigners like myself have on orphans like Memory -- it surely doesn't compare with what Mike and Mara do for them. But I like to think that a bit of steady attention, be it in the form of the occasional letter, a small gift from time to time, or even a note of adult concern, can make an orphan feel that someone else cares for them. That a student has a responsibility to people who hope the best for them. That a student comes to regard education as a gift to be treasured and enjoyed.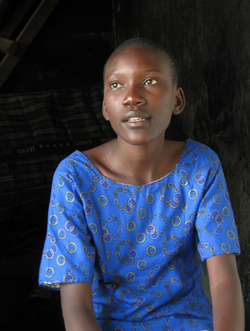 A Scholarship is a Selfish Act (and that's ok)

I'm a firm believer that adults shouldn't make promises they can't keep. In other words, don't tell a child you'll come back to visit if there's a good chance that you won't. You not returning might affect the child more than it affects you. We try to avoid making promises, and those that we do make, like with Memory, we make sure we stay true to them.
We ask that the students write letters to their donors and to us, partly because it might make them feel special and partly because it makes us feel wonderful. I think it's better to think that the reason one provides scholarships is to make oneself feel good. A scholarship benefits the donor. We might thank them for giving us the chance to do something nice.
I like helping orphans because it makes me feel good. They keep me coming back. How could you not want to support scholarships when an orphan like Memory runs to her room after seeing her video and returns with a letter addressed to me.
Dear Ken,
I am very happy to respond to the letter which I received during the first week of my holiday. I am also glad to hear that you are all fine in New York City and I hope you are enjoying your work. But not more than how I am enjoying my studies at boarding school....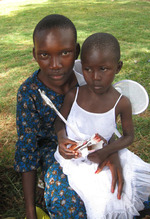 ... I hope you will have a lot of news when you come to Malawi, and you will be welcomed because every one we miss you.
Missing you, Memory Chisite
*****************
Ken Wong is the director of the Face-to-Face AIDS Project, a documentary and charity-focused 501(c)3 nonprofit based in Brooklyn, New York. Please consider supporting orphans and vulnerable children like Memory Chisite go to school. Your donation of $60 a month will enable someone like Memory go to school; your donation of $100 a month enable us to keep Mike Chikakuda doing his magic with all the orphans and vulnerable children on our scholarship program.
To donate to our orphan scholarship fund, visit the Contact & Donate page at www.facetofaceaids.org, and include a message indicating that you want your donation to go for orphan scholarships.