I spend 9 days in Malawi trying to turn deformed maize, witchcraft, and HIV into catalysts of change. Join me and my Face-to-Face AIDS Project and see how our ideas of charity evolve with on-the-ground experiences.
Charity as a Drop in the Bucket, If the World Doesn't End
It's 8am, and I'm in a taxi from JFK after my 25-hour trip from Lilongwe. It's nice to be home, even if this part of the city isn't it's most attractive neighborhood. I turn from looking out at the litter blowing about along the gritty rows of buildings on Brooklyn's Atlantic Avenue to the neatly written note on the clear barrier between the taxi's front and back seats.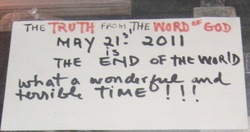 THE TRUTH FROM THE WORD OF GOD
May 21, 2011
is
The End Of The World
What a wonderful and terrible time!!
I ask the driver what will happen on May 21, 2011. He explains in great detail that a massive earthquake will devastate the world, after which those already chosen by God will ascend straight to heaven. These aren't so many in this group, he says, perhaps about five million people. Everybody else will go through a five-month judgment period during which God decides who goes to heaven and who goes to hell. And then in September 2011, the world as we know it will end.
May 21, 2011 is written in the Bible, the driver says, bringing up a string of numbers from the time of the Great Flood that all point to 2011. Which is just around the corner. In preparation for May 21, 2011, all you can do is pray.
To distract me from the end of the world, I keep texting my partner at work; as much as I find the topic intriguing, my mind is too foggy to put it in proper perspective. Instead I'm finding the conversation increasingly depressing.

At the apartment, I'm greeted by Aki, our 2-year-old border collie mix. With bright eyes wide and sparkling, Aki bounds back and forth and up and around, telling me with absolute clarity that at this moment all is well and beautiful with the world.

Aki's display of happiness reminds me of the joy and exuberance of the Kang'oma villagers, who are redefining what success means for their maize garden project for HIV-positive households. I recall the vibrant hope and excitement of the Chadika villagers, who having broken away from witchcraft, are fully embracing their new role as shepherds of their community.

I think of orphans like Aubrey and Memory, who are learning to regard education not as a way out, but as a way to find happiness within themselves and compassion for their own communities.

And I remember the nascent excitement of the Kang'oma youth, HIV, and leadership group, who are filled with energy, enthusiasm, and young hope in their quest for recognition and approval of their community. These young men and women can dream big, because the dream focuses on who they are and where they live. It's not a dream that's been placed on them from a different and distant culture and society.
So to hell with the end of the world. After the jet lag wears off, I'll be ready to roll up my sleeves and make a major nuisance of myself in my quest to find people who'll share in our enthusiasm and hope. To raise the money that sends Memory and other orphans to school, and that plants trees in the maize fields of Kang'oma. That provides the chance for rural youth to pursue a new kind of education that teaches them to take responsibility of their villages.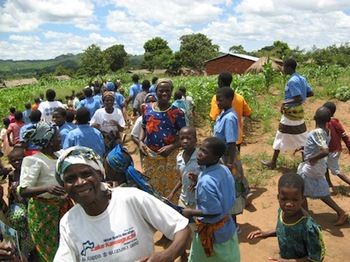 Charity can act like oil in water, because what's being put in -- money, intentions, expectations -- often doesn't mix with what's already there. Charity, especially in large doses, has a high risk of doing more harm than good in the long run. And like oil, it can keep congealing without blending in productively and permanently.

I like to think of our Face-to-Face AIDS Project charity as rainwater that mixes naturally with the water that's already there. And while our efforts may be viewed as just drops in a bucket, at least our raindrops will more likely influence all the drops around them. And over time, we might end up with a cleaner, purer bucket of water.
Ken Wong is the director of the Face-to-Face AIDS Project (www.facetofaceaids.org), an HIV and poverty-focused nonprofit based in Brooklyn, New York. For further information about the organization and how you can help, or to donate to the Face-to-Face AIDS Project, please visit the Contact & Donate page at www.facetofaceaids.org.
FOLLOW HUFFPOST