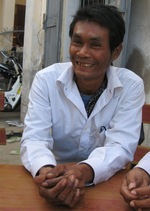 Why the Truth Isn't Our Goal in an Interview
Sok and Sinay
Ouch Sok is a lovely man. Thirty-seven years old, dark skin, a few scars, that gaunt look common in people recovering from AIDS.
When we first meet Sok, he has a shy smile but his eyes are bright and eager. Now on antiretroviral drugs (ARVs) after being dangerously ill with TB and high fevers, Sok attended an AIDS counseling group set up by SCC, our partner organization in Cambodia.
Chhoom Sinay, age 26, is fair-skinned, quiet spoken, and has large, brown eyes that revert to sadness when no one is looking. Sinay volunteered to be a model for Sok's haircutting workshop, offered at our SCC*F2F Community Centre in the old city of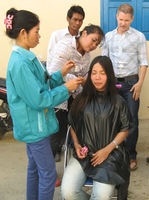 Battambang.
Sok is one of seven HIV+ participants hoping to set up haircutting businesses after the workshop, and he probably convinced Sinay to come as a hair model.
Sinay now sits uncomfortably while the instructor, volunteer Glenn Ricci from New Hope, Pennsylvania has everyone gathered around her -- I'm guessing Sinay wishes she could be anywhere but here.
Their Story
We interviewed Sok and Sinay at their house -- a one-room shack made of wood, bamboo, and plant leaves. The wind comes right through, and when it rains at night, the couple crowds into a dry spot on the small platform. Sometimes, there are not dry spots left. (Below: author at Sok and Sinay's house)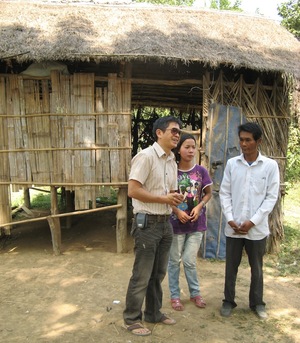 Through patient questioning, we learned that Sok lived near the Thai border, had a girlfriend, and was good to her. She wasn't a call girl, he says, perhaps sensing that we know this border town is known for its prostitution. After the girlfriend left him, Sok became sick and returned to Battambang, never to hear from her again.

Born in Battambang, Sinay went to work as a teenager in the sewing factories in Phnom Penh. There she married a man who died of AIDS a few years later, after which Sinay found herself getting sicker. She returned to Battambang where she started receiving ARVs and began attending SCC's group counseling sessions. There she met Sok, who proposed marriage. It'd be his first marriage and her second.
Can Everyone Be a Victim?
Sok and Sinay's story is one we've heard many times before -- a story of years of hardship and sorrow. It's difficult to hear these stories, and hard not to feel for the people telling them.
But am I certain that Sok didn't have other girlfriends, or that his girlfriend was a sex worker? Do I know for sure that Sinay wasn't the one who gave HIV to her first husband? I've heard a great many tragic stories from people we support in both Cambodia and Malawi, and hardly anyone says that they were the cause of HIV, or that something they did resulted in their problems.
Am I sure in an interview that I know what's the truth? No.
Is everyone a victim? No. There must be perpetrators too. And surely many people fall somewhere in-between.
What's the Use of an Interview?
It's good to realize that an interview doesn't always generate the truth. Perhaps I'm not asking the right questions. Perhaps the interviewees want to hide the truth or believe something other than the truth. Perhaps there are problems with working through a translator, or because of cultural misunderstandings.
Perhaps the interviewees are confused as to why anyone would care about certain questions, and so they answer in a way they think is the right answer. And perhaps I as the interviewer am not hearing the truth. After all, I want to like the people I work with.
I'm okay knowing that an interview may not give me much that I'm certain about. I know that a second or third interview can be much more productive than a first interview.
And really, the truth isn't the main goal of an interview. Of course, I like learning about people's experiences, and it's rewarding to share these stories with as many people as possible. But the main goal of an interview is to establish a relationship with people. I want them to know that we care about them, that we won't judge them, that we hope they can take steps to improve their lives.

Through interviews, I hope they can feel as if they trust us.
A Truth in Pauses
At Sok and Sinay's house, we looked at two photos of their marriage. They couldn't afford a ceremony, so their faces were scanned from old snapshots and photoshopped into the slickly dressed bodies of a man and woman. (That was then photoshopped into a photo of the royal palace.) Sok and Sinay were pleased when we remarked how nice they looked.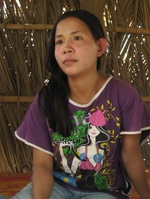 We were driving back to the Centre when I casually asked if Sinay had ever given birth. I was busy organizing that day's schedule, so my question was really just as much to keep a conversation going as it was to gain information.
Sinay took a moment before answering. Then she answered that yes, she'd given birth to a baby boy. He was born HIV-positive.
No one said anything in the car, perhaps because Sinay's face became flush and tears appeared in her eyes. Sok clasped his hands and held them in his lap while Sinay kept her gaze steadily on the back of the driver's seat.
Then Sinay, on her own and at her own pace, told us that her son was born in Phnom Penh soon after her husband died and she herself was weak and without work. Sinay gave her son up to an orphanage. Sinay feared she might die herself, and so her son would be better off at an orphanage for HIV+ babies.
Sinay would pause, continue her story, and then pause again. I kept mostly silent. Sinay said that she hadn't known what else to do. And now that she was healthier, she still couldn't get her son back, because she needed to prove a level of financial stability that was far above what she and Sok could attain. Sinay's son would now be four and she hadn't seen him in years. The orphanage would allow her to see him if Sinay could get to Phnom Penh, but of course he wouldn't know her.
Sinay kept repeating that she hadn't known what else to do. From the silences in her story, I knew that this was her story, honest and true and released with trust.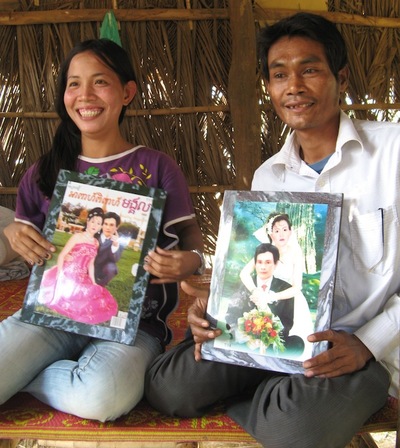 The next day, Sinay joined Sok again at the Centre. She smiled and laughed and enjoyed herself -- almost as much as Sok.
(All photos taken by author.)
***
For further information about the Face-to-Face AIDS Project and how you can help, or to donate to the Face-to-Face AIDS Project, please visit the Contact & Donate page at FaceToFaceAIDS.org.