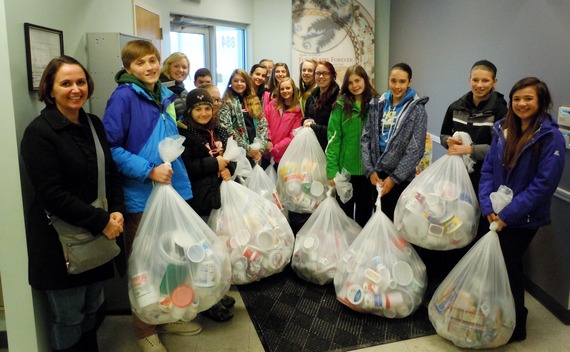 As part of an ongoing fundraiser with TerraCycle, Feeding America West Michigan Food Bank's staff have been collecting yogurt containers and shampoo bottles in the break room. Three months in, we'd managed to fill up a couple of copy paper boxes.
Then Whitehall Middle School got a hold of the idea. On Jan. 29, they brought in 68 pounds of recyclables, and it took a forklift to get all of them into the warehouse.
The effort is part of the school's bid to win the Lexus Eco Challenge, a national competition between middle and high schools.
"It's a bunch of different schools, and they're in competition to see who can make the biggest difference in their community," explained seventh-grader Leeanna Burns, a member of Whitehall's team, dubbed "iCompost." The prize: $30,000 in grant funding for the team members and their school.
This year, Burns and her team instituted a composting project to reduce methane emissions from uneaten cafeteria food. Then they turned their attention to reducing waste in the larger food system. That brought them to the Food Bank.
According to the Natural Resources Defense Council, 40 percent of food produced in the U.S. goes to waste. At the same time, 50 million Americans are living on the edge of hunger. Food Banks like Feeding America West Michigan bring these two problems together in order to solve both.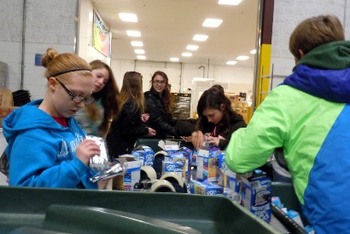 "We loved that [the Food Bank] was tackling food waste and also a social need," said Susan Tate, Whitehall teacher and Eco Challenge adviser. "Forty-five percent of our students are on free or reduced lunch, but they don't walk around with a sign around their necks."
So far, in addition to the recycling project, Whitehall students have boxed up thousands of PopTarts on a volunteer trip to the Food Bank and raised enough money to fund two Mobile Food Pantries.
Environmental action is part of Whitehall's history.
In 1985, the federal government named White Lake a Great Lakes Area of Concern as a result of pollution from several industrial sites. Chloroform, PCBs and high levels of phosphorus from nearby farms had rendered the fish inedible and the water undrinkable. But a community cleanup effort spearheaded by the White Lake Public Advisory Council slowly turned things around.
Local officials believe that by this June, White Lake will become the first Area of Concern to be removed from the list in Michigan.
That history serves to connect environmental issues with human needs, making them immediate and practical for kids growing up in Whitehall.
"It's one thing to ... give fresh water to people half a world away, but it's another to say this is for hungry people right in our community," Tate said.
So after all her students' work on the Lexus Eco Challenge, what does Tate think about their chances?
"I think our chances are decent," Tate said. "I am really proud of all the work that my team put into this, and I think our project was really well-developed."
The winners will be announced this month. In the meantime, Tate and her students are preparing to volunteer at their first Mobile Food Pantry, scheduled for Feb. 24 in Whitehall.
SUBSCRIBE TO & FOLLOW MUST READS
The internet's best stories, and interviews with the people who tell them. Learn more