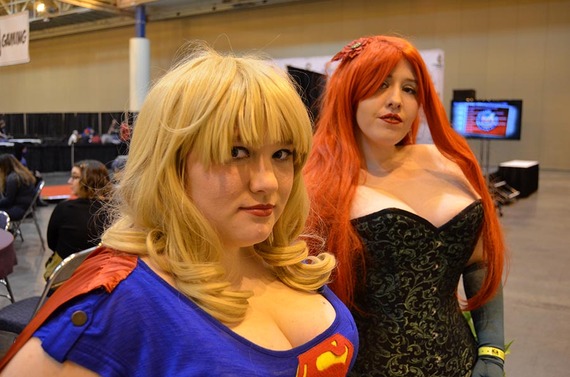 Being a geek, I love a Sci-Fi/Fantasy convention. Thousands of people with whom I have much in common (I refer to it, at least in my head, as being amongst my own species) gather to celebrate the genres of Sci-Fi, Fantasy, Comics, Gaming and Anime. It is both awesome and staggering. For one thing, one is reminded of the limited social skills that geeks are working with. But that aside, one is also reminded of the awe and wonder that these genres inspire in fans, those who open their minds to the world of limitless possibilities that these types of media represent. (Note: there is a glossary of con jargon following this piece. Use it at any time if you get confused).
Last weekend Wizard World Comic Con landed in New Orleans. The event was huge this year -- probably two or three times the size it was last year. When I asked PR person Jerry Milani what the estimate for attendance was, he simply told me "thousands and thousands of fans." I'm guessing a minimum of ten thousand people walked through the doors of the New Orleans Convention Center over the weekend, and that's a conservative guess. Many were Cos-playing, and many were there to see their heroes, including Matt Smith, one of the primary guests of honor.
Though called a comic book convention, the focus seemed to be more on television shows and movies (though comic great Stan Lee was present): the line up of stellar personalities were, for the most part, actors. The biggest draw seemed to be the above-mentioned Matt Smith, the current actor portraying Doctor Who in the very popular British Sci-Fi series. Robert Englund (Freddy Krueger), Linda Hamilton (The Terminator), Michael Rooker (The Walking Dead), Norman Reedus (Mimic, The Boondock Saints), Cassandra Peterson (Elvira), and Pam Grier (what has Pam Grier not been in?) were all present, available to sign posters and photos, and many were presenting talks on their movies, shows and careers.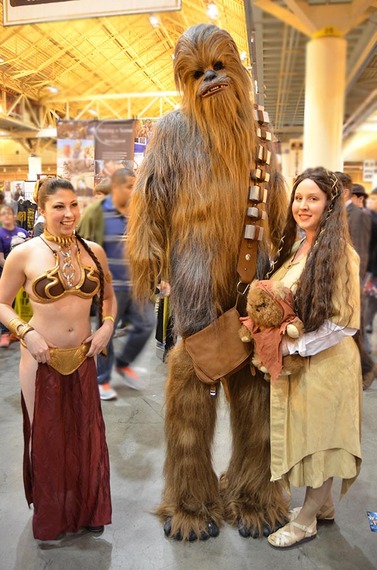 Despite the huge guest list, I decided the real interest, at least for me, is among the fans. I spent most of my time at Wizard World Comic Con just walking around the enormous dealer room, talking to and photographing con-goers, Cos-players, the dealers and the volunteers. I'll take you through my day...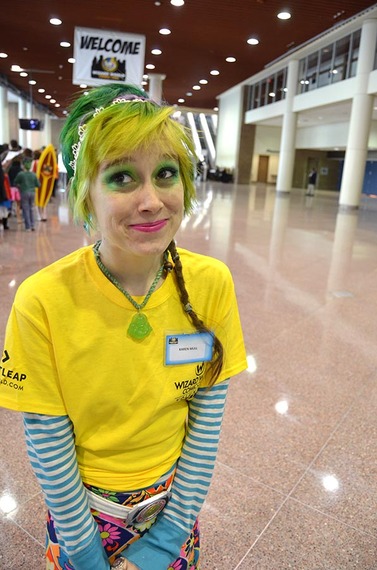 Walking into the convention center, one is greeted by the site of thousands of people queued up in various lines, waiting to get their badge to get into the con. An army of volunteers like this one make sure the lines run smoothly, and the con does what it's supposed to do!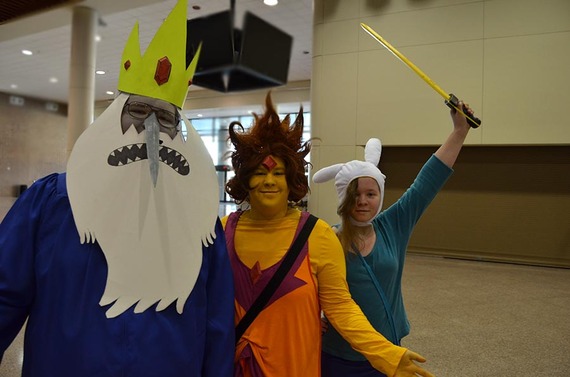 Cons attract a wide demographic: families (above) who Cos-play together, kids, young people using Cos-play to explore identity (below), and people who have been doing this for a very long time.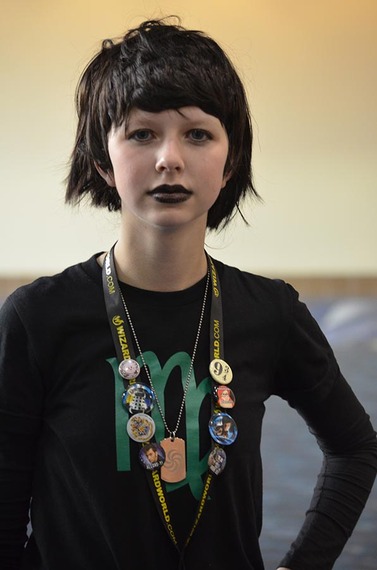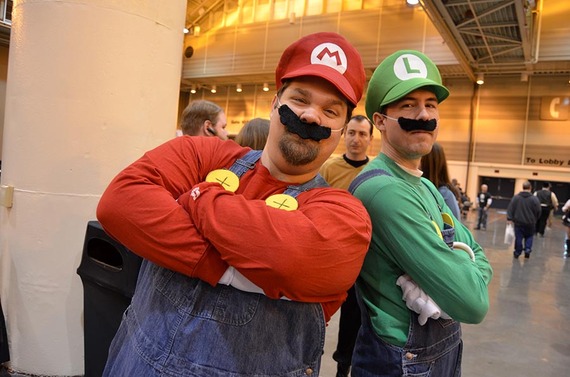 Characters from well known video games (above) and movies (below) were all present. Most of these are not hired performers, but fans who like to portray their favorite characters at cons.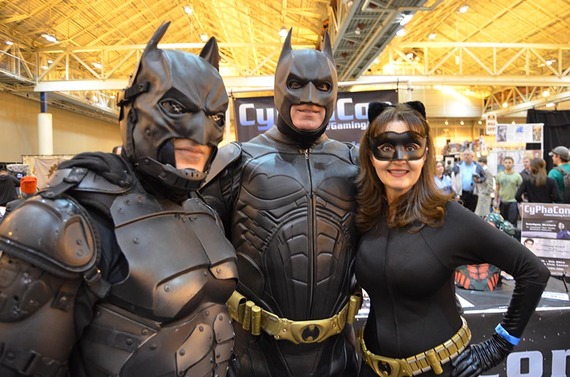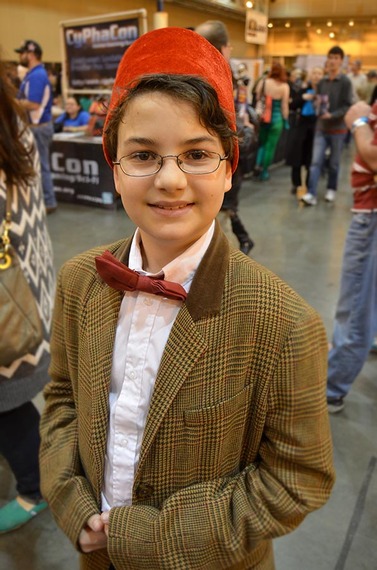 Matt Smith, the current Doctor Who, was probably the most popular guest of the con this year. No surprise there, as the British TV series has become a passion among fans here in the U. S. So it's also no surprise that costumes based on the series were in abundance at the con. Above and below, fans dressed in the bow tie and fez hat worn by the current Doctor.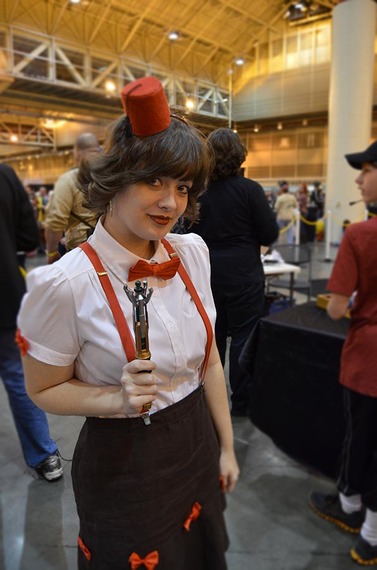 The Doctor carries a tool called a Sonic Screwdriver, which can basically do whatever the Doctor wants it to do. Many fans carried one, though theirs seemed to be less useful in fighting crowds with minimal social skills...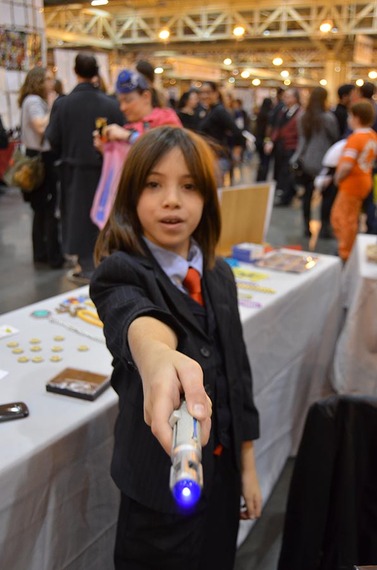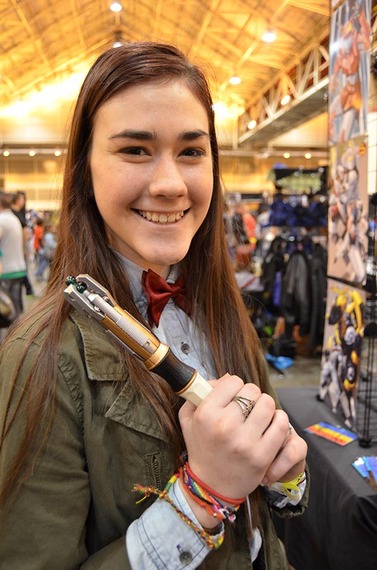 Another popular costume represents Doctor Who's vehicle, the Tardis, an emergency phone booth that can propel itself through space and time.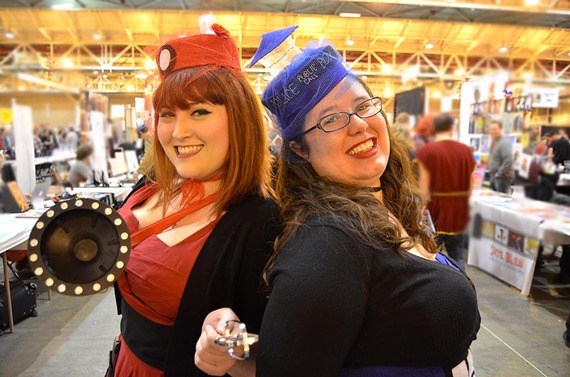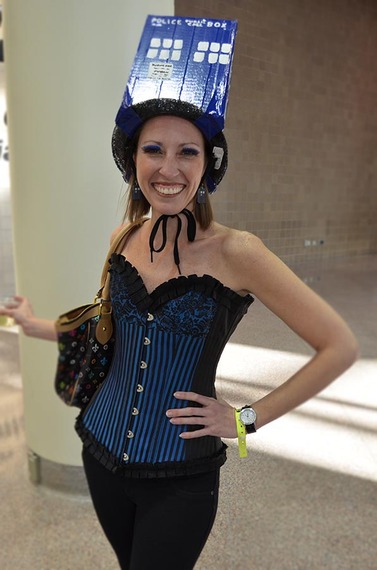 One huge draw of cons is the dealer room. Cons feature merchants who sell comics, videos, costumes, gadgets, and artists selling their work in poster, comic, book, plushie and card forms (among other stranger forms). It's a fan utopia. Sure, you can buy most of this stuff on the Internet. But coming to a place where you can see everything, touch it, and speak to the dealer or artist, is so much better.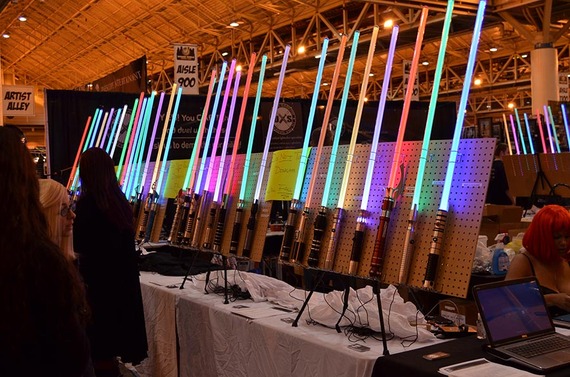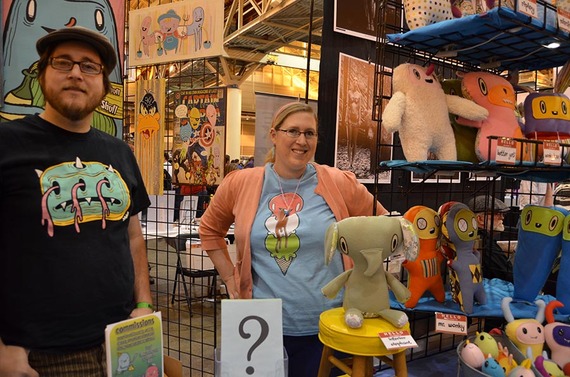 Above and below, Kelly and Spencer Shull of Jellykoe, and their awesome plushie creations.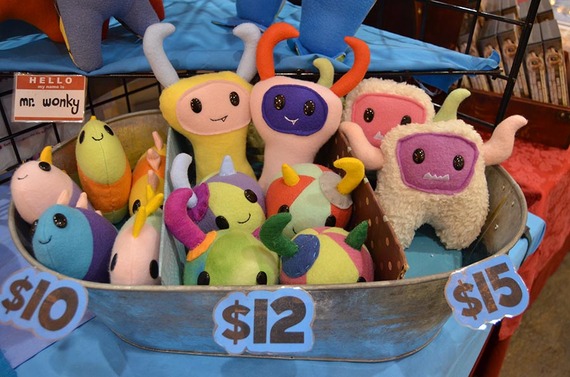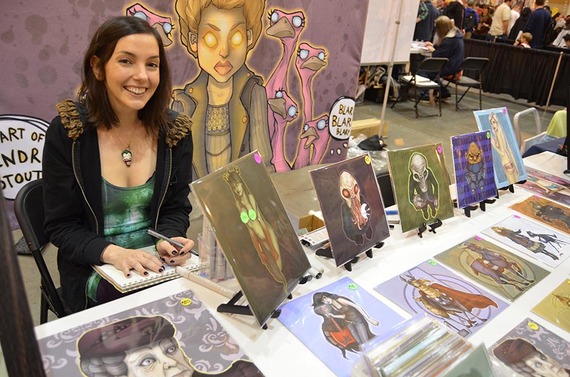 Other amazing Comic Con artists to watch our for include comics by Surreality, illustrations by Caleb King, art by Erin Bennett, and nerd girl (she has it tattooed on her hand in case you forget) Bianca Allemani.
The lovely Cos-players of Minty Mix, selling items for (you guessed it) Cos-play, as well as handmade geeky crafts.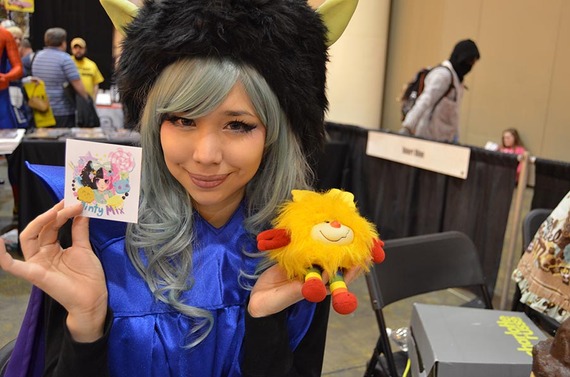 Cos-play has become such a trend, such a sensation among fans, that there are a growing number of Cos-play celebrities rising among the fan community. There is even a television reality show about Cos-players (whose cast whizzed by me in the hallways and had no time for photos).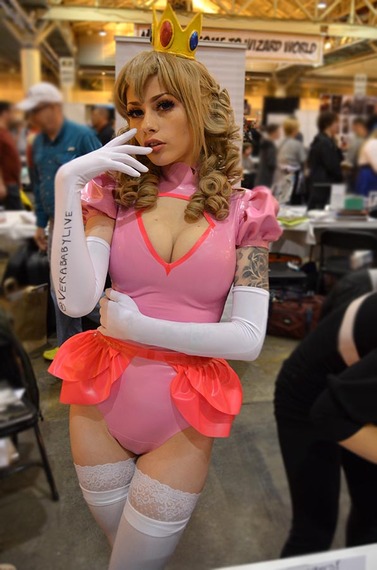 Above and below, sexy Cos-player Vera Baby, whose web site is both playful and sexual. Many Cos-players find the pursuit a safe way to explore their sensuality while taking on the persona of their characters.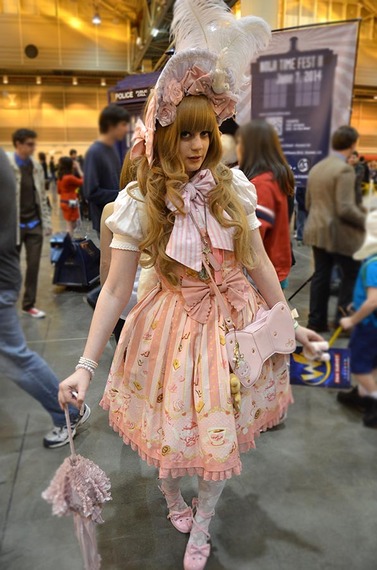 Above and below, many shops specialize in Anime inspired Cos-play looks, such as Goth Lolita.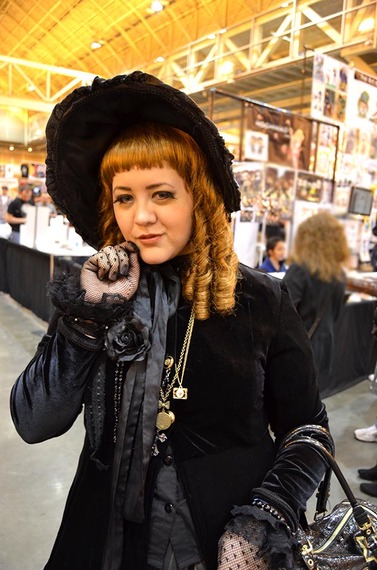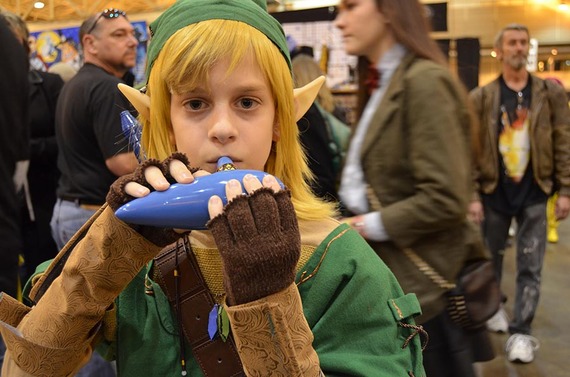 Above, accessories are an important part of Cos-play, and can identify characters. The instrument being played by this young Cos-player is an occarina, and identifies him as a character from the game series The Legend Of Zelda.
Cos-play New Orleans style!
OK, so this is New Orleans. We wear clothes every day that in other places people would call costumes. So how do we Cos-play? Mardi Gras style, of course! Wizard World Comic Con occurs every year, conveniently, right before Mardi Gras. This gives our Mardi Gras geek parade, Chewbacchus, a chance to roll out some PR before their event.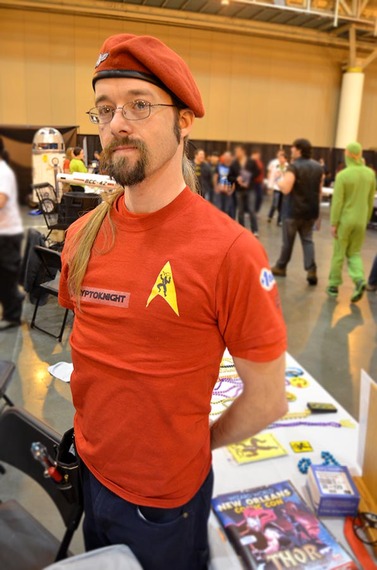 A Red Shirt, the krewe members who make Chewbacchus run.
Chewbacchus, a fusion of the Star Wars Wookie and the Greek God of wine, is a Mardi Gras parade made up of fans here in New Orleans (officially known as the Intergalactic Krewe Of Chewbacchus), who take the opportunity to "warm up" their floats, gadgets and costumes at Comic Con, and try to drum up some new Chewbacchan Aliens.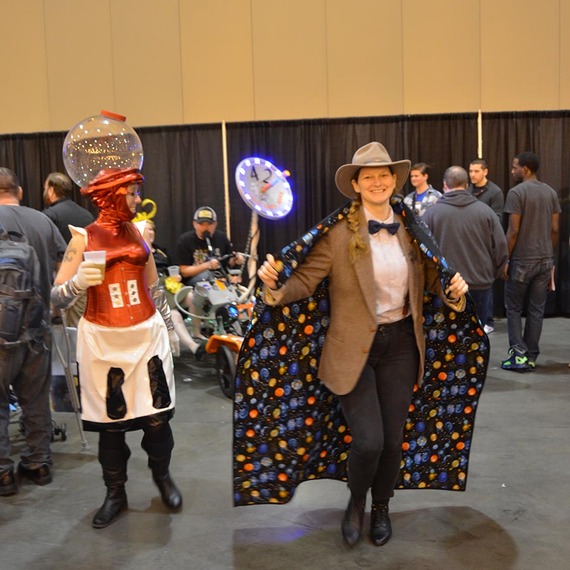 Above and below, Chewbacchus rolls at Comic Con.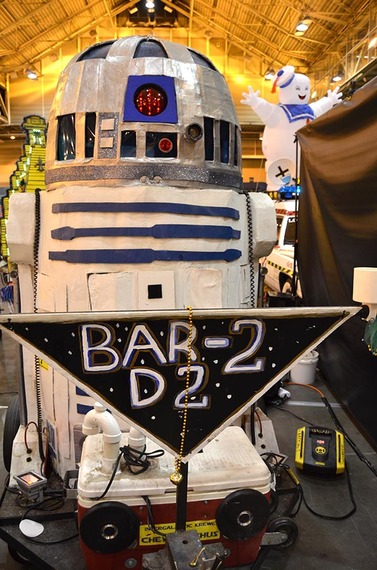 Above, Bar-2-D-2, a working bar droid. Droids serve man, after all. Below, Burlesque queen Trixie Minx takes a sip from the Bar Ship Enterprise, another float in the Chewbacchus parade.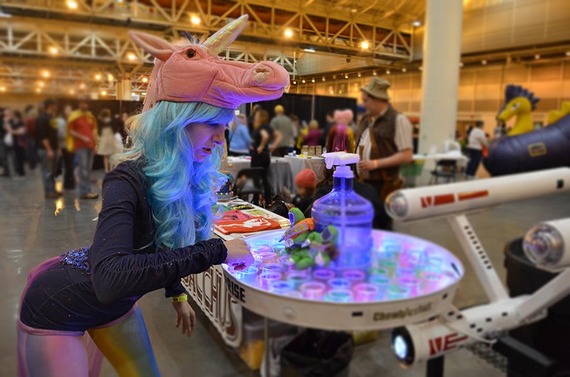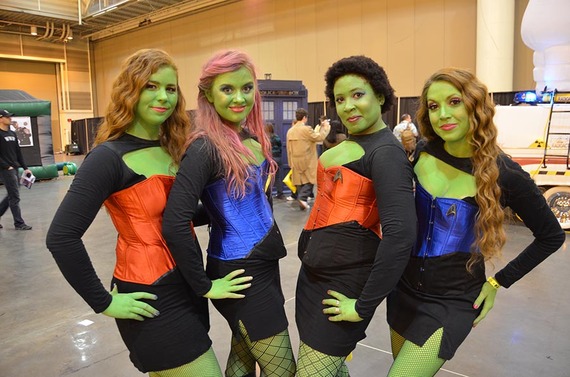 Chewbacchus' Ladies Of Star Trek. This really makes me want to watch some re-runs.
More photos from around the con...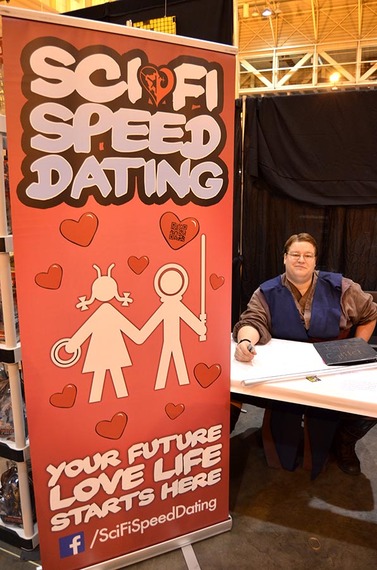 One ingenious offering was geek speed dating, above. The same dealer ran a geek version of the old TV show The dating Game, which I caught below. It was all kinds of geek awesome!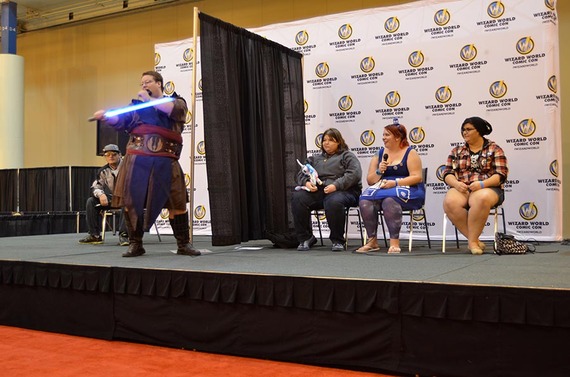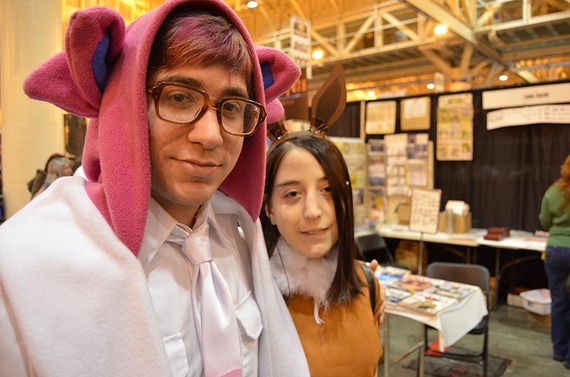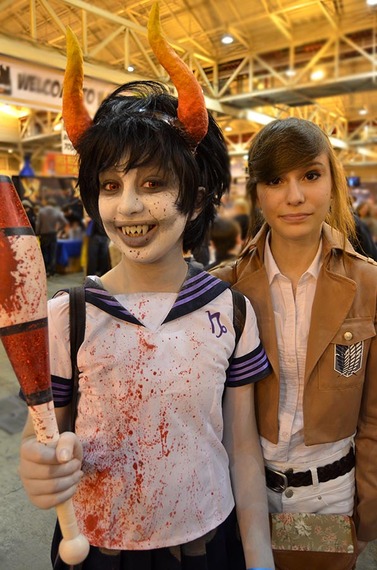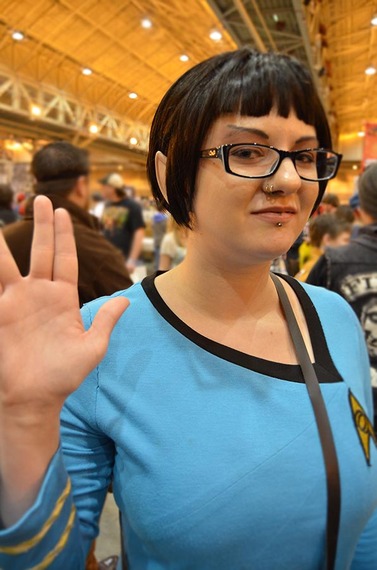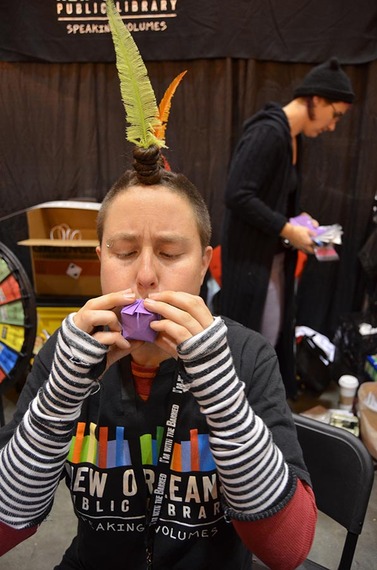 Geeks of the New Orleans Public Library represent.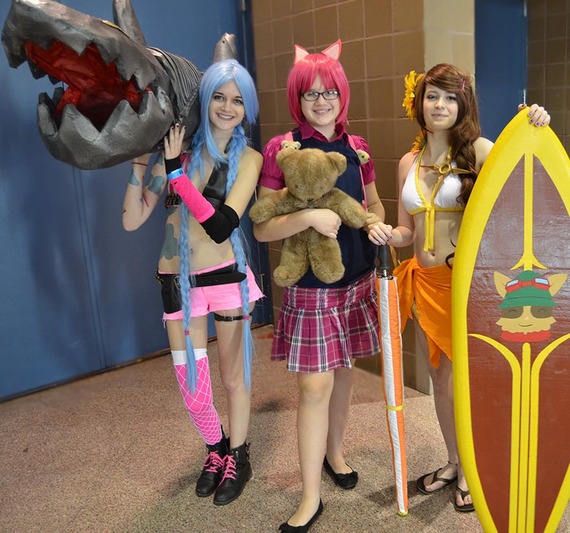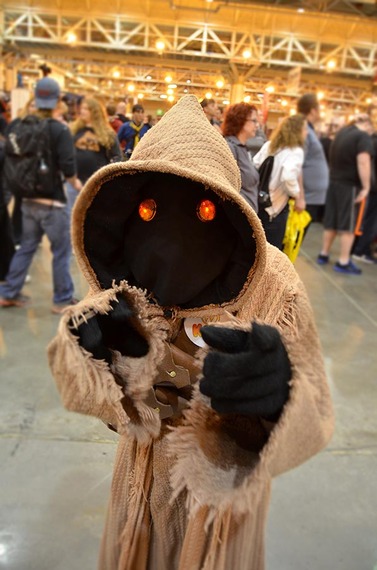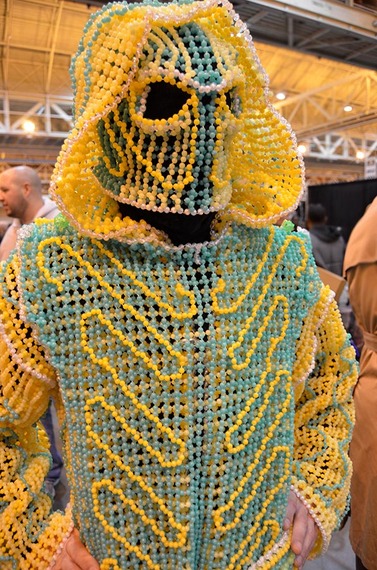 A costume made entirely of Mardi Gras beads.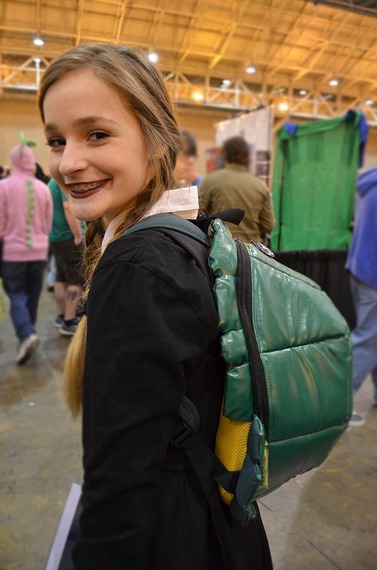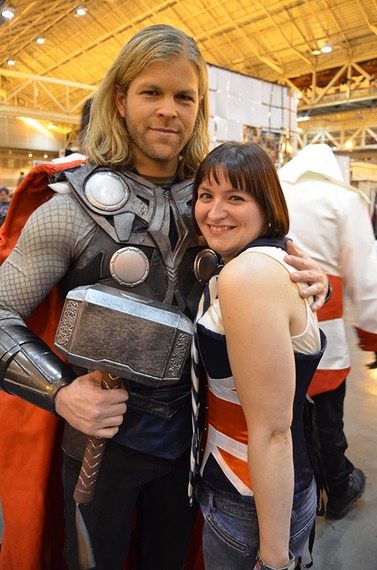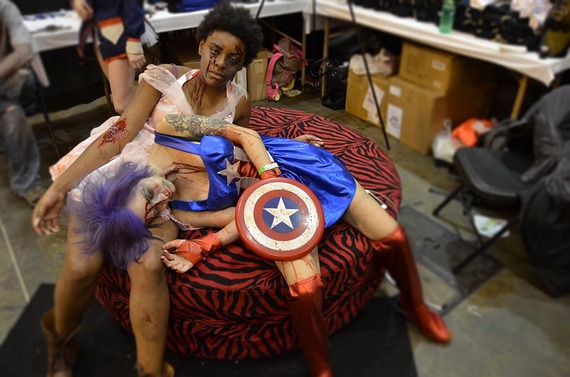 Wizard World puts on Comic Con in several major cities throughout the year. Check out their web site. All photos by Kenny Klein. For more of my photos of the con, look here. Until then, I leave you with...
A Glossary of Sci-Fi/Fantasy Con Jargon
Anime: Japanese animation, in either comic book, cartoon or movie format. Included are manga and Hentai, both specialized forms of Anime.
Bronies: Male fans of the My Little Pony cartoon series. There are several cons focused on Bronies.
Character: in context, a persona taken on by a Cos-player or Role-player for the purpose of exploring alternate realities or timelines. Characters are often inspired by works of Anime, Science Fiction and Fantasy. Many Cos-players explore their identity through their characters, and many feel more comfortable in the alternate reality of their character and in the company of other Cos-players than they do in the reality of the physical world.
Chewbacchus: Geek parade in New Orleans during Mardi Gras season. Thousands of local fans gather for this event.
Comic; in context, a Comic is a book of sequential art exploring alternate realities. The most well known Comics are published by Marvel and DC, and include titles like Superman, Batman and X-men. In the 1990s, authors like Neil Gaiman and Jason Miller breathed new life into the genre with Graphic Novels such as the Sandman and The Dark Knight series.
Con: shorthand for convention: when used in this shorthand, it is implied that the convention is focused on Sci-Fi, Fantasy, Comics, Gaming, Anime, etc.
Cos-play: dressing in costumes inspired by characters from Sci-Fi, Fantasy or Anime works, and taking on the personality of that character. Cos-play has become one of the most popular activities of con-goers. See Character.
Fans: shorthand for any fan of Science Fiction, Fantasy, Gaming, Anime or Comics: also shorthand for attendees of a con.
Gaming: playing games that involve technology and imagination, such as video games and role playing games (RPGs). There are several Cons focused on Gaming, the largest being GenCon in Indiana.
Geek: affectionate term for fans, most of whom have never really fit in anywhere else. Most fans are extremely intelligent and have vivid imaginations. This gives fans an ability to appreciate works of Sci-Fi and Fantasy, and the desire to explore alternate realities through Role-playing and Cos-play.
Goth Lolita: an ornate style of dress inspired by Anime.
Role-Play, or RPG: games that explore alternate realities. Players often take on characters from other worlds or universes. The most famous Role-Play Games (RPGs) are Dungeons And Dragons and Vampire: The Masquerade.
Trekker, Trekkie: fans of the Star Trek franchise. Cons began in the late 1960s when Star Trek fans began exploring their need for community. From there, cons broadened to include all elements of Science Fiction, Fantasy, Gaming and Role-play.
This Blogger's Books and Other Items from...
SUBSCRIBE AND FOLLOW
Get top stories and blog posts emailed to me each day. Newsletters may offer personalized content or advertisements.
Learn more