Has New Orleans Recovered?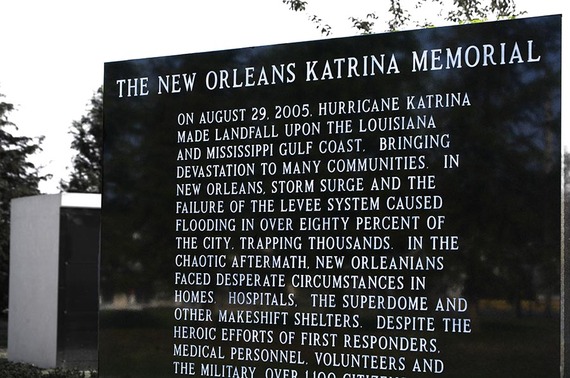 As a musician I travel often. People that I meet and speak to know that I live in New Orleans, and I am constantly asked the same question: "How is the recovery from Katrina going?" It seems like a simple question. Katrina was a highly publicized event, and people are genuinely concerned.
But the truth is, it's a very complicated question with a complicated set of answers. While the term Mardi Gras is certainly still synonymous with New Orleans, and we are certainly still known for music and indulgence, Hurricane Katrina may be the most defining event of our city in this century. We live every day with reminders of the hurricane, from the wreckage of buildings, to the continued presence of FEMA markings, to the fact that eight years later, we are only now beginning to rebuild our public schools. We got the message that the nation's government did not officially desire to help us (although the people of the nation certainly did), and this as much as anything has coalesced us as a city. Yet we still struggle to rebuild our properties, and in many cases, our lives.
For anyone unfamiliar with the particulars of Katrina, here is the inscription from the New Orleans Hurricane Katrina Memorial (see photos below):
"On August 29, 2005, Hurricane Katrina made landfall upon the Louisiana and Mississippi Gulf coast, bringing devastation to many communities. In New Orleans, storm surge and the failure of the levee system caused flooding in over eighty percent of the city, trapping thousands. In the chaotic aftermath New Orleanians faced desperate circumstances in homes, hospitals, the Superdome and other makeshift shelters. Despite the heroic efforts of first responders, medical personnel, volunteers and the military, over 1,100 citizens lost their lives in the disaster."
Perhaps you can see why nearly a decade later, Katrina and its aftermath still haunt this city. It is in our surroundings, and in our thoughts and prayers, constantly.
Two years ago I took a trip down to the Lower Ninth Ward, the area hit hardest by Katrina, to see what the neighborhood looked like six years later. I took a series of photographs and posted them on a blog site I maintained at the time (see that post here). Today I took the same trip, to see what has changed two years later, now eight years after the event. Here are some of my photos from both trips.
DESTRUCTION
In many areas of the Ninth Ward and elsewhere, the devastation of Katrina is still evident. In some places, houses still lay in ruin. In others, only stones or cement remain of what was once someone's home.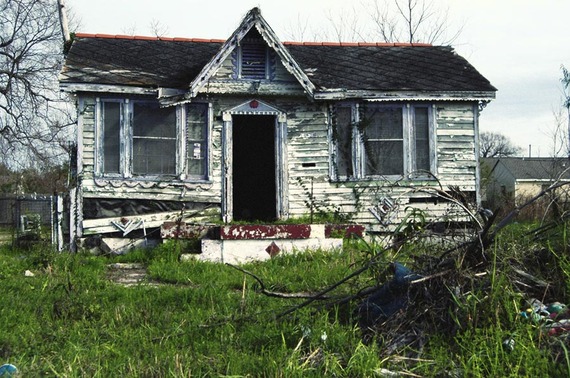 Above: two years ago, a typical ruined house in the Lower Ninth Ward. Below: today, a ruined house stands next to the remains of another house's foundations.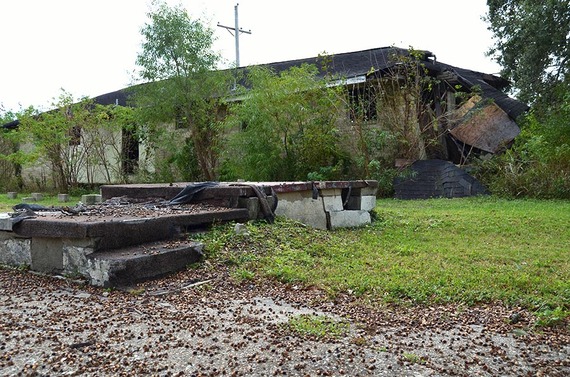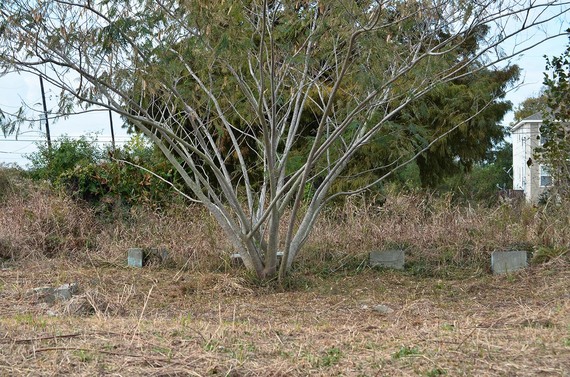 Above: today, a tree grows from the remains of what was once a home. Below: destroyed vehicles in a lot in the Lower Ninth Ward.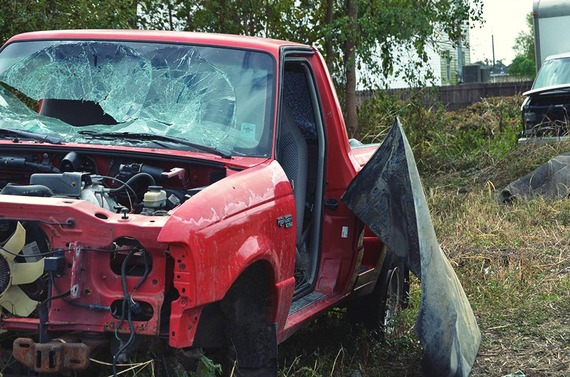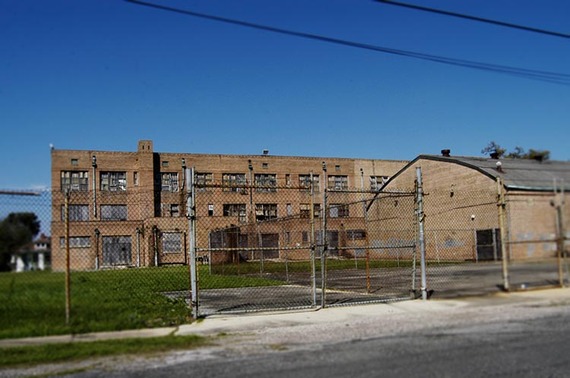 Above: Two years ago, New Orleans had still not reopened its public schools. Children here go to charter schools, private schools, or in a few extreme cases, they stay home and live a street life. Organizations like Teach America have provided teachers for our charter schools. This school in Uptown, on Leonides street, shows six years of neglect. This year New Orleans began opening a small number of public schools.
Below: today. A home in the Lower Ninth is obscured by years of foliage.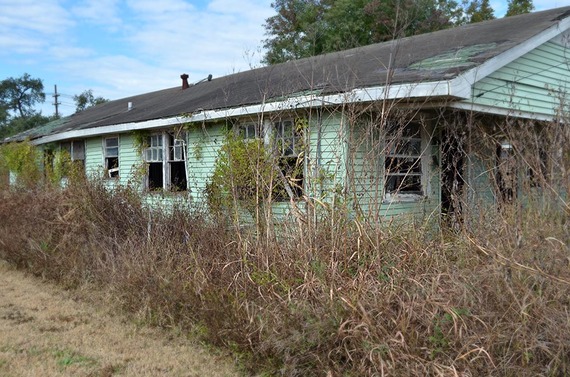 REMINDERS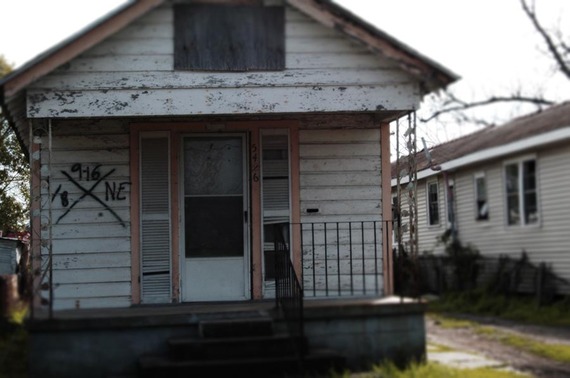 A few years ago a good friend moved to New Orleans to finish a project with me. When she arrived, I told her I'd take her for a drive around the better parts of the city to look for apartments. As we drove, she became incredulous. "This is a good part of the city?" she asked. "One of the best," I told her.
"But, what about the graffiti?" she challenged.
"What graffiti?"
She pointed to the face of a building.
"Oh," I said. "That..."
Many buildings in New Orleans still bear the markings painted on them eight years ago by rescue workers. The marks usually take the form of an X, with indications of which agency inspected the building, the date of the inspection, hazards, and number of bodies found. Some home owners maintain the markings on their home as a sign of pride. Local artists create the symbol in brass, to hang on doors. In the example at the top of this section, the house was inspected by E troop of the 82nd Calvary, Oregon National Guard (E/8) on September 16, nearly three weeks after Katrina struck. The team could not enter the building (NE). In the example below, the building was inspected twice, as there was no entry in the first inspection: no bodies were found. The agency that inspected the building is obscured.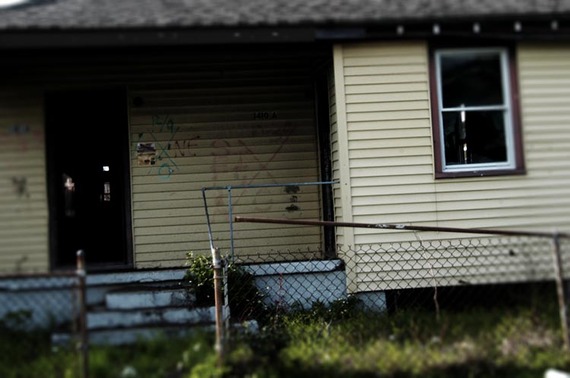 Below: today, this building in the Upper Ninth shows a conversation: Task Force Wildcat, who inspected the building on September 12, found no bodies. On September 27, a follow up agency checking for gas leaks saw a small dog. On October 18, inspectors reported no dog seen, but in a note on the building's side, left food and water. Many animals ended up homeless after Katrina. Our streets today are full of feral cats, and feral chickens.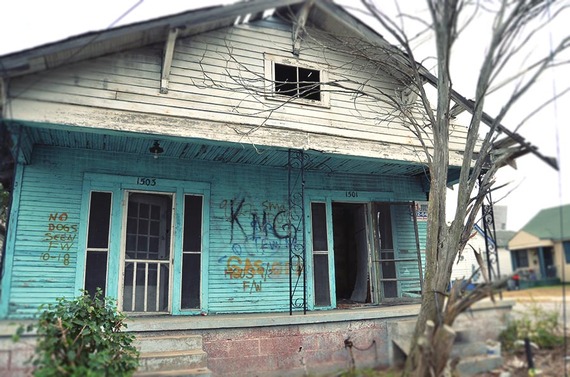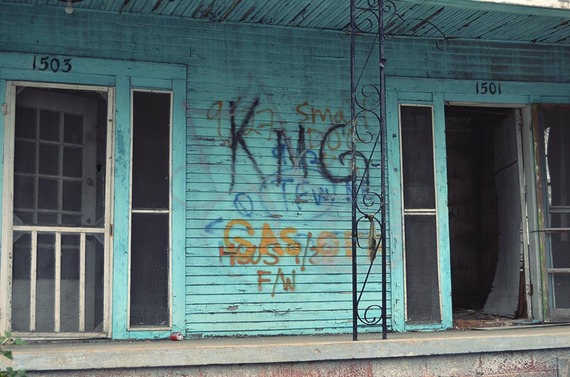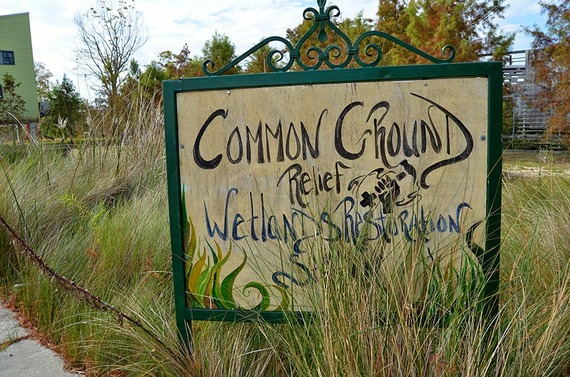 Above: today, a park and community garden has been built around the ruined foundation of houses by construction agencies in the Lower Ninth. Below, a grisly reminder of one's location while in the park.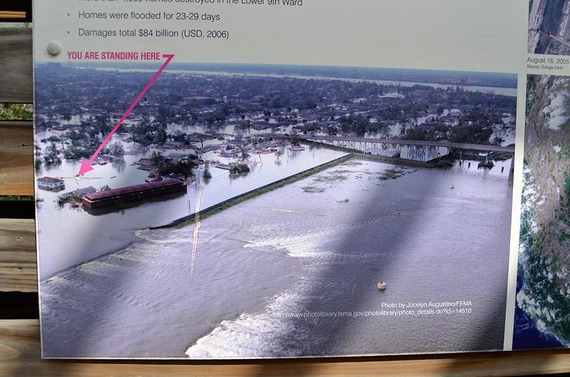 In this photo, posted in the park, you can see the portion of the levee that gave way during Katrine (lower left area); the body of water on the right is the Industrial Canal, which flooded with water coming south from Lake Pontchartrain. In the background you can see the Mississippi. Below: any New Orleans resident will recognize this as what was formerly the porch of a "double shotgun," our term for a long, narrow two-family residence. The park is now built around it in memorial.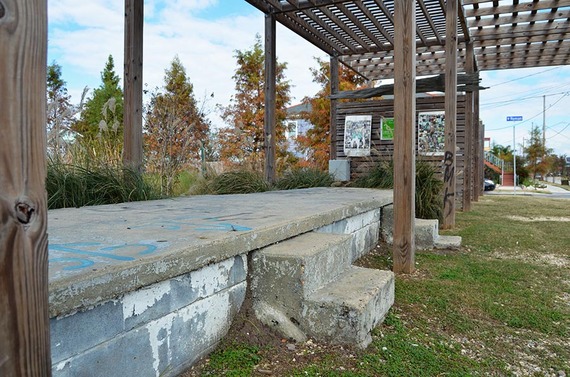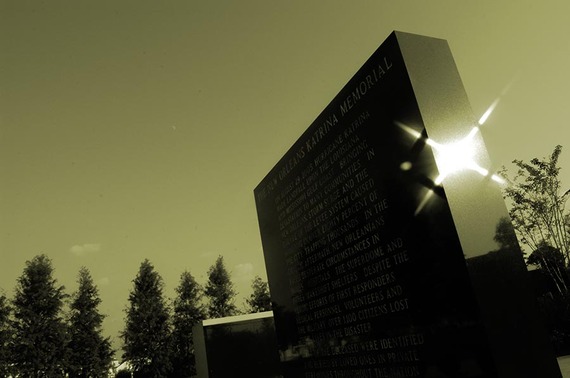 Above and Below: the Hurricane Katrina Memorial, Canal Street. Seventy unidentified victims of the storm lie in rest here. Read more about the memorial in my blog here.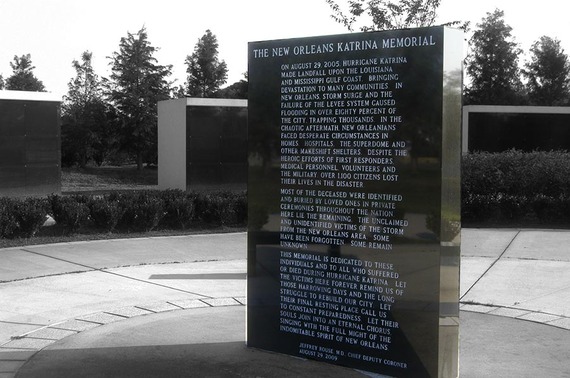 REBIRTH
Thanks to the efforts of celebrities, builders, countless volunteers and the New Orleans population, New Orleans is being rebuilt. The television show Extreme Makeover: Home Edition built Musician's Village in the Upper Ninth, four blocks of houses where musicians who lost their homes and their instruments could buy new homes at amazingly affordable prices.
Everywhere I wandered today in the Lower Ninth I saw building. Most of it is thanks to an organization founded by actor Brad Pitt, and run largely by volunteers, called Make It Right NOLA (see their website here). Make It Right is building ninety new, green homes in the Lower Ninth. The styles of these homes are amazing, and all are built with the latest green technology.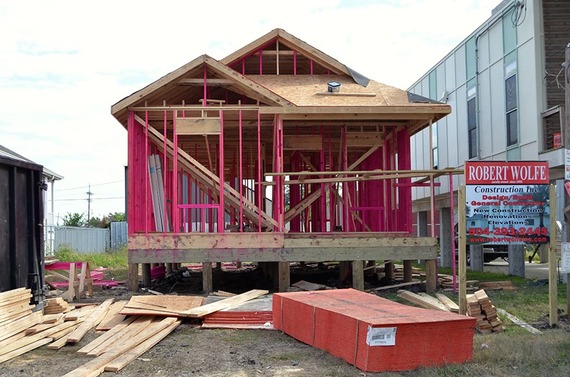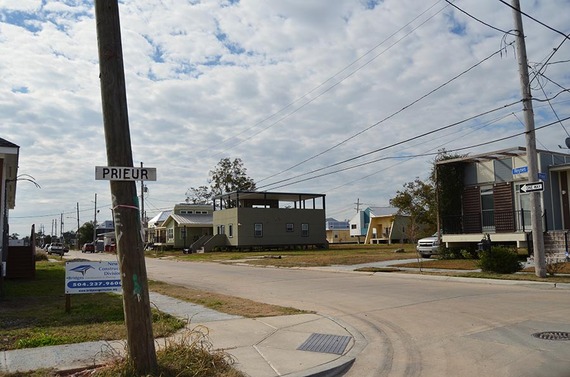 Above and below: today. In the midst of these amazing new buildings, street signs have still not been replaced. Artistic residents are undaunted.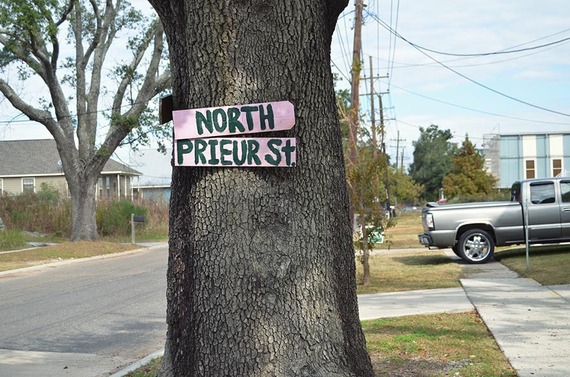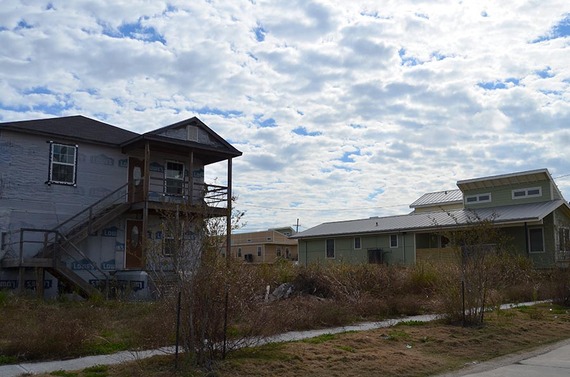 There is no easy answer to the question "is New Orleans recovering?" For some, amazing new opportunities have sprung Phoenix-like from the tragedy of Katrina. Other still remain in exile, having made lives for themselves in other places, but longing for the life they had here. Still others mourn the 1,100 dead. Organizations like Make It Right, Teach for America and Habitat For Humanity show us every day that the nation has not forgotten.
If you are visiting New Orleans, I strongly encourage you to take a trip to the Lower Ninth and share in the amazing rebirth of this working class community. Just remember that people live and work here: They are not sights to be seen, but people struggling to recover from a catastrophe. Most people who live in the Ninth, like everyone else in NOLA, are friendly and welcoming. The new homes you will see there will inspire you: The devastation still present will remind you of challenges we face each day. The same is true of Musician's Village in the Upper Ninth: Regular concerts are presented there by New Orleans musicians at the Ellis Marsalis Center.
Below: a garden lies tilled amidst the remains of a home. Today, Lower Ninth.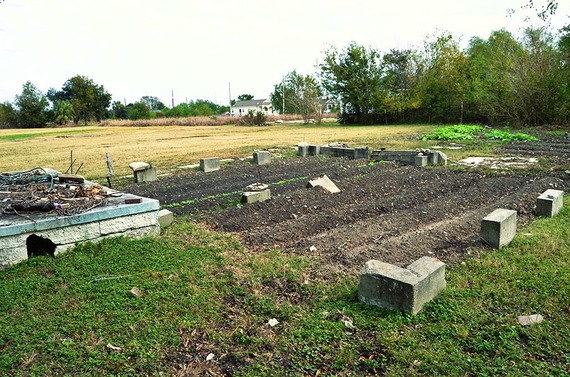 All photos by Kenny Klein.
Follow Kenny Klein on Twitter: www.twitter.com/kennyfiddler