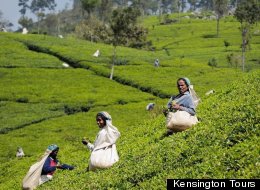 Marco Polo christened it the "Most Beautiful Island In The World" yet Sri Lanka has a lot more going for it than just its good looks. Boasting far more attractions than we can list from jungle safaris, elephant sanctuaries and white water rafting to spiritual temples, sun-drenched beaches and mouthwatering cuisine, this once inaccessible country is quickly climbing its way up every globetrotters' bucket list.
Perfect for these thrill seekers who have seen India, done South East Asia and are hungry for more, Sri Lanka simply cannot be missed.
Put together by Kensington's Sri Lanka experts, here are the top 10 things to do for those travelers lucky enough to visit Sri Lanka.
Sri Lankan Serendipity: Top Ten Things To Do in Sri Lanka
Nestled in the heart of the hills, the formal colonial retreat of Nuwara Eliya, or "Little England," is home to the country's oldest tea estates. Bicycle your way from plantation to plantation on a tea tasting - like a wine tour but without the headache! Learn the history of Ceylon teas, the role they play in Sri Lankan culture and everything about it from cultivation to cup. Not much of a tea drinker? Opt for a tea infused culinary lesson, therapeutic tea massage or rejuvenating herbal treatment. Photo Credit: James Gordon

Sri Lanka packs quite a punch for adrenaline junkies on a quest for adventure. From wild white water rafting on the Kelani River, rock climbing in the Knuckles Mountain Range and kayaking the Mahaweli to surfing the gnarly waves of Mirissa, jungle mountain biking or kite surfing on Negombo beach, this exotic isle is a thrill seeker's paradise.

For those looking for an enlightening adventure, Sri Lanka lays claim to 8 UNESCO World Heritage Sites packed in one small island. From the sacred cities of Kandy and Anuradhapura, impenetrable Rock Fortress of Sigiriya, ancient kingdom of Polonnaruwa and impressive Dambulla cave temple to the Dutch fortifications at Galle and the undisturbed Sinharaja forest reserve, Sri Lanka is one of the best places to go UNESCO World Heritage Site hopping. Photo Credit: James Gordon

Come face to face (or nose to trunk) with the playful Sri Lankan elephant at the Pinnawala Elephant Orphanage. This nursery and captive breeding program is home to over 80 elephants in Sabaragamuwa Province and makes for a larger than life adventure. Bottle feed the babies, help serve lunch and prepare to get wet during bath time. Just remember to watch your toes!

Skip the crowds of the Caribbean, the high prices of Europe's Rivieras and fending off other tourists for a spot in the sun, Sri Lanka is home to over 1300 km of beaches, relaxation and fun. A perfect end to any tour or as a standalone vacation, the island is naturally surrounded by coconut palm fringed shorelines, turquoise waters and powdery sands. From action packed Bentota, tranquil Nilaveli and whale watching from Mirissa there is a beach for every type of traveler.

No visit to Sri Lanka is complete without a safari through Yala National Park. Regarded as one of the best game parks outside of Africa, Yala boasts a plethora of wildlife from herds of elephants and adorable sloth bears to wild boars and over 100 species of birds. If you're looking to find out how the leopard found his spots, this is the place as Yala has the highest concentration of leopards anywhere in the world! Photo Credit: James Gordon

Voyage back in time to the Golden Age of Travel with a charming ride by rail aboard Sri Lanka's timeless colonial trains. Originally constructed to transport tea and spices from the misty mountains to Colombo's port, this historic railway line chugs through carpets of rolling tea plantations, spice gardens, hidden waterfalls and smiling rail-side vendors. Exchange pleasantries with the locals on board as you uncover Sri Lanka's historic past from the tracks of century old locomotives. Photo Credit: James Gordon

A must for any traveler lucky enough to visit Sri Lanka, time and cultures collide in its capital, Colombo. A city of contrasts, opt to sleep in an elegant colonial mansion or a suite at the Hilton, feast at gourmet restaurants or on irresistible street foods, shop at chic boutiques or barter in chaotic Pettah market, pray at holy… you get it. The list goes on and on. Just be sure to visit Galle Face Green, Viharamahadevi Park, Mt Lavinia beach and leave a night for dancing or the casino.

Take flavors imported by Arab traders, mix with European tastes from early colonialists, a dash of East Asian flavors and sprinkle it with South Indian seasoning, and you'll get a dish packed with spice and exotic flavors only found in this magical isle. From popular street food Kottu Roti and a sip of Sri Lankan spirit, Arrack to lump rice wrapped in banana leaves and tasty coconut Sambol, Sri Lanka will take your palate to places it has never been before!

Spot majestic blue whales and sperm whales as they glide gracefully past your boat in the waters of Sri Lanka. Almost as big as jumbo jets, the thrill of seeing these majestic creatures is beyond compare and makes for a whale of a tale. Located close to Galle, Hikkaduwa and Mirissa, head to Dondra Point for some of the best whale watching in all the seven seas!
Follow Kensington Tours on Twitter: www.twitter.com/KensingtonTours