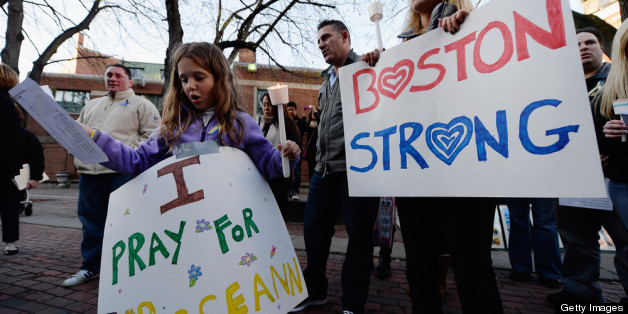 I'm a happy person by nature, but as this week comes to a close, I feel a sadness that even catching an alleged terrorist can't erase. The news of the week has been overwhelming. Devastating. And it's been tough for me personally not because I know anyone who was impacted directly by the attack in Boston, but because I had to process it alone. Away from my husband and kids and the hugs I so desperately want to give and receive.
I was supposed to be away for a three-day business trip. That ballooned into five days, thanks to some nasty weather and hundreds of cancelled flights in the Midwest. When I left on Monday, the world was a different place; I was in a different place. On Sunday, I crossed the finish line at the More/Fitness Women's ½ Marathon in Central Park; on Monday, when my plane took off, I was still on a runner's high. After running 13.1 miles and then planning dinners and play dates for the brood I was leaving behind, I felt accomplished. I felt good. Really good.
And then, as I sat in a hotel room in Chicago, finalizing the presentation I was to give on Tuesday, I heard the news. First, a text from my sister: "Bomb at Boston Marathon. Not sure what happened." Then some vague Facebook posts with a common theme about "sending love to Boston." Finally, the news. CNN. It was true. There were two bombs at the finish line of the Boston Marathon. That's when the horror started to sink in along with a sadness that has only grown as the days have passed.
I feel sad for the victims -- the deceased, the injured and maimed. I feel sad for their families, the survivors, the eye-witnesses. And I feel sad for the runners. Yes, the runners. Having just experienced the elation of crossing the finish line and the pain of getting there, I can't imagine what it would feel like to run so many miles and then, with the finish line in sight, to have to turn around and run for your life. I can't imagine that fear. Although, having been in New York on September 11th, I can relate to what Bostonians have been feeling since Monday.
It's not just sadness and fear. It's anger. Uncertainty. Anxiety. There's a sense of guilt you can't quite comprehend. But beyond that, there's pride. Major pride. Pride in your city, your people, your ability to come together. Pride in humanity, in goodness and compassion. And finally, there is hope. A hope that one day might lead us back to optimism, giving the people of Boston -- and all of us -- the strength to live with this new normal. A normal where a major U.S. city goes on lockdown. Where social media helps to find the bad guys. A normal where the rules of society change once again as the sadness and fear subside. Maybe this new normal will mean more bag checks at stadiums or removing our shoes at concerts. Whatever the new normal is, I hope it doesn't stop us from running, from living, from seeing the good in people. I hope the new normal will allow my five kids to be there when I cross my next finish line. And I hope for hugs. For me, for Boston, for all us.
SUBSCRIBE TO & FOLLOW SO YOU WANT TO RAISE A FEMINIST
Start here, with the latest stories and news in progressive parenting. Learn more