For a while -- years, in fact -- I wrote a "Tuesday tip" on my blog, Lyonsdenmom.com. It may have been about easy weeknight dinners, organizing hand-me-downs or perhaps finding time for you, your spouse or your friends. About a year ago, I ran out of tips. I have the occasional Whining Wednesday ("Let it rain! I can't stand another Saturday on the sidelines of a baseball/soccer/lacrosse field!") and I can't help but indulge in the nostalgia of a Throwback Thursday every now and then ("Look at us at Yankee stadium with 5 kids under 5! Weren't we great?!). Well, the honest answer is no. We weren't great. We were probably crazy. The kids cried the whole time and no one saw the game. But we all try to maintain the façade of doing it all and sharing it all and I think it's time for a reality check. With that in mind, I offer you my first Truthful Tuesday.
Want to know the truth? As a busy working mom with five busy kids, I probably do have a few tips to share. But honestly, the bar is set pretty low -- as in, on a recent day when I was walking our dog, a stranger who knew I had five kids said, "Wow! You have a dog too?! And it even looks like you showered today!" Truthful tidbit #1: Yes, it's true, I shower. Not every day, but most days. See, I'm telling the truth. Honestly, in the midst of this frigid winter, there are days a shower just seems like a waste of time. Or I don't have the time. And if I do have the time, I'm probably taking a shower more to warm up than to suds up.
Other tantalizing truths? I'm tired. In fact, for the past year, I've been too tired to type up much more than a quarterly update on our life here in Lyons Den. It's hard juggling a career with all these kids and all their sports, play dates and birthday parties. And, although folks I've never met before just LOVE to tell me that "it must be so much easier now that all the kids are in school!", I'm here to tell you, it's not. It's really not. When I get home from work, I am greeted (often tearfully) by five tired kids and what I like to call the "five folder smack down" -- five homework folders brimming over with math facts, Time for Kids, notices, invitations and artwork. Much of which gets instantly recycled. There, more truth for you.
The reality is that all those happy smiling faces I share on Facebook are real. We are a happy family -- thank God for that! But I'm not always snapping pictures, we're not always smiling and you can be darn sure that I'm not sharing our ugly moments on social media. Until now. I think it would be refreshing for all of us to be a bit more real. To that end, you should know that it's far more likely to find our little Lyons Cubs arguing or rolling in the mud than posing for the "perfect" picture -- and, even in those rare photographic gems when I can get all five kids looking at the camera, the odds are excellent that one of them isn't wearing underwear, at least two are on antibiotics for strep, one is pinching someone behind the scenes and one just dropped a perfectly articulated "Damn!" As in, "take the damn picture and get on with it, Mom!" So, here's to less perfectly-posed pictures, less perfection in general and more telling the truth. Even if only on Tuesdays. #TT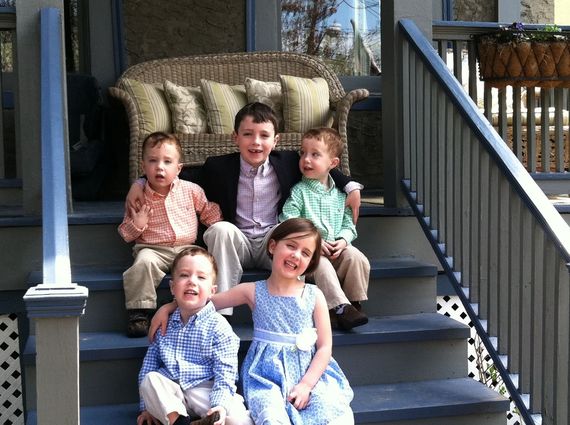 Photo Caption: Sure they look cute, but someone just got pinched and someone's not wearing underwear. #TT (Truthful Tuesday)
SUBSCRIBE AND FOLLOW
Get top stories and blog posts emailed to me each day. Newsletters may offer personalized content or advertisements.
Learn more