Good things may come in small packages, but really good things come in small packages that come out of the oven.
You deserve Christmas morning more than just once a year. Or twice, if you include birthdays. Haven't you been good? Don't you deserve more than two measly bows to unwrap in the next 12 months? The suspense. The guesswork. The shaking the box to figure out what's inside. The agony of wondering what it could be! It's the best. If life is so full of surprises, why do so few of them come wrapped in tissue and tied with a bow?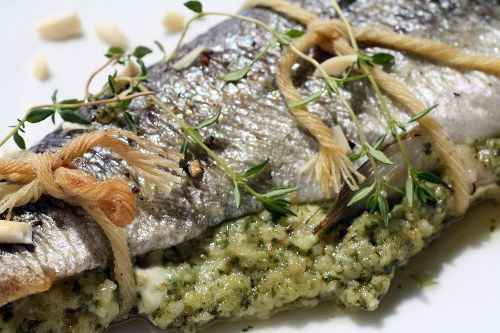 Tonight, the best gift you get is the one you give yourself. And whoever is coming to dinner. This dish is based on a lesser known sauce from Provence called Sauce Mistral, named for the winds that huff and puff through southern France. The sauce is made from almonds, which hang from so many of the trees there. Stuff a butterflied trout with a creamy paste of crunchy ground almonds, garlic, and herbs. Tie the trout with three pretty bows, but despite your best efforts, the crème fraîche starts to ooze out and bubble and brown and the almonds toast and the garlic roasts, and the whole thing smells of Provence and a delicate decadence. Everyone gets his own extremely chic perfect fish package, and instead of shaking to figure out what's inside, there is suddenly a whole of sniffing. Untie the cords, and voila, Christmas morning. Three bows to unwrap in one night? Not too shabby.
Be sure not to forget the greatest lesson of Christmas: Give and ye shall receive. Bon app.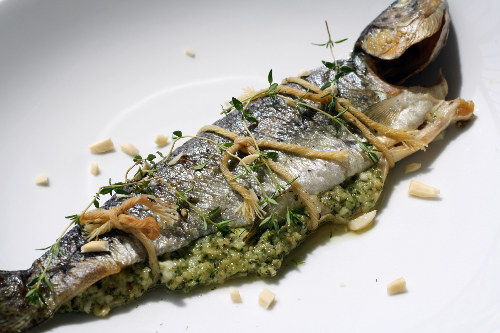 Roast Trout Stuffed with Sauce Mistral Recipe
1/3 cup ground blanched almonds
2 cloves garlic
1/4 cup fresh chervil leaves (see note #1)
1 teaspoon fresh thyme leaves
1 tablespoon extra virgin olive oil, plus extra for drizzling
1/4 cup crème fraîche
2 butterflied, cleaned 1-pound trouts
Salt and freshly cracked black pepper
1. Preheat the oven to 450 degrees F.
2. In a food processor, combine the almonds, garlic, chervil, and thyme. Grind to a rubble, then add the olive oil and crème fraîche and pulse to combine. Season with salt and pepper.
3. Drizzle the outside of the fish with extra virgin olive oil, and rub all over the fish. Season the inside and outside with salt and pepper.
4. Lie the fish skinside-down on a foil-lined baking sheet. Divide the almond mixture between the two fish, and smear all over the inside of the fish. Fold the fish back over itself, and secure with three strips of cooking twine.
5. Roast for 15 to 20 minutes, until the flesh of the fish is opaque and flaky, the skin slightly golden, and the stuffing bubbling and fragrant.
1. Feel free to replace chervil with flat leaf parsley.
SUBSCRIBE TO & FOLLOW THE MORNING EMAIL
The Morning Email helps you start your workday with everything you need to know: breaking news, entertainment and a dash of fun. Learn more