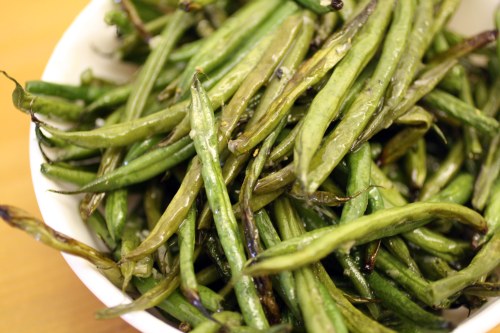 This recipe is not particularly beautiful, or especially complicated. But that doesn't mean it's not one of the best. It completely debunks the myth that effort and deliciousness are proportionally related.
The success of these green beans is completely based around one simple secret method: putting raw garlic on hot vegetables. Roasted green beans are themselves delicious--slightly shriveled, distinctly sweet, tender-crisp, with charred butts. Toss them, still hot, with a paste of gold-dust-fine grated garlic, and watch the magic happen. If you roasted the garlic with the haricots verts, it would burn. If you waited too long and put the garlic on cold, or even warm, green beans, the garlic would remain raw, too spicy, too pungent. But the combination of the hot vegetables and the super-fine garlic ensures that the garlic just cooks through, with just the heat of the green beans, to make this super garlicky perfect green side.
I've never seen a more successful vegetable. Light, healthy, easy, cheap, and it's still the first thing to run out on the table, every time.
Garlic-oholic Roasted Haricots Verts
serves 4
1 pound trimmed haricots verts
2 tablespoons olive oil
Kosher salt
Freshly ground black pepper
2 to 3 cloves garlic, grated
Preheat the oven to 500°F. Toss the haricots verts with the olive oil, and a good pinch of salt and pepper on a rimmed baking sheet. Spread into a single layer. Bake for 15 to 20 minutes, until golden around the edges. Take the green beans out of the oven, and toss the raw grated garlic onto the hot green beans, stirring until the garlic is evenly distributed. Serve immediately.
SUBSCRIBE TO & FOLLOW THE MORNING EMAIL
The Morning Email helps you start your workday with everything you need to know: breaking news, entertainment and a dash of fun. Learn more