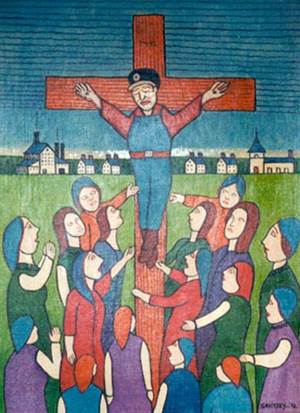 Coal Miner Crucified--oil on canvas by Jack Savitsky, 1978
When a suicide bomber blows a half dozen of our soldiers into smithereens, Americans get understandably outraged. And here at home, when a deranged malcontent goes postal and guns down classmates or co-workers, we call it a massacre.
But if you kill nine men for the sake of keeping the juice flowing through America's veins, well, evidently, we're so addicted to cheap energy that we're willing to write off dead coal miners as collateral damage. What looks like manslaughter, if not outright murder, is handled as some sort of infraction. The penance? A pittance. Not enough to make much of a dent in King Coal's deep pockets. As the AFP reports:
The operators of a Utah mine at the center of a collapse that led to nine fatalities last August have been fined 1.6 million dollars, health and safety officials announced Thursday.
The Mine Safety and Health Administration (MSHA) said the operators of the Crandall Canyon Mine had failed to report repeated collapses at the facility which meant inspectors were unable to assess practices there.
Two federal reports released on Thursday reveal previously unknown details about the August 6th disaster. Now we know, for example, that the sheer force of the collapse probably killed the six workers who were trapped in the mine pretty quickly. So, they were probably dead long before three rescue workers died 10 days later trying to save them.
It all adds up to nine needless deaths, because the reports also make it excruciatingly clear that the mine's operator, Genwal Resources, had to know that it was risking its workers' lives. One of the reports found that Genwal had ignored warning signs that the mine was unsafe, and concealed dangerous conditions from the MSHA:
In a statement, Richard Stickler, assistant secretary of labor for the MSHA, said the tragedy had stemmed from mine operator Genwal Resources' "reckless failure" to report three previous coal "outbursts," including one just three days before the initial incident on August 6...
..."MSHA also found that the operator was taking more coal than allowed from the barrier pillars and the floor. This dangerously weakened the strength of the roof support."