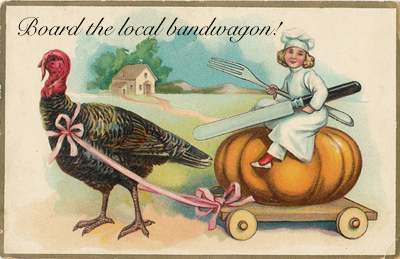 Even our most progressive presidents can be addled by Agribiz propaganda. President-elect Obama--thanks to his corn-fed constituents, we presume--is regrettably fond of ethanol, unlike his rival, John McCain. And McCain's not the only Republican who slams the grain-for-gas scam. Arch conservative P.J. O'Rourke airs his aggravation with industrial ag in the current Weekly Standard:
Agriculture is a business that has been up to its bib overalls in politics since the first Thanksgiving dinner kickback to the Indians for subsidizing Pilgrim maize production with fish head fertilizer grants. But never, since the Mayflower knocked the rock in Plymouth, has anything as putrid as the Farm, Nutrition and Bioenergy Act of 2008 been spread upon the land. Just the name says it. There are no farms left. Not like the one grampa grew up on.
A "farm" today means 100,000 chickens in a space the size of a Motel 6 shower stall. If we cared anything about "nutrition" we would--to judge by the mountainous, jiggling flab of Americans--stop growing all food immediately. And "bioenergy" is a fraud of John Edwards-marital-fidelity proportions. Taxpayer money composted to produce a fuel made of alcohol that is more expensive than oil, more polluting than oil, and almost as bad as oil with vermouth and an olive.
But Obama wouldn't be the first liberal leader to be conned by Con Agra & co. Jed Bartlet, that wildly popular--though sadly fictitious--West Wing populist, once called the Butterball hotline seeking expert advice on how to cook a salmonella-free stuffing, and gushed "I think this is a wonderful service you provide."
And maybe it is, but there are some not-so-wonderful aspects to Butterball's signature product, America's top selling turkey for more than forty years. In a concession to our obsession with big breasts, American turkey breeders created an avian abomination. As Barbara Kingsolver noted in Animal, Vegetable, Miracle:
Of the 400 million turkeys Americans consume each year, more than 99 percent of them are a single breed: the Broad-Breasted White, a quick-fattening monster bred specifically for the industrial-scale setting...If a Broad-Breasted White should escape slaughter, it likely wouldn't live to be a year old: they get so heavy, their legs collapse. In mature form they're incapable of flying, foraging, or mating...
...So how do we get more of them? Well you might ask. The sperm must be artificially extracted from live male turkeys by a person, a professional turkey sperm-wrangler if you will, and artificially introduced to the hens, and that is all I'm going to say about that.