I know, I know, work is pretty hard to sell as a party, but the Global Work Party being held on October 10, 2010 (10:10:10) is different.
This work will send a message and make a difference.
And who doesn't like a good party?
Global Work Party is being organized by TckTckTck partners 350.org who you no doubt remember were the architects of the Global Day of Action held last year in the run-up to the Copenhagen climate treaty conference. The Global Day of Action mobilized millions of people from all over the world at 5,248 events. CNN called the event, "the most widespread day of action in political history." Unfortunately it wasn't enough to convince our world leaders to do what they needed to do in Copenhagen, but the Global Day of Action did mobilize people all over the world to demand action on climate change, resulting in a massive wave of momentum.
The Global Work Party will build on this momentum in a very practical way. 350.org's slogan for 2010 is "Get to Work" and that means that we as global citizens must get to work and start changing our communities from the ground up. If we act, our leaders will hopefully in turn act.
As 350.org founder Bill McKibben rightly puts it:
"My sense from talking to so many people is, everyone understands the underlying message. Which is not that we're going to solve climate change one solar panel at a time. Instead, it's that by getting to work in our communities, we can demand that our so-called leaders get to work in parliaments, palaces, and congresses the world over."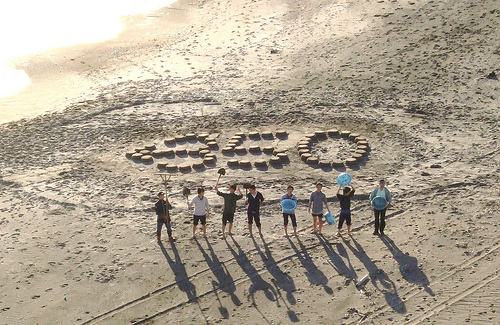 A man from Texas recently told McKibben that, "if I can get up on the school roof and put in solar panels, then our US Senators can surely do the work they're paid to do."
So on October 10, 2010 people from all walks of life will gather in groups big and small to do something in their community to lower global warming emissions. The event was only announced a week ago and there are already over 430 actions planned!
Clearly last year's momentum has not been lost.
Here's some of the events people have already planned for their Global Work Party:
#1 Organize a Tree Planting
Planting trees is fun, friendly, and a great way to engage the community. And each one you plant will be a little carbon-sequestering machine for years to come. Try to shoot for planting 350 trees or more in one day!
Working on a solar project is a great way to demonstrate the clean energy future right in your community. Whether its installing a solar panel on a local school, building a solar cooker for your community, or putting a solar hot water heater on your house--it is a great way to work with the planet, not against it.
#3 Work on a Community Garden or an Organic Farm
To get to 350, we'll need to rethink the way we produce food on the planet--moving away from industrial agriculture powered by fossil fuels, and towards small-scale, local, organic farming. Think about using your work party as a day to model this new system--maybe you can break ground on a new community garden. Or simply help out harvesting at a local farm.
Biking is a great way to get out and be visible in your community. It also demonstrate the need for improved infrastructure for our alternative modes of transportation. Think about setting up a bike repair workshop, or painting bike lanes in your community. Maybe an awareness ride of 350 miles (or kilometers) if you're feeling a bit more ambitious?
A local wind project can show that you're serious about building the clean energy economy. Putting up a turbine is a big project though, so you'll want to start planning this one early.
SUBSCRIBE TO & FOLLOW THE MORNING EMAIL
The Morning Email helps you start your workday with everything you need to know: breaking news, entertainment and a dash of fun. Learn more