The men and women of our armed forces are always in our hearts and prayers... but oftentimes their loved ones are forgotten.
This week, the President, the First Lady, the Vice President and Dr. Biden launched the Joining Forces Initiative to mobilize all sectors of society -- from citizens to businesses to communities -- to give service members and their families the opportunities, resources and support they have earned to make the deployment of their loved ones a little bit easier.
While one percent of Americans are fighting in US wars, I am a strong believer that ALL Americans have the obligation to commit to support military families and help make a difference.
"I've met so many of these military families. What you realize when you talk to them is that these families serve as well. Often we see the men and women in uniform and it's very clear to us the sacrifice they make. But we forget that when they go to war so does their family they are enduring these employment but they are doing it with such grace and courage," said Mrs. Obama.
Mrs. Obama added, "This campaign is about all of us, all of us joining together, as Americans, to give back to the extraordinary military families who serve and sacrifice so much, every day, so that we can live in freedom and security."
The strength and resilience of military families is so strong. We as Americans need thank these families for their service and lend a helping hand. Whether it's cutting the grass, helping with carpools or assisting with securing a suitable job... every little bit helps because it is one less thing a military spouse needs to worry about. Without the support of our military and their families we would not be able to live in a free nation.
President Obama said, "Our nation endures because these men and women are willing to defend it, with their very lives. And as a nation, it is our solemn duty and our moral obligation to serve these patriots as well as they serve us."
Joining Forces is partnering with top corporations and nonprofit groups to bolster health care, employment and educational opportunities. Helping military spouses find employment is critical for the stability of military families. According to the November 2009 data from the Bureau of Labor Statistics, 8.4 percent of military wives were seeking jobs and couldn't find one, compared to 5.3 percent of women in civilian families. In addition, military families move on average every 2.9 years, this makes it difficult to pursue a career.
In conjunction with Military Spouse Appreciation Day, Sears Holdings Corporation is partnering with UBM's Milicruit to present the Military Spouses Virtual Career Fair, which will be hosted on May 6, 2011 from 1PM - 4PM EDT. Joining Sears Holdings will be dozens of military-friendly employers who also recognize and value the contributions military spouses provide to the defense of our nation. The virtual career fair will allow spouses the opportunity to meet and interact with employers from all over the country from the comfort and convenience of their home. The virtual career fair will allow the spouses to learn about employment opportunities, chat with recruiters, view/apply for jobs, and perhaps even video interview.
The Military Spouses Virtual Career Fair is free of charge for military spouses to participate. Those interested in attending the virtual career fair can register at www.militaryspousecf.com.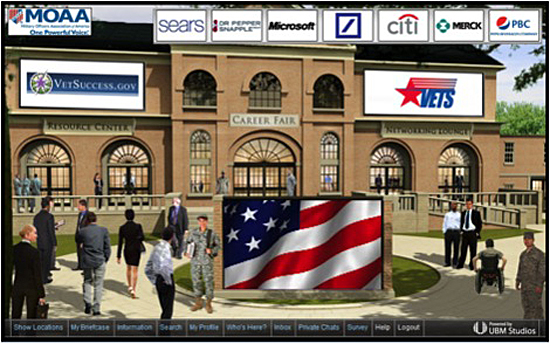 Sears Holdings is one company that understands the plight of military spouses. The company employs over 30,000 military personnel, veterans and spouses across all levels of the organization. The "PCS Promise" is an effort that covers all military personnel and spouses employed at Sears Holdings to provide transfers in the cases of Permanent Change of duty Station (PCS), retirement or separation, depending on job availability and performance.
I am proud to be a part of Milicruit -- helping military veterans and spouses find suitable employment. How do you plan to thank a military family?
Employers wishing to participate in the virtual career fair can send requests to Kevin O'Brien at kobrien@milicruit.com
This story is part of Military Families Week, an effort by HuffPost and AOL to put a spotlight on issues affecting America's families who serve. Find more at jobs.aol.com/militaryfamilies and aol.com.
SUBSCRIBE TO & FOLLOW THE MORNING EMAIL
The Morning Email helps you start your workday with everything you need to know: breaking news, entertainment and a dash of fun. Learn more