As I write this, I am sitting on my patio and it is just after 7AM in the Philadelphia area. It is already more than 80 degrees out, and it is calling for it to hit 99 today. This got me to thinking about how I would feel if I were dressed in a suit in a crowded event such as a traditional career fair, and I thought I would write today about the traditional career fair space, and why now is the time for employers and job seekers to give serious consideration to a virtual approach. I will say up front that I am a little biased in that the company I work for and started delivers virtual career fairs for the veteran, and college community.
Let's look at the traditional career fair and diagnose what really transpires. Do you attend these events expecting to be hired, or interviewed on the spot? Most employers who attend career fairs are not even willing/able to accept resumes anymore so what is really being accomplished?
Traditional Career Fair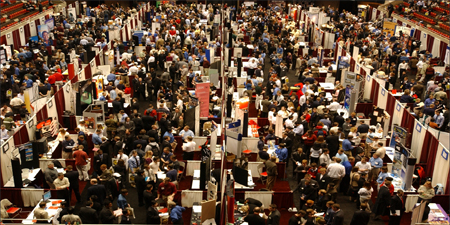 With all that technology has to offer now, there are much faster, greener, and more comfortable ways for employers and job seekers to meet and interact in a live environment. Virtual career fairs as an example allow the employer to have a booth that includes all the information on their company a job seeker would need to consider joining them. They also include live chat, video interviewing, and the ability to apply right then and there.
A Virtual Career Fair Booth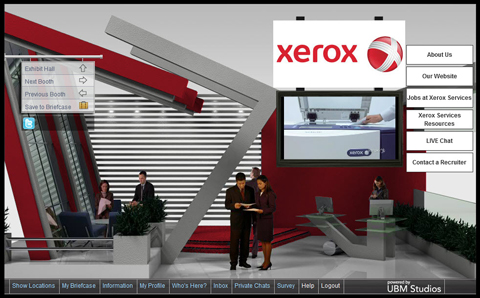 I often meet with employers who utilize our virtual career fairs to recruit our nation's finest, or recent college graduates, and one thing we almost always hear is how long overdue this type of service is. Look at it this way, most employers have openings all across the country, and a virtual solution allows them to recruit nationwide in one day, and without the cost or burden of traveling to a physical location.
So if you are one of the people who are still attending traditional career fairs, especially today in this heat, give some thought to including virtual career fairs to your job search process.
If you are reading this post, you have all you need to join a virtual career fair from the comfort and conveneince of your home!
Cheers
SUBSCRIBE TO & FOLLOW MUST READS
The internet's best stories, and interviews with the people who tell them. Learn more