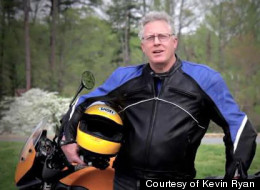 I just wanted a damn bike. I wanted to ride fast on back roads with no cops. Sure I was 52-years-old and in a marriage on its last legs with two daughters to get through college. I'd crossed into mid-life crisis territory on the age map but I wasn't in a crisis, I just wanted a bike. When I was a kid, I rode my bicycle to get away from home and go places where things might be better. I needed an escape then and I needed one in my 50s. In 2006 I put $500 down and got the dealership's first Buell Ulysses.

People talk a lot about riding but not so much about crashing. I crashed.

I know how to ride. I've been to the Kevin Schwantz Suzuki School at Road Atlanta. Then early one September morning I pulled out of my driveway and my ride ended one mile away. The SUV in front of me snaked lazily downhill and my helmet visor fogged. I grumbled at the driver for wasting a perfect set of curves. At the bottom of the hill, our road forked. The SUV kept to the left fork ahead of me and stopped. When it took off, I pulled up to the intersection. My fogged visor would clear as soon as I passed that SUV.

Looking right I see it's clear and start rolling. Looking left, the morning sun lights my visor like a fluorescent blindfold. I'm in the oncoming lane and can't see if any cars are bearing down on me. Twisting the throttle, I take off like a rocket. Suddenly I can see but my front wheel is off the ground and I'm heading for the concrete wall hugging the right side of the road.

My do list was short. Front wheel down, lean left. Unfortunately, the front wheel hit the pavement just as I ran out of road. The next moments didn't exactly unfold. Unfold is what you do with your napkin. I scraped along the wall and threw my right arm over the top. When I let the bike go, it spun me around. I fell backwards, slid down the road, the bike smacked the wall again and flipped.

In the emergency room, I thought this must be how a fly feels staggering on the kitchen counter after being swatted. Except flies don't get morphine.

The injury verdict was a "big laceration" behind my knee into the joint, three fractured ribs, a large hematoma in my thigh, cuts, scrapes and disrupted veins.The laceration came within millimeters of severing the artery to my lower leg. My surgeon cleaned out my knee, sewed up my leg and sent me home. With my leg swollen, it hurt to walk, sit, lie down and sleep. Oxycodone took the edge off.

After 10 days, I went to work for a few hours. In two weeks I was back to eight-hour days.

After a month, physical therapy began. They bent and worked my knee. Two and a half months post-crash, I'm cane free and have some flexibility but my knee remains stiff, swollen and painful.

In the ER I had gotten a text from my oldest daughter, asking about my Sunday. "Went on a short ride. Now I'm just taking it easy." The next day when I was discharged, I emailed my son and daughters that I'd crashed, cut my leg and was going home with stitches. I thought the crisis was averted.

When people saw me limping and asked what happened, I told them I crashed on my motorcycle. I never said I'd been in an accident. It didn't feel like an accident. It had purpose. It made me sit and feel. I'd been by that wall over five hundred times without batting an eye. This wasn't an accident. This was a sign.

In my 50s I looked at the walls around me -- marriage, work, lifestyle - and wondered if they were keeping my life together or keeping life out. I know people who seem perfectly content with their lives. That ain't me. If you're content, party on. I had made concessions for the sake of career, marriage and making a living and now felt like I've got to retrieve the pieces of myself I gagged and buried along the way.

When I was four, my father took me into a salt mine, bundled up in a tight cap and black suit that gripped my ankles, wrists and neck to protect me from the harsh environment. Over the years when I'd head back to work, I'd often say "back to the salt mine." After the crash, I realized I couldn't keep spending my days in a salt mine, no matter how much I liked the people I worked with.

Riding a motorcycle is a rush but sometimes it's not about riding around familiar roads, it's about heading out for new territory. When my mother was my age, she hit the breast cancer wall. Treatment seemed to cure her crisis but she didn't set her life on a new course. Five years later the cancer came back like a tsunami and took her. I'm divorced and now something is calling me to make another course change. It's time to stop riding in circles.
Earlier on Huff/Post50:
Post 50s Declare Their Independence
"I realized that I didn't want to spend the second half of my life the way I had spent the first." In 2004, Mark Noonan was a 52-year-old executive in the high-tech industry who routinely worked 60-hour weeks. After his wife died in a freak accident, he turned his life around. For the full story click here.

"I've always been that sort of person who enjoys kidding around and having fun." After a kidney disease diagnosis, Kathe LeBeau, 50, found a flier in the mail promoting a 12-week clowning class at a local community college. And that's how she found her calling. For the ful story click here.

"Suddenly, I had landed in heaven." Eight years ago, John Kerr, 74, had no idea what to do next when he retired from his job as a public television executive in Boston at age 65. After flummoxing around for about a month, he put his belongings in storage, loaded up his camper truck and drove west to Jackson Hole, Wyoming. He landed a job as a park ranger. For the full story click here.

"I'm able to look forward." A few years ago, Amy Voelker was enjoying a getaway with her extended family at a rental house in Redington Beach, Florida when her husband and three sons were killed in a car accident. Through exercise and training and the support of friends and family, Voelker has found a new vision of herself. Full the full story go here.

"Sometimes I'd joke with my friends about creating a Bloody Mary company... But then reality would set in, Monday would come along and we'd all go back to our advertising jobs." Stephanie Sanoja left an unfulfilling job in her forties to take a gamble on turning her great-aunt Gladys' Bloody Mary recipe into a career. Today you can buy Garden District Bloody Marys throughout Texas and Louisiana. For the full story click here.

"My dad called tonight. He said I did a good thing and I was a go-getter like my mom. This is the best day of my life." At age 46, Teresa Pitts challenged herself to go back to school, and earned her bachelor's degree from UCLA with honors. Read the full story here. photo courtesy of UCLA fan page

"Up came the lights -- just in a different area." At age 70, David McGiffert declared his independence by walking away from Hollywood to help his daughter achieve her own dreams of competing on the U.S. National Team for rhythmic gymnastics. He now accompanies her to competitions and training camps, and helps her manage an otherwise impossible schedule of school, training and competition. Read the full story here.

"I work in my own style, on the schedule I want; if I write what I want, people will sense the fun in it." This 61-year-old Kentucky novelist was the first self-published author to sell more than a million digital books on Amazon.com with his pulp fiction series "Donovan Creed," which follows a former CIA agent. For the full story click here.

"No matter how old you are, it is not too late to change." At age 52, Linda Tabach ditched her lifelong couch potato lifestyle for a healthier alternative. Tabach began eating a healthy diet, hit her goal weight and ran her first half-marathon. For the full story click here.

"I am here to tell women, you are never too old to pursue your dreams. I never felt better in my life. I am 60, hear me roar." After a life spent on the other side of the lens, first as a stylist and later in commercial photography, Robin Bobbé decided to "[reconnect] with that exciting part of myself," and became the new face of 60 as a model. For the full story click here. photo courtesy of WomenYouShouldKnow.net

"The girls at the rink say I'm the only one on the East Coast doing death spirals at my age... This is a part of my soul..." Although she knew from childhood that her heart lay in figure skating, Paula Shuman was convinced it wasn't a realistic career path and became a radiographer instead. She kept skating though, and when an old friend offered to coach her 20 years later, she fulfilled her childhood dream. For the full story click here.

"Just do one little thing that's meaningful to you. Break out of the box and you'll see, it can change your life." Margaret Miller started by ending an unhappy marriage, then trained for a marathon -- then began travelling the world. "Part of me was hidden away for so long. It was almost like I was introducing myself to my family," she said. For the full story click here.

"I am living proof that anything is possible." Tipping the scale at 320 pounds, the former chain smoking talent manager took hold of his life and health and underwent gastric bypass surgery seven years ago. Now he's the very picture of health, exercising and working with a trainer to keep off the weight. Read the full story here.

"Everybody in the world thinks I am a total nutcase. I just want to support our troops." Coast served in the Navy from 1982 to1993, leaving the force to raise her son. But when she accompanied her son to an Army recruitment office so he could enlist, Coast asked to sign up as well. At 51 she became one of the oldest people to complete basic combat training. Read the full story here.
Follow Kevin Ryan on Twitter: www.twitter.com/Kryanbc54