At the heart of downtown Flushing, Queens, at Northern Boulevard and Main Street, in an incredibly busy neighborhood that has been re-invigorated by immigrants from eastern Asia, an architectural masterpiece awaits a day when it will once again be a cultural beacon and its beauty will shine forth anew.
The RKO Keith's Theatre was designed by America's foremost theatrical architect, Thomas W. Lamb, and constructed in a Spanish Baroque style. According to Queens preservationist Michael Perlman, Milton Berle, who gave several performances at the RKO Keith's, stated "This is the only Flushing which never went down the drain!" The theater showed its last movie in 1985, and has gone through a succession of owners since -- some of whom have damaged many of its distinct architectural elements. The theater is a shadow of its former self, though the gently curving marquee metalwork hints at past grandeur. Though Flushing Town Hall, a block away on Linden Place, had deteriorated almost as much in the 1980s, it was magnificently restored in the 1990s and today is a premier concert hall and community center. It's time to restore RKO Keith's to its rightful place as one of Flushing's crown jewels.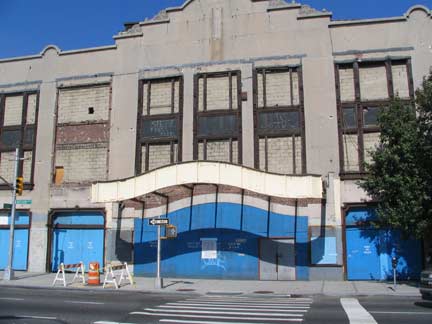 There have been preservation pushes in recent years. In 2006, Thomas Stathes, a 16-year-old Flushing resident, arrived on the scene and organized a petition to preserve, landmark, and revitalize one of the historically and architecturally most significant theaters in its entirety, so future generations can appreciate what an iconic theater could potentially offer. The owner, Boymelgreen, planned to only save the lobby, which has been given landmark status by NYC, and demolish 95% of the theater and build a glass-fronted high rise.
In 2009, a group of Flushing residents and citywide supporters met in Flushing to begin a grassroots effort to save and restore the RKO Keith's Theater, forming the "Friends of The RKO Keith's Flushing Theatre." The organization is now at the point of requesting 501(c)(3), or tax-exempt, status, which is much-needed in order to begin massive publicity and fund-raising efforts.
Friends of The RKO Keith's Flushing is dedicated to the acquisition, preservation, restoration, and creative adaptive reuse of the atmospheric style RKO Keith's Flushing Theatre by America's foremost theater architect, Thomas W. Lamb, so it can serve as a Flushing, NYC, and theater enthusiast's anchor for future generations.
Both Perlman and Stathes are members of Friends of The RKO Keith's Flushing Theatre.
According to an October 26 article in the Real Deal:

A Midtown-based real estate investment firm is in negotiations to take control of the troubled RKO Keith's Flushing Theater from Boymelgreen Developers by the end of the year.
Venator Capital has agreed to purchase a $20 million note secured by the Flushing, Queens property located at 135-27 Northern Boulevard from Doral Bank, said Sam Suzuki, a principal with Venator, ultimately giving the company full control of the theater...Plans approved by the city allow for the development of 200 residential units, 10,000 square feet of retail and 12,500 square feet of community facility space as well as 229 parking spots, city records show....Venator plans to partner with a developer to build the project, but would not discuss what would be built or specific numbers of units or square feet. 
Despite pending plans by a developer who will not announce his intentions, Friends of The RKO Keith's Flushing Theatre calls on citizens and politicians to add their voice, and work cooperatively to restore and revitalize one of the most significant Atmospheric theaters, so it can continue to define Flushing and Queens heritage, and once again become an anchor.
Time is of the essence in preserving the Keith's. See this Flickr set by Michael Perlman for views of the theatre from yesterday and today.
Visit the Friends of The RKO Keith's Flushing website, and contribute fundraising and long-term preservation ideas: savethekeiths.com  
Add your name to the 2,500+ members of the Facebook Group and spread the word.
SUBSCRIBE TO & FOLLOW THE MORNING EMAIL
The Morning Email helps you start your workday with everything you need to know: breaking news, entertainment and a dash of fun. Learn more