George Bernard Shaw famously once said that there is no love more sincere than the love for food. I have to correct and update him. V2- the last part should read "than my love for roast pork." Ever so often I put a slab of this fatty belly pork into oven just to make sure they are still working (I use the wok more often). Brine and boil it, spike and score the skin, salt and spice it up, dry it and into the oven it goes. 45 minutes later, the heavens open up and call your name and declare "we're ready". All the signs are there, the smokiness emanating from the oven, the roasty smell of pork in the air, the juiciness of the flesh inside (150 degrees no less) and the incredibly crackly and biscuitty crackling.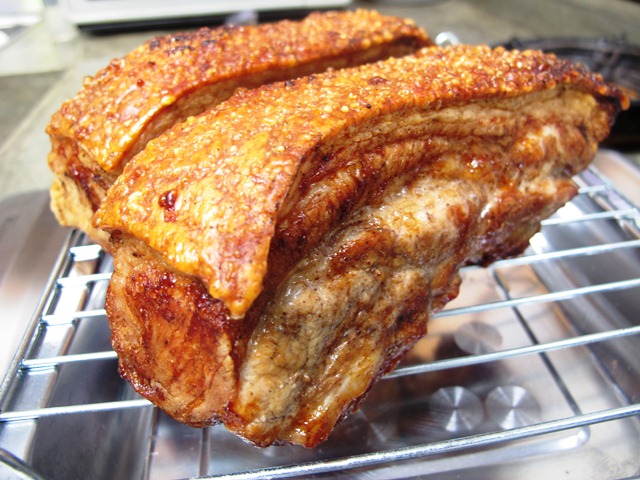 it's hard to stay away from a roast pork slab looking like this
It is ridiculously easy to enjoy this in multi-sensory fashion. Lie the roasty slab on its side, slice it firmly, and gently slide, press and cut in, and a craaaaack down the skin side will echo out loud. Food for the ears. Then the juicy cream-white meat inside will peek at you with some soft bone cartilage - that's eye candy. Meanwhile , it's all hot as you hold the edges when you cut- a hot skin flick. All that salty , peppery and spicy aroma engulf you all this while, its smell-a-vision.
Slice them into finger long pieces, rest them over a bowl of fluffy steamed rice, display a few slices of cool cucumbers or julienne pickles beside and standby a dip, sambal or caramelised soy sauce with cut bird eye chilli- and the humbling pleasures of heaven on earth beckons.
In many parts of Asia and many Chinatowns all over the world, these comforting sensations are unfortunately hidden in shops that are totally unimaginative in the art of display. Sure, the residents and old school Chinese foodies know what a dry looking block of brown meat with a crusty skin hanging behind a glass window feel like. It can be hideous to the uninitiated. But, order a platter of "siew yoke fan" or roast pork rice from them, and it's like getting gold from a gritty mine.
One of my favourite dives to get this is at a stall in a hawker centre in Singapore- Sin Kong Chow (224A Upper Thomson Road Singapore), but be warned, they make the skin crackling utterly addictive- crispy, crackly, like biscuits.
You can "mine' this in the comfort of your cozy kitchen with a simple oven at home.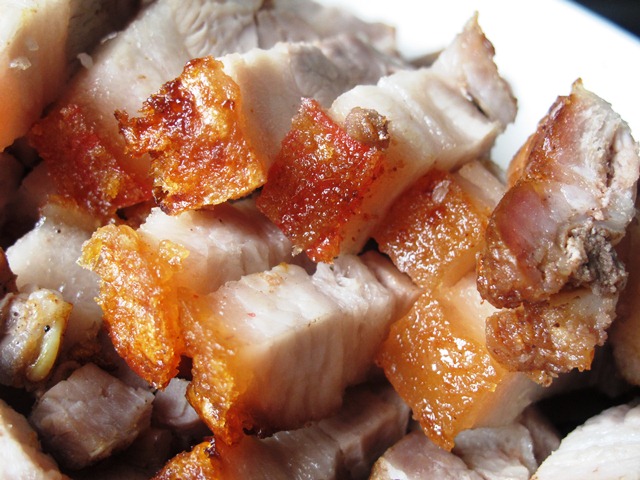 when slicing them, ensure the crackling does not break up
Ingredients:
1. One slab of belly pork with skin on
2. Six tbsp of salt
3. Four tbsp of black pepper
4. Four tbsp of five spice powder
5. One tbsp of baking soda mixed with 4 tbsp of water
Method:
• Brine and boil the pork slab in water for 8 mins
• Air dry of chill for an hour, prick the skin all over and evenly with a meat pricker or use a fork, then brush a couple of layers of the baking soda solution over,
• When dry (after 5 mins), rub 2 tbsp of salt on the skin and 3 tbsp around the meat
• At the same time, rub the black pepper and five spice over the meat only
• Pre heat the oven to 250 degrees and place the pork in- leave both top and bottom heat elements on
• 20 mins later, reduce heat to 180 degrees for another 25 mins
• Trick: remove the slab from the oven every 15mins for two times and prick the skin to aerate then replace into oven.
• Temperature inside the meat should be about 150 degrees before it's done.
• Remove, cool and rest a bit, slice and serve.