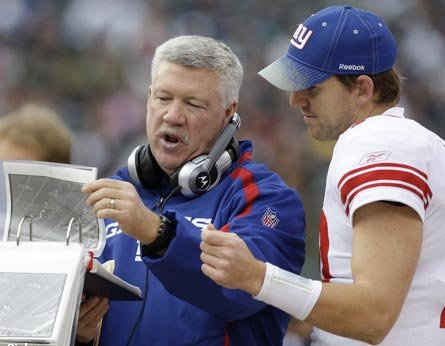 In week 6 after the New York Giants lost to the New Orleans Saints they called it a "bad game". In week 7 when they fell to the Arizona Cardinals, in a hard fought but ultimate total team collapse in the fourth quarter, the team claimed that with "better execution and protecting of the football" they would come back the following week and be better. However, in week 8 after being embarrassed by the Philadelphia Eagles and dropping their third consecutive loss, the Giants don't need to wait for anyone's opinion as the verdict has been rendered. The panic button has been pressed and the Giants need to be worried about salvaging their once promising season.
The game was lost when...
Cornerback and kick returner Ellis Hobbs of the Philadelphia Eagles took the opening kickoff 30 yards to start the game. It was the first of many big plays that set up good field position and easy touchdowns for the Eagles throughout the entire game.
The New York Giants on the other hand never found their rhythm offensively and defensively seemed completely lost. For the Giants, it's a team that hasn't played well since blowing out the Oakland Raiders in week 6 and has yet to answer questions asked of their performance in the first and second losses. Good teams bounce-back, they're resilient and find ways to respond when they are dealt a tough blow. All teams drop a game or two in a season, it's nothing new. The Eagles responded after falling to the Raiders in week 7, which is now a thing of the past, as they have gone on a two game winning streak since that time. The Giants however, have three weeks of film and games to review as the questions mount on exactly where they stand among teams in the NFC.
The most frustrating factor in all of this however, is that this is not a team that lacks talent on either side of the ball. Sure they have injuries and are missing some key players on defense but none of that seemed to matter in weeks 1-5. Now it seems to be a glaring eye sore as they match up against the better teams in the league. The question for everyone right now though, is what happened? Aside from playing bad teams and winning in overly impressive fashion, how does a team with such promise and potential slide to such a demoralizing low in this short amount of time, without really missing any key players.
Is it coaching...? When Eagles' cornerback Asante Samuel intercepted Manning's pass intended for tight end Kevin Boss, did it not appear as if he saw the play coming before Boss did? How many throwing lanes and holes did defensive coordinator Bill Sheridan leave unplugged for the Eagles offense to blow through in the game? Running back LeSean McCoy ran the ball straight up the middle on big plays the entire game without one adjustment made to correct it. Donovan McNabb had an open field to survey with very little obstructions all afternoon. With guys like defensive tackles Fred Robbins and Barry Coefield on the field, at what point does the coordinator instruct them to plug up those lanes? Offensively, the Giants played as vanilla as I've witnessed in a long time. With an entire third quarter at their disposal offensive coordinator Kevin Gilbride never attempted to speed up the tempo and provide the spark needed to orchestrate an actual comeback in the game.
Things weren't all bad for the Giants despite the final score.
The big play in the third quarter for the Giants where cornerback Bruce Johnson sacked and stripped quarterback Donovan McNabb which was recovered by defensive tackle Fred Robbins and lateraled to defensive end Osi Umenyiora who went on to score a touchdown was a spark. However, on a strategic challenge by head coach Andy Reid the touchdown was overturned and the momentum was lost. Offensively Giants rookie wide receiver Hakeem Nicks continues to impress with great catches and tremendous play making ability for a young guy. These moments however, are just footnotes in a story with little promise for the Giants.
The questions are mounting, the weeks are blowing by and nothing is being answered by this team. With a brutal remaining schedule facing opponents like the Chargers, Falcons, Cowboys, Eagles & Vikings they face an uphill battle at turning this ship around. They have fallen into third place in the NFC East, which they once sat atop of, and no one is insisting that they're the "better team" that lost on Sunday, as they know they no longer are. When will they step up and is it too late?

SUBSCRIBE AND FOLLOW
Get top stories and blog posts emailed to me each day. Newsletters may offer personalized content or advertisements.
Learn more