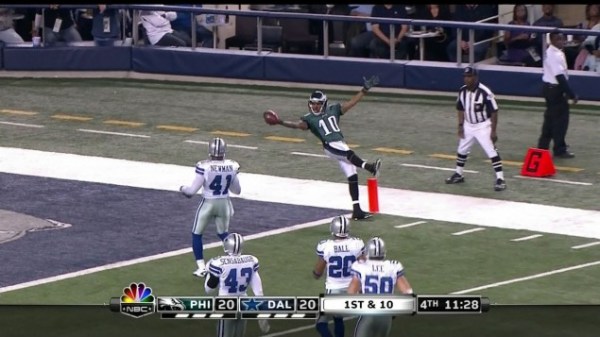 There hasn't been a time in professional sports where the roles of many athletes have been so diverse and often confusing regarding the image they are to portray to the public. This past Sunday's games were a great example of those roles and the blurred definitions they've taken on as a result. Our sports figures are required to wear many hats but each hat is to be worn at staunchly different times. On the field, their role is often defined as gladiators or warriors with the heart of lions that take to the field eliminating everything in their path for 60 minutes. Before and after the games they are to conduct and carry themselves as business men with the elegance and poise of well mannered gentlemen groomed for success. And then there's the element of side show act which comes into play sometimes before, during and after games as they attempt to entertain their fans and the world that has placed a magnifying glass over them. All of these roles have their place in the lives of those with their level of success, but what happens when these roles don't appeal to the public and conflict with the will of the people at the wrong time?
Such was the case Sunday night in the football game featuring the Dallas Cowboys and Philadelphia Eagles. Two teams heading in completely different directions faced off for a night of divisional football putting rival teams against each other. The game ended up being what many expected it to be, hard fought and contested. For Dallas they challenged a soaring Eagles team on their way to capturing another NFC East Division title, that took every minute to decide, as the Cowboys battled until the end, orchestrating an impressive comeback narrowing the lead to three, but proved futile as the Eagles went on to take the win. But the turning point in the game came midway through the third quarter as Eagles WR DeSean Jackson, after scampering for a 91 yard touchdown catch, upon entering the end zone outstretched his arms falling backwards as he crossed the goal line. Showmanship is never professional, but it sure is entertaining for Eagles fans or the fan of any team on the right side of the show...isn't it? The play handed Jackson an unsportsmanlike conduct penalty and some harsh words from the Cowboys players after the game.
"It was disrespectful," Dallas CB Mike Jenkins said. "He knew he was going to score. That's him. We beat him three times in a row last year, so he was going to come back and try to everything he could."
Disrespectful is the exact word that comes to mind along with completely unprofessional and classless. Entertaining fans is entirely acceptable, but demeaning another team on their home field is unnecessary and shows a lack of respect for the other players on the field.
Politics is an art form as much as it is the practice of our governmental system, and it takes savvy and care to execute it correctly; something Mr. Jackson hasn't been able to master over the course of his career. It is the job of wide receivers to make big plays and score touchdowns that are entertaining and satisfactory to the fans that enjoy the sport. However, it is also politically incorrect and unprofessional to throw those successes in the face of your opponent no matter how self gratifying it may seem at the moment.
So the question here is; was DeSean Jackson wrong for his actions or was he just acting out his roles as a professional athlete?
Unsportsmanlike conduct is a familiar term we often hear in football, so when a sign of true sportsmanship is shown one would imagine the gesture, whatever it may be, would be well received and appreciated...right? At the end of Sunday night's game, Cowboys RB Tashard Choice, went over to Eagles QB Michael Vick asking him for his autograph, an act that sent fans in Dallas through the roof. So much so that Choice was compelled to tweet an apology in an effort to clear things up.
"If its anybody that cares about winning and the d cowboys its me. I apologize to the people it was just an innocent gesture for my nephew." Choice tweeted earlier today.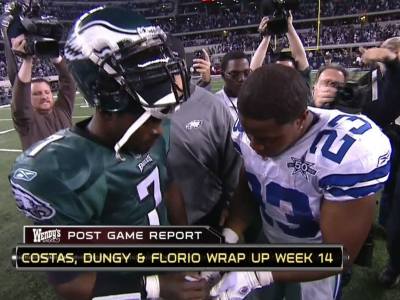 Bad timing...maybe? Wrong...NO! Why should players have to hide behind the walls of the locker room or tunnel to show they actually don't hate the other guys on the field? And more importantly isn't this the very practice we applaud after high school level sports? Where after the game both teams meet up at the 50 yard line and shake hands before heading to the locker room. Not to mention the barrage of sports headlines LeBron James received after losing to the Orlando Magic during the 2008-2009 NBA Finals, where he refused to shake the hands of any Magic players or speak at the post-game press conference. Confusion...much.
In the end it's all sportsmanship or a lack thereof. Choice wanted an autograph from Michael Vick, who happened to be the guy who just finished beating his team, but would also still be the same Michael Vick aka "the big brother" of his two-year old nephew who adores him. As the ultimate sign of professionalism and class, Choice forgot about the cameras and put the last 60 minutes behind him to show love to a player that he's actually friends with. Many players stood up in defense of Choice including teammate, RB Marion Barber, who was out of last night's game due to injury.
"Aye Shard It's 4 YA Nephew Man....Don't Even Trip....Ain't Nuttin Wrong Wit It....Yadig'' Barber tweeted.
And the always vocal Chad Ochocinco also weighed in on the situation.
"They making a big deal about another player asking for Vick autograph, I want his autograph and the skills he has to shh and a jersey".
He then added:
"Matter of fact I'd steal Vick uniform and have that shh in my basement on a mannequin screaming throw me the ball, like a wax figure, lmao".
So the question here is, what's wrong with Tashard Choice's decision of getting Michael Vick's autograph after the game?
Knowing when to put on and take off the professional hat in sports is clearly something many athletes haven't quite figured out, however the examples from Sunday nights game show both the leaps and bounds many players have taken in the right direction as well as just how far many have to travel in order to catch up.
SUBSCRIBE TO & FOLLOW THE MORNING EMAIL
The Morning Email helps you start your workday with everything you need to know: breaking news, entertainment and a dash of fun. Learn more