'8 Mile' 10th Anniversary: What Happened To Eminem?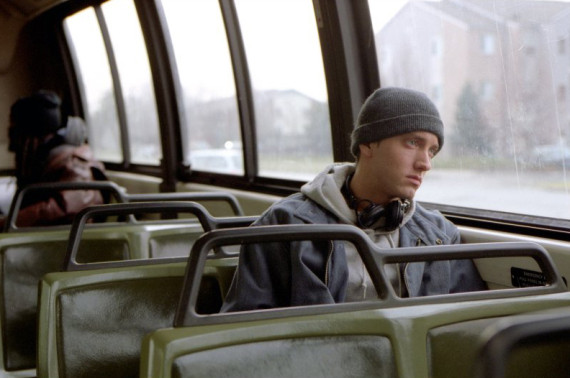 When "8 Mile" was released 10 years ago, on Nov. 9, 2002, Eminem was riding the wave of three mega-successful rap albums. After slashing his way into the public's consciousness with 1999's "Slim Shady LP" (certified four-times platinum), he attained true rock-star status -- and Top 40 radio ubiquity -- with its follow-ups, 2000's "Marshall Mathers LP" (diamond) and 2002's "The Eminem Show" (also diamond).


But he was scary. The albums were laced with malice -- a testament to the American music-listening public's ability to buy into revulsion. His flow, then nasal and hyperactive, laced the usual breathless braggadocio with a lethal cocktail of self-hatred and homicidal menace. There was also his relentlessly cheeky humor, which worked better in some places ("Slim Shady") than others ("Without Me").
The brash Detroit rapper, born Marshall Mathers on October 17, 1972, also happened to be one of the year's biggest movie stars. "8 Mile," a movie about a fictionalized Eminem's rise from Detroit's darkest corners, starred the rapper as himself and banked $51 million during its opening weekend. The film has since earned $242 million in global sales on a scant budget of $41 million.
If that feat -- ruling the box office and the radio while being wholly obscene -- seems small in today's age of Odd Futures and Chief Keefs, keep in mind that Em was not only a grown man (he turned 30 the year of "The Eminem Show" and "8 Mile"), but that he was fantasizing about the murder of his wife and calling his mother a "selfish bitch" who deserved to "burn in hell" (on "Cleaning Out My Closet"). This wasn't Odd Future antagonizing the P.C. crowd by spouting homosexual slurs (though Eminem did that, too) or Chief Keef expressing a youthful disregard for all that's right. This was a man selling millions of records about killing the mother of his daughter -- with the willing assistance of none other than Dr. Dre. (From 1999's "What's the Difference?": "Well if you ever kill that Kim bitch, I'll show you where the ocean is.")
Eminem won an Oscar for Best Original Song and released No. 1 albums while maintaining a level of rage that was -- and perhaps still is -- unparalleled in popular culture. Fast forward 10 years later, and what remains of 2002's Marshall Mathers?
Not much. Over the course of a long decade, Eminem has gone from culture's biggest wildcard to the motivational speaker of the rap game. His latest releases, 2009's "Relapse" and 2010's "Recovery," see a new Marshall Mathers, one who emerged from half a decade of writer's block and prescription pill abuse as a man who was "not afraid to take a stand" and wants to you to hold his hand ("Not Afraid"). His transformation, from a train wreck who scared America into buying his albums by offering up his every disgusting impulse for entertainment to a wise, distant label boss and veteran uninterested in darkness, was complete.
(There's a notable exception in the form of "Love the Way You Lie," a song about domestic violence. But that single was carried by Rihanna -- a pop star. The old Eminem would have enjoyed ridiculing track's sing-songy hook; the new Eminem is featured on Rihanna's upcoming album.)
It's unseemly, of course, to complain too much about Eminem's ascent from talented drug-addled mess to successful family man. But his early work was so visceral (and his recent releases so tepid) that he comes close to proving the notion that the best art comes from pain and chaos. That's an idea reinforced, incidentally, by Angel Haze's recent take on Eminem's 2000 hip-hop confession "Cleaning Out My Closet." In the new version, Haze recounts her experiences with sexual assault with blistering honesty.
So how does this all affect "8 Mile"? The movie is now a snapshot of a lost performer's former life. It wouldn't work if the rapper we now know acted in it, because it's impossible to see today's Eminem in the greasy, visually depressed scenes that dominate the film. It's impossible to imagine today's Eminem hooking up with Brittany Murphy in the back of a factory, or losing it when she sees his mother's house.
Not that we shouldn't have seen this coming: The track that won Eminem his only Oscar was "Lose Yourself," his first true stab at writing something universal, about working hard enough to shed one's current identity. Mission accomplished.
Fans' Favorite Eminem Lyrics
@HuffPostEnt The soul's escaping, through this hole that is gaping This world is mine for the taking Make me king, as we move toward NWO

@CasaDeJas @huffpostent But then I see my baby/Suddenly Im not crazy/It all makes sense when I look into her eyes #missmydaughter

@HuffPostEnt Dispensing these sentences is getting the stress that's been eating me recently off of this chest and I rest again peacefully.

@HuffPostEnt "these fucking walls must be talking, 'cause man I can hear 'em" - When I'm Gone

@HuffPostEnt I got a switchblade with a little switch to switch blades, then i switch from a six to a sixteen inch blade.

@HuffPostEnt "Now, was called M&M, but he threw away the candy & ate the rapper. Chewed him up & spitted him out." #FastLane #BadMeetsEvil

@Manal_Saad @HuffPostEnt I am not afraid...to take a stand..

@HuffPostEnt "maybe that's what happens when a tornado meets a volcano"

@HuffPostEnt i act like sh*t don't phase me, inside it drives me crazy. my insecurities could eat me alive

@HuffPostEnt YOU MAY BE GONE BUT YOU NEVER OVER. - You never over

@HuffPostEnt drug dealers hang around me like "yes" men and they gonna do whatever I says when I says it. In reference to his drug addiction

@HuffPostEnt W.T.P. - So ladies if your belly button's not an innie then I'm outie.

@HuffPostEnt "First off you don't know Marshall, at all so don't grow partial That's ammo for my arsenal, i'll slap you off that barstool"

@HuffPostEnt Not takin nothin from no one, give em hell long as I'm breathin #happybirthdayem cc: @JaclynPatrice @ShanaAnn23

@HuffPostEnt "I say what I want to say & do what I want to do. There's no in between. People will either love you for it or hate you for it

@HuffPostEnt He rhymed an unrhymable word, twice: ORANGES with hinges/syringes ("Business")

@HuffPostEnt Dear Slim, I wrote but you still ain't callin'.

@HuffPostEnt "you don't wanna fuck with shady, cus shady will fuckin kill you!" #happybirthdayslimshady

@huffpostent 'as long as you have feelings to hurt,ild be around, 'long as u LET me get to you' @Eminem

@HuffPostEnt "Two trailer park girls going 'round the outside, 'round the outside"

@HuffPostEnt I'll never forget 'success is my only mutha f'n option, failures not"!! I'm now owner/operator in a Successful business

@HuffPostEnt I think my dad's gone craaaazy.

@HuffPostEnt There's vomit on his sweater already, mom's spaghetti

@HuffPostEnt "I'm not afraid... Play that ..when I have to get set for doc's.."happybirthday to Marshal"

@ChronicDancer @HuffPostEnt @ShanaAnn23 Keep kick' a** in the morning and taking names in the evening!!

@HuffPostEnt im not afraid to take a stand, everybody come take my hand. Best lyrics he's ever written.

@huffpostent Nw days everybody wanna talk like they got someth'n 2 say but nothin comes out when they move their lips justa buncha jibberish

RT @ChronicDancer: @HuffPostEnt Not takin nothin from no one, give em hell long as I'm breathin #happybirthdayem cc: @JaclynPatrice @ShanaAnn23

@HuffPostEnt "I joke when I say I'm the best in the booth, but a lot of truth is said in jest." - Eminem

@HuffPostEnt "I can't breathe, but I still fight while I can fight."

@HuffPostEnt fuck a beat, I'll go a capella. Fuck a papa doc, fuck a clock, fuck a trailer. #8mile #happybirthdayslim

@HuffPostEnt I'm slim shady yes i'm the real shady all u other slim shady's are just imatating so won't the real slim shady plz stand up!

@HuffPostEnt Nobody knows me I'm cold Walk down this road all alone It's no one's fault but my own It's the path I've chosen to go

@HuffPostEnt Hailie I know you miss your mom and I know you miss your dad When I'm gone but Im tryin' to give you the life that I never had

@HuffPostEnt I got some skeletons in my closet and I don't know if no one knows it.

@HuffPostEnt "Let's pretend Marshall Mathers never picked up a pen, Let's pretend things would have been no different"

@HuffPostEnt " I am whatever you say I am, if I wasn't than why would I say I am?!"

@HuffPostEnt "I'm standing on my Monopoly board. That means I'm on top of my game, and it wont stop 'til my hip don't hop anymore." - Eminem

@HuffPostEnt "Success is my only motherf#*cking option, failure's not" #loseyourself

@HuffPostEnt "I repeat, will the real Slim Shady please stand up?"
Follow Kia Makarechi on Twitter: www.twitter.com/Kia_Mak