Multiple news outlets are reporting that reality show baron Mark Burnett has secured a deal with Discovery Networks for a reality travelogue hosted by none other than Sarah Palin.
Thankfully, she quit her term as governor early so she could lend all that credibility to a show worthy of the caliber of Discovery Channel. Even these newscasters couldn't keep a straight face when reporting the story.
@KimMance does she get bonuses for tilting her head perkily and saying, "You betcha!"?
But to Discovery Channel, it's no laughing matter and they are no doubt clinking glasses of champagne after the triumph of winning an apparent bidding war with A&E for the right to pay over $1 million per episode of Palin touring Alaska.
Evidently, Palin will serve as sort of modern-day Sacagawea. She'll guide viewers around Alaska to meet the "characters, tradition and attractions in the 49th state," trade paper Variety reported Tuesday -- almost as if it had its hands on the news release.
No word yet on if she'll decide to shoot wolves from helicopters, or skin any moose during the programming. And one could only hope Ms. Palin will also grace at least one episode with that spectacular view of Russia from her house.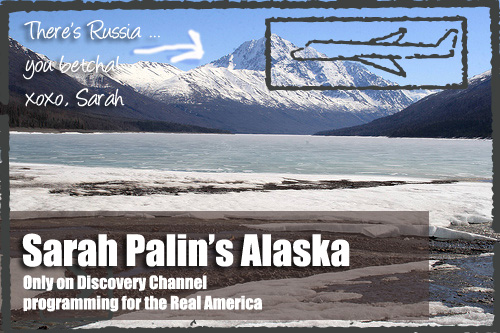 FOLLOW HUFFPOST