Robert Mitchum, Lee Marvin, Steve McQueen -- fantastic faces, wonderful actors and the absolute kings of cool. They're gone. They're almost all gone. Leaving an empty hole and extra large snakeskin boots to fill for any other hepcat actors (which are few and far between. With few exceptions, are actors even cool anymore?), these kinds of guys (men, damn it) not only rarely walk among us any longer but barely even flicker on the screen anymore. So, I have to ask, is Clint Eastwood the last man standing?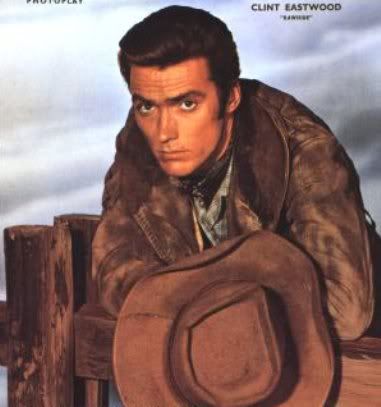 The 78-year-old actor/director/icon (that's right, he's 78, and he could still kick your ass) Clint Eastwood is currently starring in Gran Torino, a movie he reportedly directed as his last starring role -- something that puts me in varied extremes of raging wistfulness and bittersweet overload. The movie is weirdly lovable -- not the greatest picture of Eastwood's oeuvre (it's not Unforgiven), but then, so unique, daring, touching and personal that, well, maybe it is one of the greatest movies he's ever made.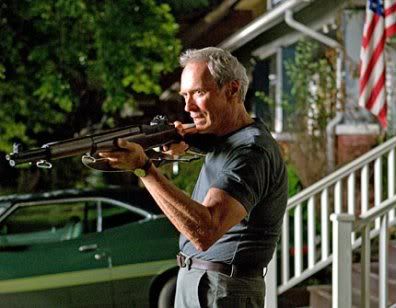 The story of a Korean war veteran and recent widower (and ahem, proud Ford Torino owner, how could I not see this movie?) facing his own racism and general grumpy, growling demeanor while befriending his Hmong neighbors is oddly toned -- disarmingly funny at times (who knew Eastwood was as cute as Sarah Silverman in the shock department?) -- and then, overwhelmingly poignant. It's Clint facing his own persona, poking some fun at it, apologizing just a little, but maintaining his realness while making himself absolutely mythic. It's steadfastly American while being strangely exotic -- there's nothing like it.
And there's no one like Eastwood. I recently rewatched (for the umpteenth time) the great Sergio Leone Dollars trilogy (where Eastwood dominates as the "Man With No Name" or "Blondie" -- next to Angel Eyes Lee Van Cleef, who of course is no longer with us, and who I also revere with almost sick intensity) and was once again, awestruck by his less-is-more approach to acting (the jazz lover in him). Not surprisingly, Eastwood understands the art of the close-up (that grimace!) and what to do with your body (that oh-so-subtle swagger of his!), and he uses it to great effect in everything from his Dirty Harry movies to Every Which Way But Loose, a movie that, opening credits alone (that Eddie Rabbit song accompanying his workday kills me every time -- and when he knocks on the window to the very happy secretary -- why does this move me so?) simply proves how much he brings to jeans, a T-shirt and an old truck (not to mention great hair). And who looks cool hanging out with an orangutan? Clint does.
So damn. Clint's turning me into perpetual father/brother/mentor loser Brandon De Wilde here. Is Gran Torino really going to be his last acting appearance? Clint, don't go!
Tweaked from my MSN column Hollywood Hitlist.
Read more Kim Morgan at
Sunset Gun.