My gallery is in a unique place in Culver City that has one gallery after another, with the occasional hip café and museum. Often the galleries synchronize their opening nights and hundreds of people can be found milling along La Cienega Boulevard going from one show to another. It was during the opening night of my last show that I discovered the handmade books of Carol Es. There is an unspoken companionship with other artists who have shows opening at the same time-- we've all just graduated from the same private hell and ecstasy of art childbirth and after months of total solipsistic tunnel vision, we finally get to check out other artists' work. I was captivated by the book and turned page after whimsically illustrated page of the book's heartbreaking content. In this era of the Walmart and "Made in China," this contemporary illuminated manuscript is as precious as it is personal.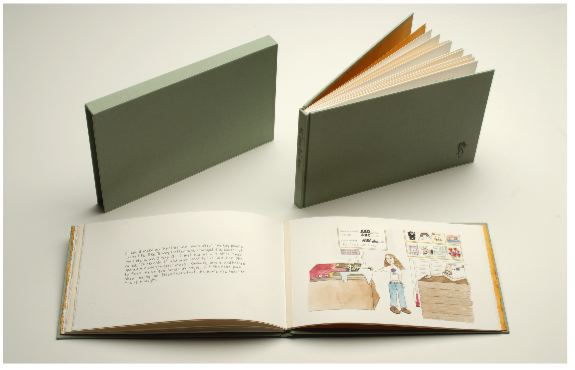 Carol Es, "All Done But None", 7" x 12" 32-pg handmade/handwritten Artist's book in watercolor & ink, (shown), letterpress, & stamping w/slipcover, Edition: 20, 2007.

Kimberly Brooks: I can't imagine making something akin to the same painting twenty times (although it would be a hell of an exercise..) Was the process of repeating the pages cathartic?
Carole Es: I knew I wanted to create an artist book and keep the edition limited to 20 books. At the time I did not realize what an endeavor it would be, but I wanted to make them each by hand: no print-outs or reproductions. Since I am also attracted to children's books I liked the idea of formatting it in this way. But the story I wanted to tell was not at all for children. It is an adult story of both sad and funny things that I've experienced and I felt that portraying it as a simple, cartoon-y story it would allow me to share something rather heavy in a light-hearted humorous way, and connect to viewers. Personally, it was very cathartic, at times it was a little gut wrenching. It took nearly a year of full time work. I didn't realize what I was getting myself into when I started it, but I am very happy with the results of my efforts.
KB: Do any of the pages deviate?
CE: The pages don't deviate much from each other, but they are all done by hand. There was one page I left totally unplanned, so those pages are completely different from each other, but all incorporate a black hole theme that goes with that part of the story of losing my friend to cancer.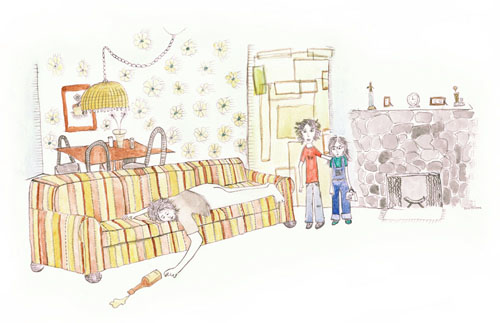 Carol Es, "All Done But None", 7" x 12" 32-pg handmade/handwritten Artist's book in watercolor & ink, (shown), letterpress, & stamping w/slipcover, Edition: 20, 2007.

KB: Unlike a LOT of artists, your work can be wickedly funny. I remember when "Blogger Killings" a work on paper was featured on the Huffington Post then turned into a limited edition print. What made you think of it?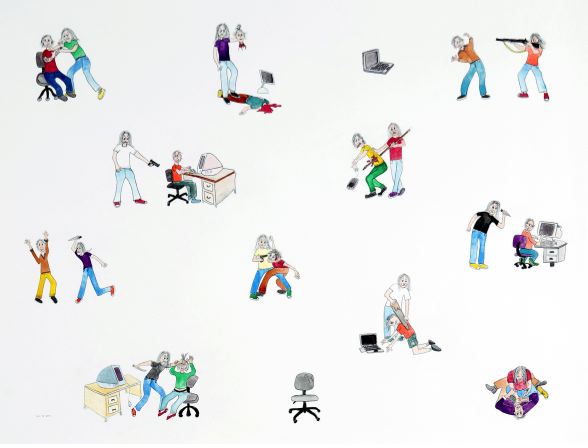 "Blogger Killings" 22 x 30 in. water color and pencil on paper
CE: I admit I became enraged by those infamous, ill-spirited "anonymous" comment makers on the blogs I frequent daily. Isn't it always the jackasses with a missing face that say the cruelest things? No decent person would have the guts to say half the things they do on blogs in real life, so I made this artwork to remind myself not to take the Internet so seriously.

KB: I think that was before HuffPost incorporated "Flag as abusive" option and commenter profiles. So have you worked on any other book-like projects?
CE: This month I am in an exhibit at Seattle University's Lee Center for the Arts. The show is called "Bookish" and it will be featuring both "1-SELF" and "All Done But None" as well as 30 pieces from my new "American Rhapsody" series. I began painting words on top of the pages an old American Way to True Fit Patterns book. This was the union book for all pattern makers in the industry once upon a time.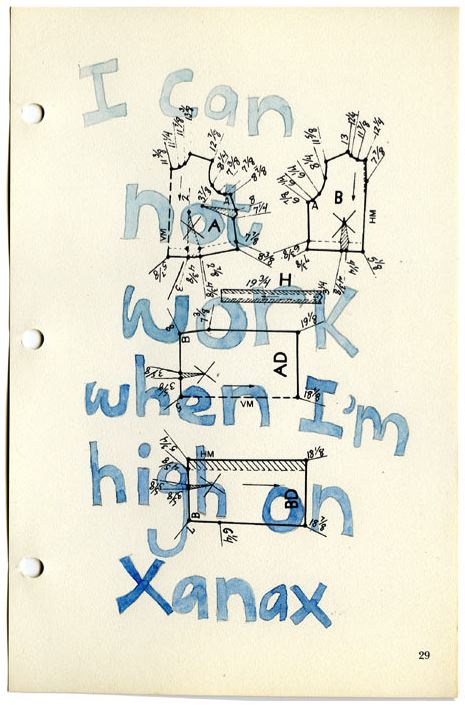 High on Xanax, 8.5 x 5.5 inches, Watercolor & pencil on American Way book page, 2008.

KB: You used to be a professional drummer. When did you make the transition from being a drummer to being a full-time artist?

CE: I did sessions for Ricky Lee Jones on her Ghostyhead album. I had some health issues so I opted out of the tour. While I was always serious with making art and exhibiting from an early age, I suddenly had a lot more time on my hands once I wasn't in a band anymore, working on a project, gigging, recording, or touring. It gave me a chance to focus full time of art, which ended up being a blessing is disguise in a way.
KB: How much is your approach to music similar to your approach to art?
CE: My approach is similar, yet different. Art is a solitary endeavor in its creation phase. It only comes to embrace others after that point. Then becomes a kind of collaboration, but not in the same way as music. Music is a total collaboration from the get-go, both in the creating and the performing phases. It is a magical, ascending and shared experience. I approach my art with the same passion, and instinctual gut emotion as I do in writing and playing music. It is hard to explain it beyond that really, but it comes from the same place, despite it being a solitary process. I'd say making art is a lot like composing music.
I usually begin with a very abstract idea or vision that comes to me at semi-unconscious states, like right before falling into sleep, or immediately after a dream. I'll sketch the idea onto a scrap piece of paper. It looks more or less like a special needs child's scribble than something a draftsman would draw, but then there is something pure and attractive to me about this translation that I try to maintain when I transfer it onto a canvas or panel. There is a lot of rendering involved, but I do try to keep the essence of the original interpretation in there somehow.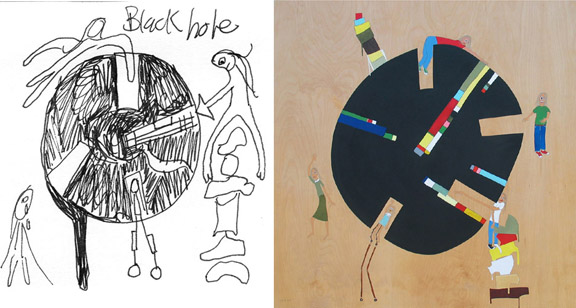 Carol Es, Preliminary sketch of "Black Hole" on Post-it, 2006.
Carol Es, "In and Out of the Black Hole", 36" x 36" Oil, pencil and painted pattern paper on panel, 2006.
KB: What projects have you been working on lately?
CE: I was recently chosen to be one of 10 women for Self Help Graphics 2008 Maestra Atelier and work with their Master Printer. I got to learn everything about the screen printing process and created a 7-color serigraph called "Out of Reach." It's a bit different for me, and ambitious for my very first screen print, and I'm happy with it. The image was inspired by a rare photograph of my parents that I took upon their first ever visit to my home. It was a surreal event to have them in my habitat amongst all my art and in my home since they did not bother to come visit me until I was 36. I snapped a picture of them on the couch in my office that just so happened to capture all the emotion that surrounded the circumstance of their relationship to each other and a life they were not capable of embracing. It is both sad and touching; And I did try to incorporate the love I have for them despite their flaws.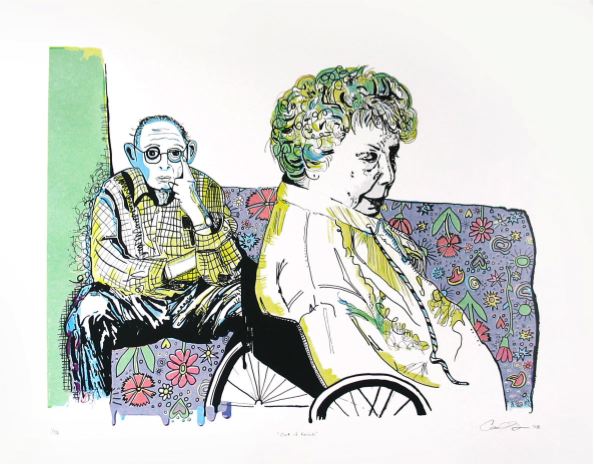 Out Of Reach, 2008. 7-color, hand printed serigraph on 100% cotton rag paper. Edition size: 75. Image size: 16 x 22 inches. Paper Size: 22 x 26 inches.
KB: What artist inspires you?
CE: I have been very inspired by Amy Sillman in the last couple years. My Artist's book, All Done But None, was inspired by a small book she did called Visiting Artist. Her paintings have given me inspiration and permission to combine my own styles, convincing me that it could work if given the type of freedoms she seems to have mastered in her paintings. She meshes the abstract with the literal, a dream, a feeling, and even a narrative, albeit visual. I am trying to do much the same thing while adding text and making it my own expression. I think she's amazing and her work is some of the most aesthetic painting I've ever seen.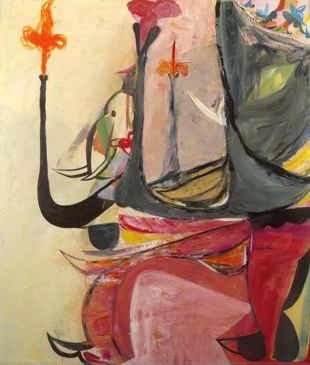 Amy Sillman: Elephant, 2005, 78" x 66" Oil on canvas, 2005.
Carol Es is a self-taught artist who grew up in Los Angeles. Her adolescence was spent working as a pattern cutter in the apparel industry, while establishing herself as a musician, artist and writer. Much of her work includes paper collage, garment patterns, pins, thread, and written prose - personal experiences laid bare and forged directly into the work where viewers can sense a distinct honesty and dark, childlike humor. Carol's work is included in numerous private and public collections including the Getty Museum, Los Angeles County Museum of Art, Brooklyn Museum, the National Museum of Women in the Arts, and most recently the Kandinsky Library at the Pompidou Centre in Paris. She is represented by George Billis Gallery in Los Angeles and Koelsch Gallery in Houston, and is a recipient of grants from the Durfee Foundation, and the Artists' Fellowship in New York.
Thursday she opened a 3-person show at Seattle University's Lee Center for Art called "Bookish," which is on display until June 21st. Her next solo show will open this fall at George Billis Gallery in Los Angeles. More info can be found on her website at esart.com.
First Person Artist is a weekly column by artist Kimberly Brooks in which she provides commentary on the creative process and showcases artists' work from around the world.
FOLLOW HUFFPOST