My colleague and I stood near the entrance of the delivery room at Dabat Health Center in Northern Gondar, Ethiopia. The room was one of a series of squat buildings weathered by years spent under the searing African sun, intermittently soaked by torrential downpours that define the region's rainy season. The still quiet of this sunny afternoon was cut short by the arrival of a bustling group of women and men carrying a young girl in labor, her thin arms and legs roped around sturdy shoulders and necks. The bewildered young mother quickly disappeared into the doorway, and the expectant father and family members gathered nervously outside. We had a digital camera and printer, and offered to take pictures. While photographing the expectant father, I steadied my camera and out of habit muttered, "smile" as I snapped the picture. I was instantly struck by the absurdity of this request.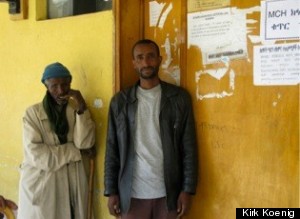 I travelled to Ethiopia as part of a team from UCLA's Anderson Graduate School of Management. With the support of Johnson & Johnson and WAHA (Women and Health Alliance) International, our group was studying a WAHA motorcycle ambulance program designed to provide emergency medical transportation services to expectant mothers.
In Ethiopia, like in the rest of the developing world, lack of transportation to a qualified medical facility ranks as the most threatening obstacle to health services for expecting mothers, with 71 percent of women (81 percent in rural areas) citing transportation as a significant barrier to accessing health care. This is followed closely by lack of money (68 percent), and distance to a health facility (66 percent). WAHA's motorcycle ambulances address these primary concerns by providing low-cost transportation for women living in a wide radius (referred to as "catchment areas") surrounding health facilities.
Programs like WAHA's are vital when you consider the fate that currently befalls these courageous women, children and families. Let's take a look at the facts:
A study sponsored by the WHO, UNFPA, UNICEF, and the World Bank estimates that 1 in 39 women in Sub-Saharan Africa (SSA) will die from pregnancy-related complications. The odds for women in developed countries are 1 in 3,800, nearly 100 times better.
Many more women suffer from obstetric fistula, an injury caused by obstructed labor that leaks urine and feces into the birth canal. Sometimes referred to as "the walking dead," an estimated 2 million women in Asia and SSA today suffer from untreated obstetric fistula.
The State of the Worlds Mothers (SOWM) report ranks Ethiopia among the most dangerous countries to give birth, with a first day child mortality rate of 11 out of 1,000 births. Seventy-seven out of every 1,000 children born in Ethiopia will not live to see their fifth birthday, compared to 4 children per 1,000 born in industrialized nations.
To many (myself formerly included), these statistics and their meaning border on incomprehensible. Unfortunately for the 1 billion people living in SSA, they are woven into the fabric of everyday life. It was not until I made my absurd and impossible request of this young father that I began to truly feel the weight of his burden. Will his wife survive this pregnancy? Will their baby be born alive? Will their child survive the dangerous first day? And when, if ever, will this father be able to smile?
Before leaving the Dabat Health Center, we met Kate and her newborn son. Her presence was reassuring, as if their vitality would somehow manifest itself in the other young mother and her unborn child.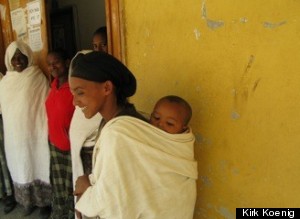 Through this experience I am reminded of my own unlikely beginning. I was the fourth baby my mother delivered, but only the second that survived. I realize that at my birth, my father was thrust into the same world of uncertainty currently inhabited by this young father in Dabat. I think about my own children, and feel the invisible thread of hope that links fathers and families around the world: A thread that runs through me, is a part of me, and is a part of us all. Can you feel it?