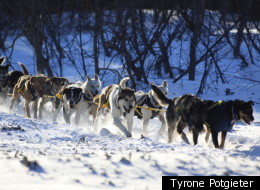 After an extended period of travel, I'm heading home to Winterlake Lodge, where I live in the backcountry of Alaska. Most of my family will be there when the skiplane circles the house and flies low over the frozen lake in preparation to land. A couple of snow machines will fire up and head out towards the packed-ice runway and my black Labrador, Willow, will follow close behind. We'll unload hundreds of pounds of provisions brought in from Anchorage. Fresh vegetables and fruit are the most coveted cargo and the highest priority to get over to the lodge before they freeze. It's a scene we've repeated countless times in the nearly 30 years I've lived here.
Our lodge lies far from any road and the nearest grocery store is about 200 miles away in Anchorage. It might sound complicated, but my husband Carl and I have long ago adapted our lives to living in the wilds. We've raised two daughters here, and they both now work for our small family-run business.
In the seclusion of living "away from the things of man," time seems to bend and curve in unusual ways here. The world spins without us even noticing. I think Carl and I completely missed the '80s as far as popular culture goes. We live in a place where wolves can still howl at night and bears can wander into our yard.
The rhythm and pace of our winter lives are not necessarily less work than in the summer but days are certainly shorter. The sun comes up around 10 a.m. and it sets a little after 3 p.m. That's in contrast to the nearly perpetual daylight and intense pace we keep in the summer months.
Lodge life offers a kind of comforting routine. Carl is the first one up in the morning. He stokes the fires and then he makes the first morning coffee. He does this in the dark using his LED headlamp to illuminate the scene. He'll sit by the glow of the woodstove and read until the rest of the crew begins to wake and the lodge comes to life.
Since there are no nearby communities, we have to provide our own electricity and we have a well for our water. We cut firewood for the woodstoves and the outdoor crew head out on daily expeditions looking for naturally dead-standing trees we can chainsaw into manageable pieces. We constantly groom and maintain trails around the lodge so our snow machines won't get bogged down in the deep snow.
I spend the majority of my day in the kitchen, cooking, thinking or talking about food or looking through cookbooks designing future menus. The kitchen is a large, comfortable, well-lit and warm place with a large table where lodge guests sometimes sit and chat while I cook.
Our sled dogs are the superstars of the wintertime. We take two teams out twice a day for exercise and training along our trails. They love to run, and the seemingly frenetic harnessing of a dog team takes all hands on deck. Why do we have sled dogs? There's an addictive quality to gliding silently through the woods powered only by natural energy.
And, besides, our dogs are part of our family. At the end of the day, sitting around the kitchen table, we talk about our dogs as if they are a collection of colorful and quirky people: Rosie had a good day today, Axel doesn't like Boomer and so on. It's funny how Willow the Labrador picks her favorite sled dogs to interact with. The dogs have such vivid personalities, sometimes evident right from birth, and they seem no less complicated than we are.
We live at Mile 198 along the Iditarod Trail, a historic 1,000-mile trail that commemorates the dramatic story of how diphtheria medicine was relayed by dog mushers to reach the town of Nome during an epidemic in 1925. The trail is only passable in the winter and has become a destination for adventurers traversing it by dog team, snowmobile or sometimes by bike, skis or snowshoe.
In the depth of winter, when the snow is higher than the windows of the lodge, I feel as if I am living along a hobbit trail where at any moment a strange and magical character can knock on my kitchen door and ask for help or food. Sometimes buffalo hunters on snow machines stop in on their way across the rugged Alaska Range to McGrath. More than one walking-around-the-world person has trudged with backpack and skis across the frozen lake on their way to or from Russia, recounting wondrous tales of adventure and human generosity along the way.
This holiday season, my family and I will spend time together playing games, sledding down the big hill, running the sled dogs, skiing, eating crab and salmon and laughing often. We'll keep an eye out for northern lights and, on January 1, we'll watch the sun rise over our lake, washing us with opportunity for a new year.
We'll take trips away from this place in the new year as often as we can but we'll recognize that sometimes the greatest value of travel is being able to appreciate returning home.