This week, in Washington DC, the mHealth Summit will showcase the new and exciting ways in which mobile-phone based technologies are advancing the delivery of health care around the world. Emerging best practices from mobile health (or mHealth) implementations will be highlighted throughout the conference, including the work of MAMA.

MAMA empowers women and their families with evidence-based health messages to make informed decisions about how to care for themselves and their babies and when to seek care. Launched on Mother's Day 2011 by Secretary of State Hillary Rodham Clinton, MAMA is an innovative public-private partnership between the United States Agency for International Development, Johnson & Johnson, the United Nations Foundation, mHealth Alliance, and BabyCenter. The partnership engages the global community to deliver vital health information to new and expectant mothers through mobile phones and is investing in three core countries - Bangladesh, India, and South Africa.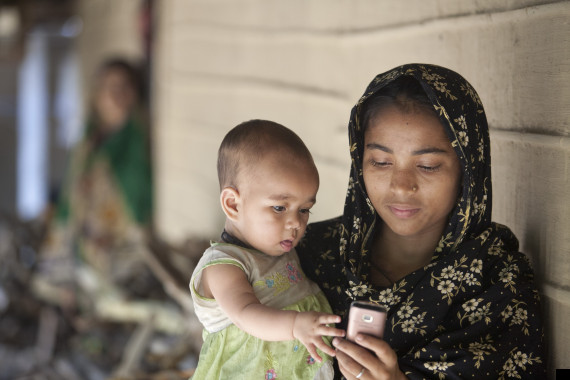 This has been a year of many firsts for me. A year ago, I was attending the mhealth summit as the first Global Director of MAMA. There I met an amazing group of individuals from around the world coming together for the first time to bring MAMA from its nascent stage into practice. I came away inspired which mitigated any trepidation I felt about moving my family across the country from Seattle to DC and bringing together diverse partners to make this vision for MAMA a reality.

In the past year, I travelled the world learning more about MAMA and the need for our work. I made my first trip to Bangladesh to see MAMA in action. I learned that a woman living in rural Bangladesh has to walk several miles just to get to the nearest health care facility. Often, I discovered, she learns about how to take care of herself during pregnancy, what to expect during childbirth and how to care for her baby comes mostly from cultural myths passed down for generations. I met women who had begun to receive information on mobile phones - evidence-based, internationally recognized healthcare information, timed to the stage of pregnancy or the age of the baby, delivered in local language and cultural context. I was touched by women who shared how this information has changed their lives.

It has also been a year of many firsts for MAMA. Last year we made available text and voice messages to any organization reaching pregnant women and new mothers through mobile phones. Currently, MAMA adaptable messages have been accessed in 35 countries from Afghanistan to Zambia with the goal of reaching 20 million moms. This week, we are hosting our first in-depth content workshop for 30 organizations. MAMA's work is becoming increasingly realized. In October 2012, MAMA was awarded the Fast Company Innovation by Design Award in the Service Design Category, chosen among more than 1,700 nominated organizations.

I've seen first-hand the difference MAMA's work has on the lives of moms and their families worldwide. In a couple of weeks, I will return to Bangladesh where I will celebrate the important milestone of Bangladesh being the first MAMA country to launch a national scale service. I am honored to have played a role in bringing the promise of MAMA into practice. We will share our triumphs and our challenges with others at the mhealth Summit this week. We've got big plans for 2013 and I'm so excited that we will to work to put the power of health in every mama's hand.