Today is National Marriage Equality Day. We created the day on Aug. 7, 2012, as a response to Mike Huckabee's abhorrent Chick-fil-A Day, in which thousands of people showed up in droves to stuff fast food in their mouths in the name of homophobia AKA marriage inequality -- or as they spun it, "free speech."
It made us sad to watch the hatred spewing from these people who were proudly recorded by the news and well-meaning citizens, and we at Equally Wed, a wedding magazine for both gay and straight couples, thought maybe we could create a peaceful response by encouraging people to spend a day (and the rest of their lives, to be honest) mindfully shopping at business establishments that vocally support marriage equality, such as Starbucks, Nike, Amazon, Nordstrom, Van Gogh Vodka and Microsoft, as well as donating to local and national nonprofit organizations that are fighting tirelessly for marriage equality on both state and national levels. And of course, if you're planning a wedding, make sure to use gay-friendly wedding vendors. Start your search for wedding vendors who support marriage equality in Equally Wed's Wedding Vendor Directory.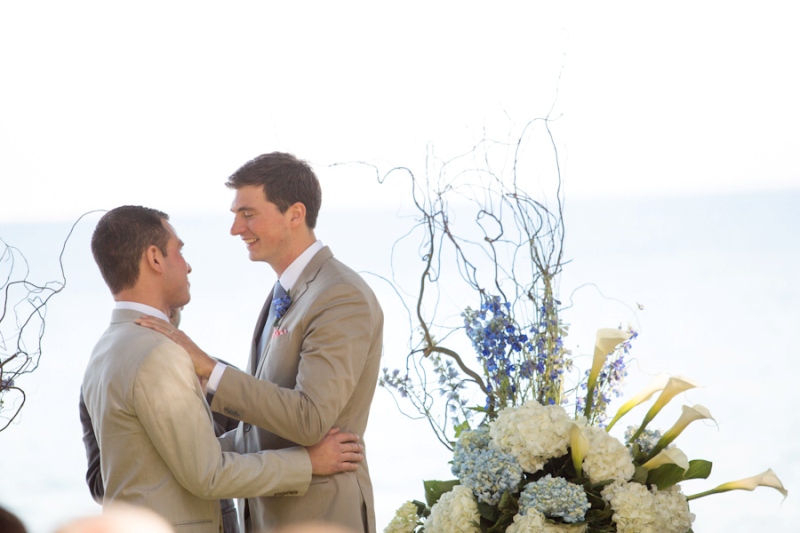 Jeff and Sebastian marry on the shore of Lake Tahoe. Read their "Real Wedding" feature here. (Photo by Nick Kova Photography)
Much has changed in 365 days. The most notable change, of course, is the dismantling of the federal Defense of Marriage Act (DOMA). Thanks to the Supreme Court's historic ruling on DOMA on June 26, 2013, same-sex couples who are legally married must now be treated the same under federal law as married opposite-sex couples. Now our marriages (those created in a state that issues marriage licenses to same-sex couples) are legally recognized on a federal level, and we have access to many of the benefits, rights and protections that we have been denied for so long.
On National Marriage Equality Day 2012, only six states and the District of Columbia legally recognized same-sex marriage. Here's a timeline (compiled by CNN) on what's changed in just one year.
Oct. 18, 2012: The Second U.S. Circuit Court of Appeals rules that the Defense of Marriage Act (DOMA) violates the U.S. Constitution's equal protection clause, deciding in favor of widow Edith Windsor, an 83-year-old lesbian who sued the federal government for charging her more than $363,000 in estate taxes after being denied the benefit of spousal deductions.
Nov. 6, 2012: Voters in Maryland, Washington and Maine pass referenda legalizing same-sex marriage. This is the first time that same-sex marriage has been approved by a popular vote in the United States. Voters in Minnesota reject a state constitutional amendment that would have banned same-sex marriage there.
Dec. 5, 2012: Washington Gov. Christine Gregoire signs Referendum 74, her state's Marriage Equality Act, into law.
Dec. 6, 2012: Same-sex marriage becomes legal in Washington.
Dec. 7, 2012: The U.S. Supreme Court announces that it will hear two constitutional challenges to state and federal laws dealing with the recognition of gay and lesbian couples' right to legally wed: California's Proposition 8 and the federal Defense of Marriage Act (DOMA). Oral arguments in the appeal are held in March 2013, with a ruling expected by late June.
Dec. 29, 2012: Maine's law to legalize same-sex marriage goes into effect at midnight.
Jan. 1, 2013: Maryland begins issuing marriage licenses to and performing ceremonies for same-sex couples as the new law goes into effect.
Jan. 25, 2013: The Rhode Island House of Representatives passes a bill legalizing same-sex marriage. It now goes before the state Senate for consideration.
Feb. 14, 2013: The Illinois Senate votes to legalize same-sex marriage. The bill now moves to the House for a vote.
March 12, 2013: Colorado lawmakers pass legislation to legalize civil unions for same-sex couples. Gov. John Hickenlooper signs it into law March 21.
May 2, 2013: Rhode Island Gov. Lincoln Chafee signs a bill legalizing same-sex marriage after the state legislature approves the measure. It will go into effect in August 2013.
May 7, 2013: Delaware legalizes same-sex marriage. It goes into effect in July.
May 14, 2013: Minnesota Gov. Mark Dayton signs a bill giving same-sex couples the right to marry. The law will go into effect in August 2013.
June 26, 2013: The Supreme Court rejects parts of the Defense of Marriage Act (DOMA) in a 5-4 decision, dismissing an appeal over same-sex marriage on jurisdictional grounds and ruling that same-sex spouses legally married in a state may receive federal benefits. It also rules that private parties do not have "standing" to defend Proposition 8, California's voter-approved ballot measure barring gay and lesbians couples from state-sanctioned wedlock. The ruling clears the way for same-sex marriages in California to resume.
Aug. 1, 2013: Laws in Rhode Island and Minnesota to legalize same-sex marriage go into effect at midnight.
So now we're up to 13 states where gays and lesbians can legally marry -- California, Connecticut, Delaware, Iowa, Maine, Maryland, Massachusetts, Minnesota, New Hampshire, New York, Rhode Island, Vermont and Washington -- as well as the District of Columbia. This is fantastic progress, and I am elated. But the war is not over, my friends. Same-sex marriage is banned by constitutional amendment or state law in Alabama, Alaska, Arizona, Arkansas, Colorado, Florida, Georgia, Hawaii, Idaho, Illinois, Indiana, Kansas, Kentucky, Louisiana, Michigan, Mississippi, Missouri, Montana, Nebraska, Nevada, North Carolina, North Dakota, Ohio, Oklahoma, Oregon, Pennsylvania, South Carolina, South Dakota, Tennessee, Texas, Utah, Virginia, West Virginia, Wisconsin and Wyoming. New Jersey and New Mexico have no laws either banning or allowing same-sex marriage.
While celebrating the immense progress made, we must continue to fight for the people in these states. In addition to spending your hard-earned dollars wisely at pro-equality businesses, visit the websites for organizations such as Freedom to Marry, the Human Rights Campaign (HRC) and your state's equality organization to see how you can help advance the marriage rights for your fellow Americans.