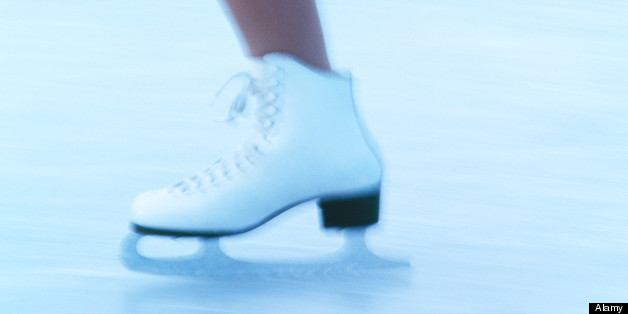 Now that the 2012-2013 figure skating season has officially concluded with the victory ceremony of the 2013 World Team Trophy, it's time to watch replays, remember the good, and venerate the great. To tide us over until the opening of the Grand Prix of Figure Skating circuit in October, which will lay the first cornerstone of the road to the 2014 Winter Olympics, here's my recap of the top 10 ladies' programs of this season.
Explanation of Terms:
Short Program -- the first and shorter of the two programs performed in a figure skating competition, about three minutes in length, with three required jumping elements, three spins, and a step sequence
Long Program/Free Skate -- the second and longer of the two programs performed in a figure skating competition, about four minutes in length, with seven required jumping elements, three spins, and a step sequence
10. The axel is back!
Japanese veteran Mao Asada went into the 2013 Four Continents Championships with a clear goal: to re-establish the sport's pecking order along the same lines of its 2010 format, when she won the silver medal at the Winter Olympics in Vancouver.
But, like any gutsy heroine, she couldn't do it alone. So she called on a good, if recently finicky, sidekick -- the triple axel, the hardest jump currently being attempted in the ladies' discipline. What makes the triple axel so difficult and risky is the three-and-a-half body rotations required for credit, but Asada, who jumps high and twists fast, has been reeling them off since her precocious junior years. At the 2010 Olympics, she slapped down a record-breaking number of three across the entire competition. It's become such a central element of her repertoire, executed with such finesse, that she could apply for a patent.
At Four Continents in February, capering across the ice to George Gershwin's "I Got Rhythm," Asada gave the crowd a big something to scream about when she landed the enormous jump -- clean. She soared through another in her long program to Tchaikovsky's "Swan Lake" to take the gold medal by a margin of more than 15 points. Many in the audience probably recalled last year's World Championships, where she attempted more than 40 triple axels in practice and didn't stay upright on a single one.
What a difference a year can make, and what a difference Asada hopes to see in the last 10 months before the Olympics.
(You can see the triple axel at 1:00)
9. Hair to the chief
There's a reason why elite women skaters wear buns or tightly woven braids, or just chop their locks off altogether -- when spinning in the air and looking down for a landing spot, the last thing they want is a thick cloud of hair whipping them in the face and obscuring their vision.
But nothing could stop the USA's Ashley Wagner from delivering her best free skate in more than five months. Wagner, captaining Team USA at the World Team Trophy, stepped onto the rink in a yellow-orange dress designed for the part of Delilah, the seductress of Camille Saint-Saens' "Samson and Delilah." Everything was smooth gliding, sensitive movements, and lovely spins -- and then a wardrobe malfunction caused her long ponytail to swing loose. Disaster seemed poised to strike.
Like any seasoned competitor, though, she improvised some hair-fixing choreography while keeping steely focus and landing six clean triple jumps. After striking her final pose, she jumped up and down on the ice in elation, beaming from ear to ear. Her cool attitude in the midst of crisis earned her second place overall, with a season's best score, and helped clinch the gold medal for Team USA.
For Wagner, the last competition of the season came as a long-awaited triumph after aggregating five falls across her past three free skates -- twice at the Grand Prix Final last December (silver medal), twice at the US Championships in January (hotly debated gold medal), and once at the World Championships in March (fifth place). Now, all she needs is stronger hairspray.
8. Russian Revolution: Act One
For 16-year-old Adelina Sotnikova, this season has been the most important one yet. Born just a few hours after the age-eligibility cutoff for senior international events, she had to spend last year warming the bench and cheering on her older teammates from her rink in Moscow. She finally stormed onto the circuit this year, impatient and intent on shaking things up.
Initially, it was slow progress. Sotnikova struggled with jitters and jumps throughout the first half of the season, but won bronze at the Russian Championships in December and thus earned a berth to the European Championships. There, in a spectacular display of Russian firepower, she went head-to-head with defending European champion and 2012 world champion Carolina Kostner.
Skating as the short program leader, Sotnikova turned her long program into a performance on par with those of some of the greatest figure skaters in Russia's rich history. Not even Christina Aguilera could look away -- her vocals, mixed with music from the Burlesque soundtrack, provided the sass that Sotnikova channeled with impeccable expression and her signature powerful jumps.
Ultimately, a fall on a triple flip jump relegated Sotnikova second overall to Kostner, but by less than a point. The knife-thin margin between first and second returned the Russian ladies to their once-brilliant spotlight, which brings us to...
7. Russian Revolution: Act Two
Meet the other half of Russia's dynamic duo, another 16-year-old phenom: Elizaveta Tuktamysheva.
Preferring dark and sultry elegies to Sotnikova's lively beats, Tuktamysheva was pegged as a future champion long before she even made her senior debut. But, like her teammate, she had to fight hard to return to medal contention territory after a back injury and growth issues hindered her training last fall.
In December, Tuktamysheva won her first Russian Championships and had her name submitted for the European Championships, alphabetized just beneath Sotnikova's. Visibly nervous in her European short program, Tuktamysheva stumbled through two jumps and ended up an interim fourth with the long program still on the table.
One passionate, flawless, standing-ovation-meriting free skate later, danced to the Russian folk tune "Dark Eyes," Tuktamysheva had the highest segment score of the night and the European bronze medal. Her seven clean triple jumps followed her to the podium, where she stood opposite from Sotnikova as the first Russian women to win European medals since the legendary Irina Slutskaya in 2006.
It's still too early to make any promises, but both girls know that to quench Russia's medal drought at next year's Winter Olympics -- auspiciously on home ice, in Sochi -- would be an even greater achievement.
6. Redemption Song
Akiko Suzuki, of Japan, has had one heck of a career. Years ago, she fought an attack of anorexia nervosa that kept her out of competition for an entire season. It took her several more seasons to be hailed as one of Japan's top ladies, and then an additional few to start delivering consistent results. Her first real breakthrough came at last year's World Championships, where she won the bronze medal at the age of 26.
At last month's World Championships, however, not even Suzuki's irreproachable artistry could compensate for a series of costly falls that left her twelfth. She was shown crying backstage while Mao Asada, the bronze medalist, comforted her.
Naysayers' doubts lingered for a month before being silenced by a battle cry, rather than the swan song that many had feared. Suzuki, part of the Japanese contingent sent to the World Team Trophy, reaffirmed the who's who of ladies' skating when she brought the full package to play -- jumps, subtlety, and grace. She corralled the rest of the competition with a stunning show of Japan's long-reigning dominance in the sport. When all was said and done, she finished more than eleven points ahead of silver medalist Ashley Wagner despite a handful of deductions in the free skate.
We can't exactly call her the Comeback Kid, but the Suzuki Redemption sounds just as nice.
5. Nose goes
Talk about horrible timing, and Italy's Carolina Kostner will undoubtedly have a story to tell.
Last year's world champion was many seasons in the making, always too plagued by nerves to stand a real chance. Her career, apart from a smattering of international medals, revealed little of her true musicality and character. When she was finally crowned Italy's first world champion in the ladies' discipline, it seemed that a new era had dawned.
Kostner entered this year's World Championships with her title already under assault. In a shadow of her old, uncertain self, she fell on a triple toe-loop jump in the short program, but sat in second place by virtue of her presentation marks as the long program loomed closer.
Minutes before she was to take the ice for the long program, a shaken Kostner filled every screen in the arena as she stood at the edge of the rink and tried to stem a vicious nosebleed. "It was running like a river," she later said, but she had no option but to assume her starting pose and hope for a reprieve.
The opening strains of Ravel's "Bolero" began playing. Kostner's face, overwhelmed with expression, guided the program even as she had to pinch her nose shut on the spins. Except for a fall on a triple salchow jump in the last 20 seconds of the music, it was as magnificent a skate as she'd ever given, showing how far she'd come from someone who had once crumbled under the slightest provocation.
She was awarded the silver medal. A flower girl had to scrape her blood from the ice, but Kostner was already looking away from the rink and towards the Olympics.
4. There's a place
This one will take us back to the first major international event of the season, so hold onto your skates and strap in.
In the buildup to Skate America, the first leg of the Grand Prix circuit, one home-team girl had managed to fly under the radar. Her name was Christina Gao; her aim: to have a breakthrough pre-Olympic season. A Harvard freshman who had never before won a senior international medal, Gao had considered retirement over the summer, but in the end opted to continue for love of the sport.
What a good call that turned out to be.
Gao, whose highest placement at any previous Grand Prix event was fifth, suddenly found herself in third place -- medal territory -- on the eve of the free skate. Heads turned when she skated to center ice in an elegant red dress and began moving in rhythm to Astor Piazzolla's "Libertango." Afterwards, no one quite knew what had changed between this season and the last. All anyone could say was that Gao's emotional rendition, topped with six solid triple jumps, was more than enough for the silver medal.
And now we know the intelligence of judgment that got her into Harvard.
3. (Almost) golden girl
To understand the significance of this program, you'll have to know Gracie Gold--who she is, what she's done, and why we care.
Gold first made headlines as a junior, winning last season's US Junior Championships in a rout and nabbing the silver medal at the World Junior Championships. Stamped as one of America's most promising girls, she started this season--her first as a senior--with huge expectations. At Skate Canada, her first Grand Prix event, she collapsed under the pressure and barely emerged to take seventh place. Two short weeks later, she appeared to have it figured out, placing second overall at the Cup of Russia.
Headed into the US Championships, the qualifier for the World Championships, the 17-year-old worked on perfecting her massive jumps and managing her nerves. Alas, it was not to be -- in the short program, she fell on a triple toe-loop jump and singled an intended double axel jump to fall all the way to ninth. For a day, she sadly debated withdrawing. Then, on the night of the ladies' long program, Gold entered the arena angry. Really, really angry.
She had a tiny chance to land on the podium, but that chance swelled and filled the rink as she abandoned all inhibitions in her long program, sparkling and twirling to music from the Life Is Beautiful movie soundtrack. Gold skated for gold, nailing seven triple jumps that verged on technical perfection, and then pumped her fists to a standing ovation. Her long program score was the second-highest ever recorded at the US Championships, surpassed only by Sasha Cohen's in 2006.
Although she eventually had to settle for second to Ashley Wagner, there was no doubt in anyone's mind who won the gold medal that day.
2. We've got a star in Li
China hasn't seen a big figure skating star since the days of Lu Chen, the 1994 and 1998 Olympic bronze medalist, but now, another petite 16-year-old from Chen's hometown of Changchun is on the road to international stardom.
Say hello to Zijun Li. Cute as a button, she's the Chinese national champion, a five-time medalist on the international junior circuit, and the breakthrough star of March's World Championships.
Li's first Worlds experience started rather poorly, to be sure. She was twelfth after falling on an under-rotated triple toe-loop jump in the short program. Not many expected a spectacular show when Li stepped out for her free skate, shimmering in a pale pink costume, but that was exactly what she gave -- seven squeaky triple jumps, punctuating the strong beats of Tchaikovsky's "Sleeping Beauty," with the slow and decorous choreography just as excellent. By the end, the crowd was on its feet, the arena rang with cheers, and Li was laughing in disbelief. She finished seventh overall: not at all shabby for her debut World Championships.
Fans have even noted striking similarities between Li and Yuna Kim, the 2010 Olympic champion. While Li still has a way to go before reaching Kim's currently unmatched level of presentation, the future of Chinese skating has never shone brighter.
1. Return of the Queen
Make way, make way! You there, pick up her train. Bow low, now. The uncontested queen of figure skating is back and better than ever.
Yuna Kim, the biggest celebrity of her home country of South Korea, has never placed off of the podium in her entire career. She's a two-time (2009 and 2013) world champion and the 2010 Olympic champion, and owns the world record scores for the short program, long program, and combined total.
The sport lost a great deal of beauty when Kim abstained from competition for two seasons, slipping out of the public eye after the 2011 World Championships. But she wasn't done with figure skating yet, and in 2012, she announced her intent to return with the final goal of skating in the 2014 Winter Olympics.
People worried that Kim wouldn't be able to return to competitive form in time to reign like she did in 2010, but they concurred in amazement at last month's World Championships. Kim, the short program leader, skated last in the long program to a Les Miserables medley, and it was like she'd never left. Her intricate movements, immaculate footwork, and emotive gestures raised goosebumps on the enthralled audience. Kim wove in her six triple jumps with almost relaxed effortlessness, combining breakneck speed with height and distance, so confident in her landings that she didn't need to spot. For four minutes that felt more like 10 seconds, she was the wronged Jean Valjean, the destitute Eponine, and the impassioned revolutionaries.
She was, in short, a queen returning to her kingdom, and the standing ovation that followed her performance lasted a good five minutes. At that point, no one needed the judges' affirmation that she was the world champion -- she had already been crowned by the crowd. But her final margin of victory of more than 21 points stunned even her.
So, to recap: There's the good, there's the great, and there's the phenomenal. And then there's Yuna Kim.