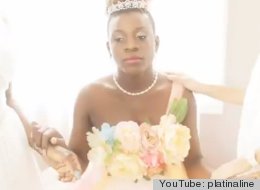 Art has always been an important site of resistance and identity making for trans people of color. We've used the medium to share our stories, document our lives and express our humanity. Fortunately for us, we are living in a media moment that thirsts to understand the trans experience, and trans people of color are quenching it with their diverse artistic visions.
Here is a video collection of powerful trans artists of color who are bringing important visibility to the community through music, filmmaking, comedy and new media.
11 Transgender Artist Of Color You Should Know In 2013
Wu Tsang is a Los Angeles-based performance artist and filmmaker. His work has been presented at the 2012 Whitney Biennial, MOCA Los Angeles, the New Museum Triennial in New York, the ICA Philadelphia and the Gwangju Biennial (South Korea). Wu Tsang was named one of Filmmaker Magazine's "25 New Faces of Independent Film" in 2012 and recently won a grant from the Foundation for Contemporary Arts. Wu Tsang's website is wutsang.com.

StormMiguel Florez is a singer/songwriter from Albequerque, N.M., currently living in San Francisco. Dubbed the "Transgender Cantador," StromMiguel calls his music, which blends his energetic guitar playing with a robust voice, "acoustic, moody, twangy." Making music since the age of 5, StormMiguel once fronted the popular Albequrque band Too F.I.N.E. Minds. After moving to the Bay Area, he decided to pursue a solo career and is currently making waves with the recent release of his transsexual zombie music video, "I've Been to Manhattan." StormMiguel's website is stormflorez.com.

Toni Newman is the first African-American trans woman to publish a memoir, with her book I Rise: The Transformation of Toni Newman. The multiple Lambda Literary Award-nominated text profiles her transition journey from a conflicted male to an out and proud African-American trans woman. Toni's website is tonidnewman.com.

Ellison Renee Glenn, aka Black Cracker, is a talented producer, writer, poet and MC who has collaborated with artists such as Cocorosie, Bunny Rabbit and Grand Pianoramax. Describing himself on his website as "unconventional," Black Cracker's music is melodic, energetic and oftentimes deeply personal. He recently released a collection of poetry titled 40oz Elephant and an album called Tears of a Clown. Black Cracker's website is blackcracker.info.

Extremely hilarious performance artist D'Lo is a queer Tamil Sri Lankan American who has performed and led performance workshops in the U.S., Canada, the UK, Germany, Sri Lanka and India. D'Lo's work has also been widely published, including in the essay collections Desi Rap: Hip Hop and South Asia America and Experiments in a Jazz Aesthetic. He holds a B.A. in ethnomusicology from UCLA and is a graduate of New York's School of Audio Engineering. D'Lo's website is dlocokid.com.

Titica is an Angolan singer and dancer who performs a local form of rap-techno music called "kuduro." She was named best kuduro artist of 2011 and continues to be one of the leading personalities of the genre by flooding the airwaves of both radio and television. Titica is a vibrant personality who is helping usher in the global visibility of trans women.

A rising star, Diamond Stylz™ is a singer/songwriter and extremely popular YouTube personality who combines her multiple talents into provocative videos about race, sexuality and trans issues. Diamond is also the first transgender woman to attend Jackson State University, a popular HBCU in the conservative Jackson, Miss. Diamond's website is diamondstylz.com.

Ignacio Rivera identifies as "a Queer, gender-shifting, Trans- Entity, Black Boricua." A pioneer of black, sex-positive, trans representation, Ignacio has appeared in Morty Diamond's docuporn Trans Entities: The Nasty Love of Papi and Wil, as well as in filmmaker Cheryl Dunye's porn-comedy Mommy Is Coming. Rivera is also a filmmaker, activist and lecturer and one of the co-founders of Queers for Economic Justice. Ignacio's work can be found at wolfmanproductions.com.

Tona Brown is a classically trained violinist and vocalist and is the first trans person to perform for a sitting president. In 2010 Ms. Brown was invited to perform the national anthem at the Department of Veteran Affairs' second annual LGBT Pride Month Commemoration Ceremony. She can be found on Twitter at Twitter.com/tonacity.

Ryka Aoki is an award-winning writer, performer, educator and martial artist. The inaugural performer for the first-ever Transgender Stage at San Francisco Pride, Ryka has performed in venues across the country, including at the National Queer Arts Festival and at Columbia College, UCLA and Emory University. Her chapbook Sometimes Too Hot the Eye of Heaven Shines picked up an award at RADAR's 2012 Eli Coppola Chapbook Contest. Ryka can also be seen in the documentaries Diagnosing Difference and Riot Acts Ryka's website is rykaryka.com.

Kamari, aka Lyrikal, is a musician and comedian who has garnered a large YouTube following with his music videos and comedic skits addressing topics like dating, sexuality and the general life experiences of FTM transition. His YouTube channel is YouTube.com/LYRIKALTOMBOI.
Follow Kortney Ryan Ziegler, Ph.D. on Twitter: www.twitter.com/fakerapper