Charlie Brown's little Christmas tree and all your favorite childhood characters come to life in Pig Brooch's production of The Charlie Brown Christmas Special performing a limited run at the Brooklyn Lycem in Park Slope, Brooklyn. The production is a shot-by-shot remake of the popular holiday classic cartoon featuring a live jazz band trio performing all of Vince Guaraldi's classic songs.
As showtime nears you are whisked upstairs where you take a seat and soak in the familiar set: the red wooden dog house, the ice skating rink and Lucy's Psychiatric Help booth. I'm instantly transported back to my youth and it takes a lot of restraint not to sit atop Snoopy's house or fish out a nickel and ask Lucy for some help.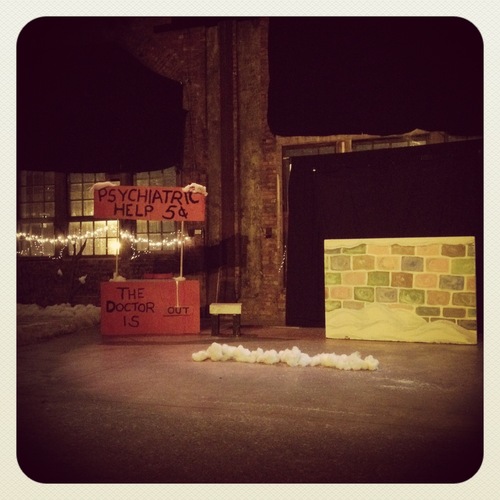 The folks at Pig Brooch must have watched the special on DVD at least a hundred times because they get all of the pacing, dancing and mannerisms down flawlessly. The show is set up to appeal to children but the biggest laughs come from the adult children in the audience. We all seem to connect to a different scene or gesture. Whether it's seeing Snoopy dance with his guitar, Charlie Brown picking out his Christmas tree or Linus' big speech towards the end reminding us all what Christmas is all about it's a joy to see this show live.
As row after row of kids leave the auditorium with their parents I couldn't help but wonder if they are starting their own tradition just like when I was a kid. My family would sit around the television and watch Charlie Brown and the gang as our Christmas tree flickered in the background. That's when I realized that Christmas has arrived. This is the fourth year Pig Brooch has put on this show, so hopefully they'll be back year after year.
Tickets are one for $10 and four for $30. The show is only 40 minutes long (just like the original) so it's both little kid and big kid friendly. Tickets can be purchased online here. The show wraps up this weekend though so hurry or you'll miss it!
SUBSCRIBE TO & FOLLOW THE MORNING EMAIL
Start your workday the right way with the news that matters most. Learn more