In 2008 I had a brilliant idea -- I would put together a fund to create socially and environmentally responsible resorts in developing countries around the world. (I used to manage over $7 billion of private equity invested in 100+ real estate funds at a large real estate finance firm in New York, so this was not actually a crazy idea...) A few weeks later, however, the financial markets crashed; my old institutional clients were filing for bankruptcy and people were no longer interested in financing a cutting-edge concept in hospitality.
So I did what all entrepreneurs do -- adapt. I scaled back my plans to a single resort: Panigram Resort and Spa. I had already spent several months working on the Panigram project and had an investment summary and business plan put together. Panigram would be my prototype project that I could leverage up into a larger investment portfolio. Unfortunately, my smaller project size and unusual location (Bangladesh is not exactly a hot tourist destination!) meant that I could no longer rely on my old contacts.
After speaking with some friends in the finance industry, I determined that wealthy Bangladeshi individuals and Bangladeshi funds would be the groups most likely to be interested in my project. While $4.5 million is a small amount of money in the U.S., it is a large amount of money in Bangladesh, so I reasoned that some of the institutional funds here might be interested. Also, when dealing with Bangladeshis, I don't have to convince them of the potential of their country. They have witnessed the double-digit economic growth for the past ten years and are keen to change the world's negative perception of Bangladesh; a high-profile, luxury eco resort could do just that.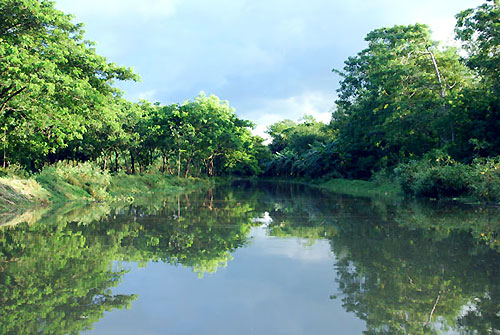 One amazing thing about Bangladesh is that the people here are much more connected than they are in the west. It is common to meet someone in line at the grocery store, exchange phone numbers with them, and call them to meet up later in the day. Bangladeshis have mastered the art of the "loose connection." This network made it relatively easy for me to identify the major funds in Bangladesh by simply placing a phone call to one of my Bangladeshi friends.
The wealthy Bangladeshi individuals were a bit more difficult. At the time, I didn't have any in my social circle. As fate would have it, however, one of them would find me! Faruque saw my website and contacted me. We scheduled to meet a couple of weeks later, and then, by chance, I ran into him two days later at a craft fair and then again the next day at a ballroom dance recital we were both performing in. By that time I acknowledged the neon sign the universe was sending me: "This guy is important to you!"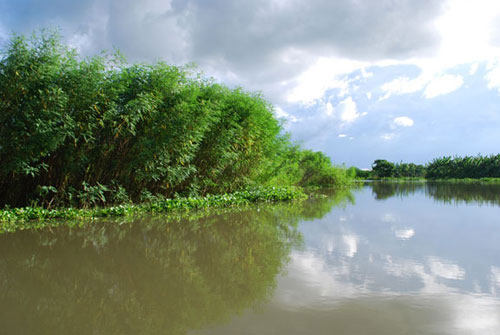 In the year since, Faruque has been very instrumental in introducing me to people in Bangladesh who have the desire and means to finance my project. He is almost as passionate about Panigram as I am, and has become a good friend as well as a potential investor.
With Faruque's help, I had collected the contacts, but convincing them to invest proved challenging. I put together a very polished vision book, an investment summary, and a pitch book. The returns were very good (projected 32% IRR, 25% annual dividend, 3.0 debt service coverage ratio, and only a 26% break-even occupancy), but this type of project had never been done before in Bangladesh and the investors were having a difficult time understanding exactly what I wanted to do. I said I was building a luxury resort, but here "luxury" simply means a TV and air conditioner in each room, even if those rooms are poorly maintained.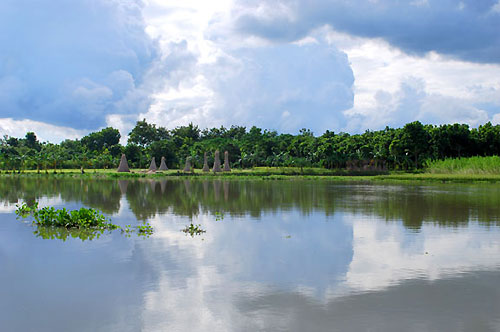 They also challenged my location -- Jessore is not currently a tourist destination. I explained that I chose the location strategically: Jessore has an airport (one of the few Bangladeshi localities that does), so it is only a cheap ($80 round trip), half hour flight to the resort; it takes less time to get from Gulshan (an upscale neighborhood in Dhaka) to Panigram Resort than it does to drive from the north to the south end of Dhaka in rush hour traffic. Jessore is also on the planned Asian Highway route and is just a few kilometers from the border crossing to Kolkata, India, so there is the potential to get tourists coming from India as well. Plus, Jessore is close to the Sundarban Forest, the world's largest mangrove forest and Bangladesh's top tourist destination; most tourists fly into Jessore and then take a boat from Khulna or Mongla into the forest. Finally, Jessore is extremely beautiful! It is one of the most fertile areas of Bangladesh, so the fields are green and lush all year round.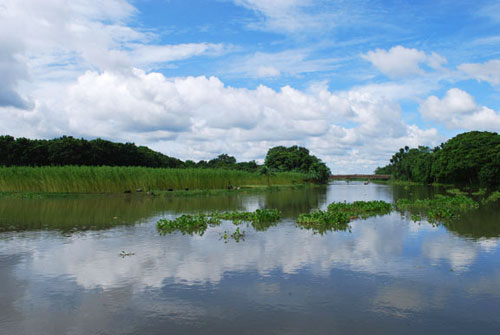 Logical arguments didn't get them to close, however. People were interested, but nobody gave me a check. Consequently, I decided to take a bold step -- I used most of my cash reserves to build a pavilion on the property and bring the potential investors down to see the site; I prepared an excellent meal, took them on a boat tour, and give them a taste of what I wanted the resort to be like. To do this, I needed help, however. I didn't own the land yet (I needed the equity money first!), so my local associate negotiated permission to build from one of the local landowners. I also brought in four interns from my alma mater, Cornell University, to help me design and build the resort and plan the program.
Since my cash reserves were running very low, I wasn't able to offer the interns airfare to Bangladesh, but I did offer to pay for their living expenses and give them a small Bangladeshi salary. I would have been happy to get one intern, but amazingly 25 people applied for the four open positions! My architect intern designed the pavilion, my culinary intern designed and prepared the meal, my tour guide intern created the boat and rickshaw tour routes, and my media intern documented the process on our Panigram blog.
In the end, the strategy worked! Not only did I raise 75% of my first round of equity from the one meeting, but I also secured the full support of the local government. I will have another investor meeting at the pavilion in October; hopefully I will secure the rest of the first round of financing and, with luck, a large portion of the second round too!
When times get tough, the tough need to get creative. Yes, it is a challenging economic climate right now, but in my experience, ingenuity, flexibility, and determination can carry most entrepreneurs through even the roughest times...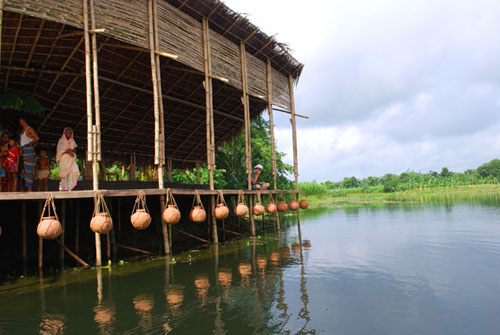 SUBSCRIBE TO & FOLLOW THE MORNING EMAIL
The Morning Email helps you start your workday with everything you need to know: breaking news, entertainment and a dash of fun. Learn more