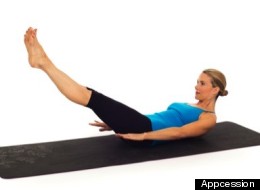 Summer is here and it's not too late to get in to ideal swimsuit shape. If you start doing Pilates now, just like Joe Pilates himself says, "In 10 sessions, you will feel the difference, in 20 you will see the difference, and in 30 you'll have a whole new body." My Beach Body Pilates workout incorporates some of my favorite, most effective Pilates exercises. You will tone all your trouble spots: bra bulge, triceps, hips, abs, waist, thighs and buttocks, and build a strong foundation from the inside out. You will stand taller, feel lighter and be leaner.
Commit to my Beach Body Pilates workout five days a week, and by the end of June you will look amazing. Throughout the rest of the summer, you will carry yourself in a whole new way. You can scale back to three times a week to maintain results in July and August. The workout can be done in as little as 20 minutes.
As you go through each exercise, try and keep the six fundamental Pilates principles in mind: centering, concentration, control, precision, breath and flow. You want to make sure you are centered and working from your powerhouse (core region), concentrate deeply on engaging the correct muscles, control your movements (better to do five perfect reps of an exercise than 15 sloppy ones), work with your breath, be precise in your alignment and flow through the moves as much as you possibly can.
This is a traditional Pilates warm-up, it gets the blood flowing and warms up the core. Start lying on your back and make sure your entire spine is pressing in to the mat, lift your legs up in the air to a tabletop position and engage your lower abdominals. Stretch your arms forward as you lift your head and neck up off the mat, gaze at your belly button, extend your legs out to a 45 degree angle (or keep them bent in tabletop if you are a beginner), and start pumping the arms vigorously up and down. Breathe in for five pumps and breathe out for five pumps. Repeat 10 times until you've pumped the arms 100 times. Works the entire core regions, hips, buttocks, thighs and arms.

Lower your head and neck to the mat as you extend your right leg to the ceiling and left leg long on the floor. Turn your right leg out at the upper thigh and flex your right foot; imagine you have a serving tray on top of it. Bend your right knee about 12 inches keeping the tray balanced on top the foot, then press the foot back up to the ceiling, engaging your inner thigh and buttocks. Pull your navel deep in toward your spine and keep your hips steady as you repeat eight to 10 sets of bend and extends. Next, point your right toes and circle the right leg five times clockwise, then five times counterclockwise without letting the hips or torso move at all. Repeat on with your left leg. Works the abs, hips, buttocks, inner and outer thighs and calves.

Extend your right leg back into the air and engage your abs to walk up the back of the thigh as if you are climbing up a tree. Keep your shoulders soft and try to use your core strength, not your arms, to lift up and sit as tall as you can; then curl under your tailbone, scoop in your lower abs and slowly lower back down to the floor. Repeat five times, then switch to the left leg. Works your lower abdominals, scapula, and thighs.

Lie down on your back, lift your head and neck up, pull your right knee in toward your chest as you extend your left leg long to 45 degrees. Switch and pull the left knee in, then continue alternating working from your core for a set of eight reps. Works the entire abdominal region, hips, thighs, buttocks and arms.

Hug your knees to your chest, lift your head and neck up on an inhalation, extend your arms and legs away from each other on an exhale, circle your arms around to the sides, then hug your legs back in to your chest. Repeat 8 times, don't let your head drop back when you extend your arms long and make sure the abs are held tightly and the back presses in to the mat and the ribs pull down to the floor. Works abs, hips, thighs, arms and lats.

Place your hands behind your head with elbows wide, lift your head and neck up and extend your legs straight up to the ceiling with the heels together, toes turned out. Engage your lower abs and behind your upper thighs. Keep your head and neck lifted as you lower and lift your legs without letting the lower back come off the mat and while pressing the ribs down into the floor. Repeat eight to 10 times. Works the lower abs especially, and the buttocks, hips, waist, scapula and obliques muscles.

Keep your hands behind your head, elbows open to the side, and bring your knees in to a tabletop position. Lift your head and neck up and cross your right elbow towards your left knee as you extend your right leg long 45 degrees, switch left elbow to right knee and left leg long. Continue alternating until you've completed 10 full reps. Make sure to keep your abs engaged and reach your elbow outside the bent knee. You can look to the back elbow as well to add even more oblique work. Works the core, especially the inner and outer obliques, hips, thighs arms, and shoulders.

Lie down on your back and stretch your arms overhead as you reach your legs long on the mat. Inhale and lift everything up off the mat at the same time, coming to a V sit position or "Teaser sit." Hold here, engage your abs and lift out of your lower back, keep your shoulders down away from your ears and your ribs corseted together. Lower everything down at the same time. Repeat five times. Works the entire body, abs, hips, thighs, waist, arms and back.

Swing your legs around and lie down on your belly. Place your forehead in on top of your hands with your elbows wide to the sides. Bend your knees and press the heels together, turning the toes out to the sides like Charlie Chaplin. Engage your buttocks, hamstrings and lower back and press your heels up to the ceiling, lifting your knees off the mat. Repeat for 12 repetitions. Make sure your tailbone stays long and that you keep your lower abdominals engaged to protect your lower back. Works the lower back, abs, hips, buttocks and hamstrings.

Extend your legs long and reach your arms overhead. Engage your lower abdominals and back and lift everything up off the floor, keeping your head in line with your spine. Imagine you are being pulled apart from end to end and lengthen as much as you can through your entire body. Make sure to keep the tops of the shoulders released down away from the ears. Hold for three breaths. Lower down and lift back up again two more times, holding for three breaths each time.

Come onto your hands and knees, tuck under your toes and lengthen your legs back until your body forms one straight line of energy from head to heels. Engage your entire core region by drawing in your front ribs and imagining a seatbelt tightening at your hips' rims. At the same time, engage your buttocks and press through your heels. Traction your shoulder blades down your back and press firmly in with your hands to fire up your triceps muscles. Works the entire body and one of the most effective exercises you can do. If you are short on time, hold a plank whenever you can for a quick workout! Hold your plank pose for one minute, then press into downward-facing dog pose.

If you still have the time and the energy, walk back out to plank and perform a Pilates push-up (narrow arm triceps push-up), press up and walk your hands back to downward dog, roll up to stand using your abs, then roll back down and walk out to perform a series of eight to 10 push-ups (or however many you can do with proper form). You can drop your knees to the floor as well.
Missed It? You can still participate in the 30-Day Summer Shape Up:
For more by Kristin McGee, click here.
For more on fitness and exercise, click here.
Follow Kristin McGee on Twitter: www.twitter.com/thebendigirl