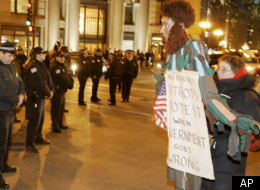 So the end days are upon us, it is officially NATO season and the City of Chicago is literally boarding up their windows and shutting down businesses in preparation. Security firm alerts, eight foot high perimeter fences, a shoot to kill fly zone and a LRAD Sonic Sound Cannon. A Cannon!
How can the city possibly survive the endless onslaught of thousands of protestors determined to destroy Chicago?
Protestors like the National Nurses United, the largest association of nurses whose devious intentions include healthcare accessibility for all.
Wait... what?
Who let these people in here? In fact a run down of the who's who of protesting groups include Iraq war veterans, union employees, immigration rights activists, mental health clinic activists, groups fighting home foreclosures, antiwar groups, and even circus clowns armed with whipped cream pies.
Oh sure there is bound to be someone who decides their best tactic is to throw a rock from one of the city's numerous potholes through a bank window, but the overwhelming majority of protestors coming to Chicago are nonviolent activists who seek a better city, better country and a better world.
However Gandhian protestors hardly make the news (and since I am confident law breakers will get plenty of coverage) here is my growing list of independent Twitter profiles you should be following:
Top (Non-Main Stream Media) Twitter Accounts to Follow During NATO Protests
Independent journalist Tim Pool, best known for his coverage of activist rallys and Occupy events. The recent "Shoot to Kill" no fly zone will likely mean no overhead shots, but the guy's UStream is a can't miss.

The official press twitter account of Occupy Chicago. http://twitter.com/OCPress

Clown Protestors and Pies. What else do you need to know. This "media friendly" alternative to Black Bloq groups promote laughter in face of police oppression. (And they are clowns...but not kid friendly). http://twitter.com/CLOWNBloq

Twitter account supporting mental health clinics in Chicago. (A direct response to the Chicago City Council"s approval of closing several City Mental Health clinics throughout the area). http://twitter.com/MHMChicago

Iraq Veterans Against War mobilizing the military community to withdraw its support for the wars and occupations in Iraq and Afghanistan. http://twitter.com/IVAW

Chicago Independent Media Center - think journalists who report without the spin. http://twitter.com/chicagoimc

Group comprised of thirty U.S., Canadian and European peace, economic and social justice organizations networks and alliances calling for complete withdrawal of all U.S. and NATO troops from Afghanistan; withdrawal of all foreign deployed U.S. troops, bases, nuclear weapons and "missile defenses"; substantial reductions in U.S. and NATO military spending to fund our communities and to meet human needs; restitution of the UN Charter and International Law, and an end to NATO.

Photojournalist with a killer tumblr account. http://twitter.com/MarkiDemery

Live Stream reporter of Occupy Chicago. Ustream Account http://twitter.com/Rebelutionary_Z

Live Stream Reporter Ustream Account

Citizen journalist, member of Occupy Chicago.

Occupy Chicago Press and Social Media Liaison http://twitter.com/pHinkasaurus

Occupy Chicago press liaison and contributor to Diatribe Media. http://twitter.com/constantnatalie

Communications Associate of TruthOut and Editor of Occupy Chicago Tribune (an independent media source for the Occupy Chicago movement).

A member of Occupy Chicago's Social Media team and author of "The Life of and Art School Dropout"

Independent journalist and photographer.

Activist Law Student.

Author and blogger, self proclaimed amateur videographer.

Self proclaimed feminist fighter for social justice, her tweets tend to skew a little more political then most of the people listed here. http://twitter.com/MegMantis

Occupy Chicago press liaison, blogger and constant live tweeter. http://twitter.com/allshiny

Social Media account of Occupy Chicago.

Live streamer of Occupy Wallstreet events streaming Chicago's agenda.

Another Occupy Chicago press liaison.

Active Twitter user commenting on #NATO and Chicago.

Fearless producer and political activist who livestreams occupy events. A late night crowd livestreamer of choice. (Camps out in front of rally locations the night before.)

Chicago's far north side community's own branch of occupy.
Follow Kyle Hillman on Twitter: www.twitter.com/kylehillman