A Watershed Moment: Public Rallies to Protect New York's Oyster Bay/Cold Spring Harbor Estuary. Again.
(Originally published at Ecocentric)
One recent, cold and rainy fall day, the Long Island-based environmental group Friends of the Bay officially announced the completion of its Watershed Action Plan for the Oyster Bay/Cold Spring Harbor Estuary (the cleanest estuary in western Long Island Sound and a vital ecological, economic and recreational resource for the region). I was on hand for the announcement and my inner hydrology nerd knew that, considering all that stormwater runoff I was seeing, this was ideal weather for the release of such a plan.
As I listened to the various speakers, what struck me was the partnership that had been forged after Friends of the Bay, the Town of Oyster Bay and other governmental entities, stakeholder groups and the general public worked closely together to plan for the future of the bay. All recognized the central need to protect and restore conditions throughout the watershed and the estuary using a watershed-based approach.
All levels of government continue to experience belt tightening during these tough economic times, so Watershed Action Plans and the partnerships behind them have become increasingly important. Environmental agencies in particular are looking to non-government groups and citizens to help protect the nation's invaluable environmental resources. In this respect, Friends of the Bay's Watershed Action Plan -- and for that matter their State of the Watershed Report -- can serve as an example for other groups and communities.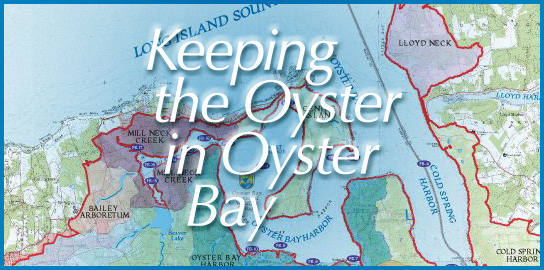 According to Mark Tedesco, director of the Environmental Protection Agency's Long Island Sound Office: "The key to success of any watershed action plan is the commitment and teamwork of local government, citizen organizations, and community members, with federal and state governments working in partnership to provide technical and financial assistance. The Oyster Bay/Cold Spring Harbor Watershed Action Plan developed by Friends of the Bay is a model of how it can be done."
As Tedesco points out, the local community is a crucial ingredient in the Watershed Action Plan partnership, and Friends of the Bay has found a strong partner in area residents and businesses. Pat Aitken, executive director of Friends of the Bay, was impressed by the degree of community involvement in the Watershed Action Plan process. "There were three public meetings and all were well attended and I am confident the community will remain engaged and active as we implement the programs and initiatives of the Watershed Action Plan," said Aitken.
While Aitken was impressed, she was not surprised by the enthusiastic response given the past civic history of this community: some decades ago citizens had stood up against the likes of Robert Moses, the notorious master builder (aka Power Broker) who was extremely influential behind the scenes in shaping NYC's boroughs and beyond from the 30s through the 60s.
Moses, who once famously said "those who can, build; those who can't, criticize" was determined to build a bridge that would span the Long Island Sound, connecting Oyster Bay to Rye in Westchester County. Moses -- not known for his diplomacy when it came to public and community engagement -- thought he would get his way as he had on so many other projects, but the community and its elected representatives fought back, citing such concerns as negative environmental impacts on the estuary. Ultimately, then-Governor Nelson Rockefeller had no choice but to cancel the controversial project for fear that a public backlash would hinder his re-election bid.
Indeed, Oyster Bay/Cold Spring Harbor Estuary is a special place and had that bridge been built, this area, which boasts a thriving local shellfish industry, would have been forever changed. The waters of Oyster Bay -- home to the famous "Pine Island" oysters, farmed since 1887 by Frank M. Flower and Sons -- produce up to 90 percent of oysters and 40 percent of hard clams harvested in all of New York State.
Of course the estuary and watershed continue to face a variety of threats, including stormwater runoff, a primary channel through which pollution (including pathogens) can travel through the watershed and into the estuary. Polluted stormwater runoff is one of the main threats to the ecology and water quality of the watershed and the estuary as well as to drinking water supplies and the local shellfish industry.
In this regard, Pat Aitken of Friends of the Bay agrees: while the weather was a bit gloomy and wet that fall day, it was perfect conditions to herald their watershed action plan.
****
AUTHOR'S NOTE:
Want to take action to protect your watershed? Check out the U.S. EPA's "Ten Things You Can Do to Make a Difference in Your Watershed". Some other online EPA resources:
Watershed Facts:
A watershed is the area of land that drains to a common body of water, such as a stream, lake, estuary, wetland, reservoir, aquifer or even the ocean.
A watershed can be as small as a human footprint or enormous like the 64,000 square miles which comprise the multistate area that drains into the Chesapeake Bay. (FYI: The Chesapeake Bay Watershed is at the center of the debate over the controversial natural gas drilling process, hydraulic fracturing. See here and here.)
Watersheds play many essential roles: they supply drinking water, provide critical habitat for many plant and animal species, offer recreational opportunities, and sustain all life.
Watersheds possess significant economic value. More than $450 billion in food and fiber, manufactured goods, and tourism depends on clean water and healthy watersheds.
(Originally published at Ecocentric)