Hungry In Hawaii: Maui's Food And Fashion (VIDEO)
My film team and I jumped at the chance to interview Maui's chefs and designers. But what awaited us? I had daunting visions of eating a roast pig while wearing a coconut bra.
Maui, it turns, out, has open-air restaurants influenced by Asian plantation culture, and a surprisingly forward fashion scene. Watch this travel video to see what La Carmina uncovered on the "Valley Isle."
Asia-influenced food
At Fairmont Kea Lani's Ko Restaurant, I had lunch with the teddy-bear-like Chef Tylun Pang. His dishes are inspired by plantation cuisine, a harmony of influences from the sugar workers' home countries of Japan, China, Philippines and Korea. As he put it, "The folks in my kitchen are cooking their grandparents' recipes."
Ko sources ingredients locally, from relationships of trust. The menu has several raw, vegan, gluten-free, and heart-healthy selections. My macrobiotic bento box was clean and perfectly balanced, and I ordered a second round of cucumber-pomegranate mojitos. Chef Pang and I said "cheers" with his signature dish: ahi tuna on a stick, grilled on a hot stone.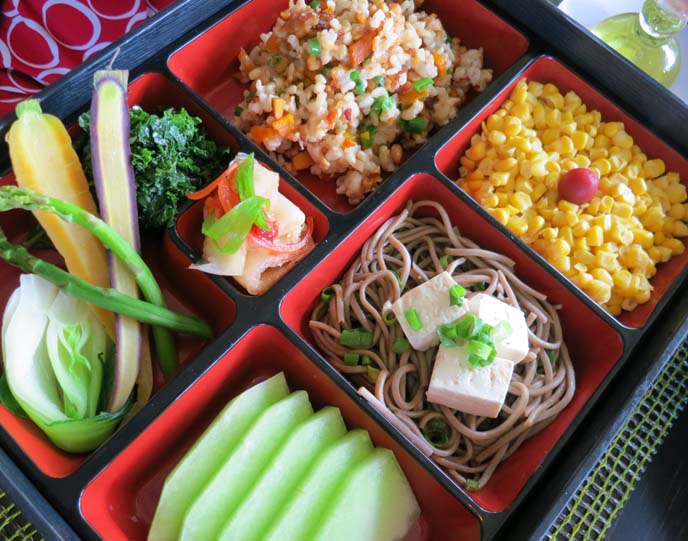 Some of the best Hawaiian cuisine fuses Japanese and tropical flavors. The Hyatt Regency's Japengo is a master example, serving hamachi with molecular lychee bubbles, and grilled mahi-mahi with black coconut forbidden rice. I'm still salivating over the enormous sushi and sashimi platter.
Local fashion
I drove to Paia, a town with a 1960s feel, to interview designer Lisa Letarte Cabrinha. She founded Letarte Swimwear with her sister, and has expanded from bikinis to cashmere zip-ups, kid's clothes, and body lotions. At first glance, I thought "Sports Illustrated" -- and then I noticed the subtle rocker elements, like metal rings and animal prints. In a "dressing room montage," I dance around in embroidered dresses.
Then I stopped by the studio of Nina Kuna, a young jewelry designer. Originally from LA and NY, she visited Maui and made it home. Nina's designs reflect her love for the island; she turns found beach materials into jewelry castings. Her braided wrap bracelet, strung with a gold-cast cowrie shell, is one of her most popular items.
Where to stay
My filmmakers and I loved staying on the south shore, in luxurious Wailea. With private beach access and a koi pond, the Fairmont Kea Lani felt like Xanadu. I appreciated the adult-only swimming pools and large private suites.
Wailea Beach Villas: Destination Resorts had the most sumptuous accommodations I've ever encountered. Our 3-bedroom villa came with a tropical garden and private pool, and the grounds flowed with waterfalls. The video shows a dinner party prepared in the kitchen, by a private chef.
What are your impressions of Maui, Hawaii's food and fashion? Did anything in the video surprise you?
Travel video hosted by La Carmina. Produced, directed and edited by Melissa Rundle and Eric Bergemann. Dress by Nanette Lepore, skull bracelet by Good Art. Mahalo Wendy Harvey and Maui CVB.
I swam under the stars in my Wailea Beach Villas (Destination Resorts) backyard.

Filming a segment at the oasis-like pool at Wailea Beach Villas.

Wailea's Fairmont Kea Lani has several swimming pools (including adult-only) and a koi fish pond.

I had a large one-bedroom suite to myself, with a balcony overlooking the pools and gardens.

Outdoor dining as the sun sets over Wailea.

Ahi tuna on a stick, prepared by Chef Tylun Pang of Ko at the Fairmont.

Examples of his Asia-Hawaii dishes: shrimp and soba, poke (raw fish salad), calamari.

I tried on the designs of Lisa Letarte Cabrinha, who founded Letarte with her sister.

The swim shop also carries local jewelry and Lisa's custom-made moisturizers.

Nina Kuna makes necklaces, bracelets and earrings inspired by her beach-and-waves surroundings.

Nina's work space, strung with bangles, shells and beads.

Preparing to ride in a traditional and eco-friendly Hawaiian sailing canoe.

The Captain and First Mate mesmerized us with tales of Hawaii's history, while we lounged on the sails.

At the top-rated Nick's Fishmarket, I tried flaming strawberries and snapper.

Grilled mahi-mahi and black coconut forbidden rice, and world-class sushi and sashimi at Japengo.

Planted in 1873, this is one of the largest banyans in the world. My filmmaker hugged it — wouldn't you? For more photos and blog coverage, visit the Hawaii travel category of La Carmina Blog.
Follow La Carmina on Twitter: www.twitter.com/lacarmina