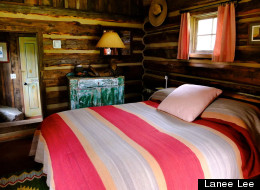 Like Woody Allen says, sex is the most fun you can have without laughing. And a beautiful setting on vacation is the perfect recipe to encourage more of it.
Most of the time, as a travel writer, I experience these romantic hotels alone. But if I were with my guy, these six hotels I stayed at over the past year would have boosted my sex life exponentially. I share them so at least you, with your love, can benefit from their off-the-Richter-scale romance factor.
Here are my top six sexiest stays of 2012:
I don't usually gasp when I enter a hotel room, but in andBeyond's Massai-inspired huts, I did. It's tribal meets luxury with rich, velvety curtains, a heated bed, French crystal glasses to enjoy sherry fireside and a view of the crater that would make even the most stoic character weep. After a day out on safari, catching two lovebird lions in the act, I was greeted by a hot, rose petal strewn bath accompanied by perfectly chilled champagne. I can't think of a better recipe for a prequel to a romantic romp.

This 1850's Spanish fort surrounded by the Chinati Mountains in West Texas is ideal for a city dweller couple wanting some tranquil desert solitude. It takes some determination to get there, with a 10-minute bumpy dirt road, but I loved the contrast of viewing Donald Judd masterpieces at the Chinati Foundation by day and then returning to this luxury dude ranch at night. For those who enjoy role-play, a visit to the candlelit chapel for 'confession' could be an interesting start to the night's rendezvous.

Under a brilliant night sky surrounded by soaring aspen and pine trees, soaking naked in mineral hot springs is how you and your beloved will spend your time here. In the mountains just south of Telluride, snuggle up with Pendleton blankets in your cabin fireside in this mining camp turned inclusive luxury-rustic resort. Each cabin is individually designed. My favorite cabins for romance are the Well House (private springs), Bjoerkmans (named after the miner who built it), and Dolores (has a Rajasthan wedding bed and is riverside). For a woo-full walk, head to the roaring 30-foot waterfall at the edge of the property.

The 300 year-old historic estate turned bed and breakfast oozes amore with a dollop of quirkiness. Like another world, Gallery Inn is definitely an escape from reality. Upon entering, meet colorful free-flying parrots, lush tropical landscaping and copious amounts of art all done by the owner. Guaranteed, Gallery Inn will bring out the kid in you as it's like going on a treasure hunt -- there are intriguing rooms and sitting spaces on all three floors to discover. Don't miss the panoramic views of Old San Juan on the rooftop or toasting the sunset at Gallery Inn's Beach House.

Moab's dramatic red rockscapes at the Arches, Dead Point Park and Canyonlands parks are enough to put you in the mood. A stay at Sorrel River Ranch completes the love circle. Swing on the porch swing or take a bath in with views of the Colorado River flowing by (make sure to book a River View room for this experience). After feasting on some of Moab's best cuisine at the hotel's River Grill Restaurant, find a secluded spot on the riverbank, throw out a blanket and get ready for sparks to fly with only the shooting stars overhead as witness.

Individual jungle huts, outdoors showers, private soaking pool and Mayan couples' fertility massages, need I say more? And no need to plan excursions off property to be entertained, from the tequila pairing classes to Mexican high tea to painting to candlelit dinners on the beach, it has a bit of everything in the name of pleasure. The Caribbean ocean views from the beachside beds are a lovers' delight as well, not to mention the rose petals on the bed spelling out "I Love You" and candles galore. It's "Te amo," Yucatan style.
Follow Lanee Lee on Twitter: www.twitter.com/VoyageVixens