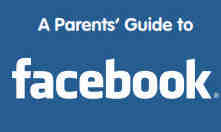 New online and printed guide provides advice and hands-on instructions for Facebook privacy.
I've been doing a bit of speaking at schools lately, and when I poll students about Facebook privacy, the majority of them say they know about Facebook's basic privacy settings but few of them know how to use the more advanced customized settings. And that's also true with a lot adults.
That's too bad because that's the way people -- of whatever age -- can take granular control over who has access to most of the information they post on the site.
Booklet and Chart Make Privacy Settings a bit Clearer
To help teens and their parents, my ConnectSafely co-director Anne Collier and I just wrote "A Parents' Guide to Facebook," a 35-page booklet that provides parents with perspective and how-to information to help teens optimize their privacy and safety on Facebook. The guide was released this week at the Family Online Safety Institute (FOSI) conference in Washington.
The guide, which is available in print and online, features step-by-step instructions and illustrations, as well as parenting points on safety, privacy and reputation protection. It covers both cell phone and computer use of Facebook, as well as the site's newest features, including Places and Groups.
It covers basic privacy settings, customized settings and how to control access not only to what teens share about themselves but what others share about them such as tagging them in photos.
Published in partnership with the iKeepSafe Coalition, "A Parents Guide to Facebook" will be translated into other languages and distributed internationally. The first non-English edition will be published in Arabic by the Cairo-based Cyberpeace Initiative, founded by Egyptian first lady Suzanne Mubarak.
In addition to the guide, there is also an interactive chart where parents can see ConnectSafely's recommendations for appropriate privacy settings for teens, which in many cases, are stricter than the current default settings.
Although the guide is aimed at parents, many of the recommendations are suitable for adults as well. For example, we recommend that teen users not allow others to "tag" their location, but some adults might also want to follow that advice.
In addition to providing hands-on advice about Facebook settings, we also provide some general advice on what keeps kids safe online.
You can access a readable and printable PDF of the guide and the interactive chart at www.fbparents.org.
Disclosure: Although "A Parents Guide to Facebook" was written independently from the company and contains recommendations that differ from their default settings, Facebook is one of several technology companies that provides financial support to ConnectSafely.
fbparents
http://www.fbparents.org