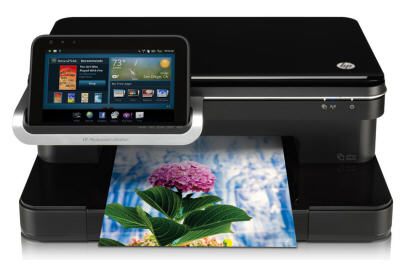 HP's new Photosmart eStation with detachable 7-inch Android tablet
Hewlett Packard has announced a $399 7-inch Android tablet PC that comes with a free printer. Admittedly, I'm saying this backwards. HP's actual announcement is a new HP Photosmart eStation multi-function device with a detachable 7-inch controller but the controller really is a WiFi-enabled Android 2.1 tablet. Though it's very dumbed down, it can access the web and run a few specialized Android applications.
The product was announced in New York on Monday at a press conference attended by Yahoo co-founder Jerry Yang and "renowned entrepreneur" Ivanka Trump. I'm not exactly sure why Trump was in attendance but Yang was there to announce that the detachable controller offers "one-touch access to customized content from Yahoo," including mail, messenger, search and weather. It also comes with apps to print from Facebook and Snapfish.
This is not comparable to other Android devices including the recently announced Samsung Galaxy Tab. The devices have the same size screen but one difference is that the HP tablet will not come with 3G. I wasn't at the press event but Engadget said the the tablet is very limited. While it does run Android 2.1, it only supports Yahoo search (kind of strange for a device with a Google operating system) and there is no access to the Android Marketplace.
Still, in an interview, HP product manager Craig Stein said that "any Internet page that is accessible via typical Android running devices should be accessible on the 7-inch removable display." Stein said that printing is the key design element of the device. Any printable content that can be displayed can be printed directly to the eStation either from your home network or from any WiFi network. You could, for example, take the display to a cafe to surf the web and remotely print to your home printer.
He said that HP was not out to design a device that is a stand-alone tablet. "The product we aimed to design here is one that really has its origins in print and that customers today are printing a lot of content that is on the web and we're trying to make it easier to get to that content without having to power-up a PC."
The HP device, of course, won't be subsidized by cell phone carriers but considering it's bundled with $399 printer, I don't think that's an issue. It's interesting that the device uses Android instead of the Palm OS which is now HP's thanks to its recent acquisition of Palm. I was told that this device was in the works prior the acquisition. Stein said that "to be successful in delivering a product that allowed us to bring capabilities of this magnitude to the marketplace according to this time line we chose to go with an open-source operating system that would allow us to embed print seamlessly into the applications we wanted our customers to use."
For me, the most interesting aspect of this announcement is that the tablet is an accessory to a multi-function printer/scanner/fax that costs maybe $100 more than what you might pay for a similar device without the tablet. I don't there is any reason to buy this product if you don't need a new multi-function printer, but considering the relatively small extra cost over the printer itself, it might have some appeal to people who want to be able to do web surfing from the living room or bedroom without having to spend several hundred dollars for a tablet. Given HP's acquisition of Palm, I fully expect to see a full-featured Palm OS tablet within a year or so that will greatly outshine this accessory.
The multifunction printer, scanner and fax machine can also be used to send faxes without a phone line. A relationship with eFax allows uses to send and receive up to 20 pages a month at no cost.
HP also announced direct printing from Apple iPad, iPod Touch and iPhones for all new Photosmart devices.
HP says that the eStation can print up to 33 pages a minute black and 32 in color. It has a 125-sheet input tray, a 20 sheet photo tray and a 50-sheet output tray.
HP's ePrint technology allows you to connect multiple PCs connected via your network or the Internet.
HP didn't publish the cost of consumables but it did say that the printer uses its HP 564 cartridges. If you purchase the large (XL) black cartridge and the color combo pack, black and white pages will cost about 4.4 cents each on average and color will cost about 8.2 cents. That's quite a bit more per page than the cost per page of the popular OfficeJet 8500 printer whose black 940XL cartridge costs about 1.6 cents per page.
SUBSCRIBE AND FOLLOW
Get top stories and blog posts emailed to me each day. Newsletters may offer personalized content or advertisements.
Learn more